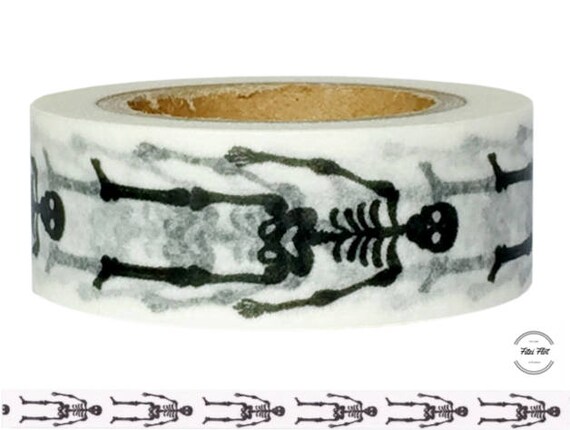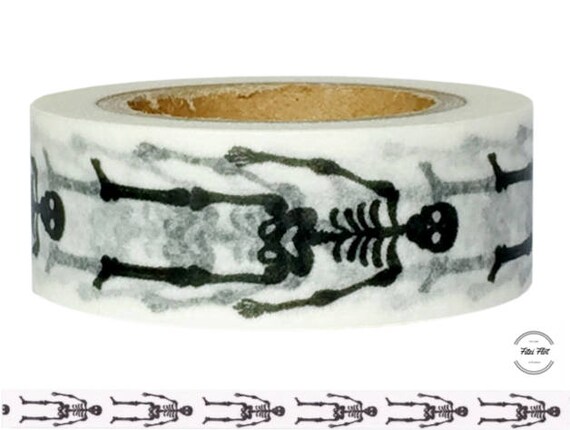 Preparation takes 1-2 business days
---
Item details
Washi Tape

Qty: 1 roll
Material: paper
Dimensions: width 15mm, length 10m

In my shop you can find more beautiful products for boundless creativity.

If you need larger quantities, you'll like this request before your order with me.
---
Shipping & policies
Preparation takes 1-2 business days
Estimated Shipping
Customs and import taxes
Buyers are responsible for any customs and import taxes that may apply. I'm not responsible for delays due to customs.
---
Payments
Secure options
Etsy Studio keeps your payment information secure. Etsy Studio shops never receive your credit card information.
---
Returns & exchanges
I gladly accept returns
Contact me within:
14 days of delivery
Ship items back within:
21 days of delivery
I don't accept exchanges or cancellations
But please contact me if you have any problems with your order.
Conditions of return
Buyers are responsible for return shipping costs. If the item is not returned in its original condition, the buyer is responsible for any loss in value.
---
Terms & conditions
-----------------------------------------------------------------------------------------------------------------
General Terms and Conditions & Information on Data Protection & Instructions for cancellation & Cancellation form
-----------------------------------------------------------------------------------------------------------------


Table of Contents
-----------------

A. General Terms and Conditions
-------------------------------
1. Scope of Application
2. Conclusion of the Contract
3. Right to Cancel
4. Price and Delivery Costs
5. Shipment and delivery conditions
6. Liability for defects
7. Applicable Law
8. Alternative dispute resolution

B. Information on Data Protection
---------------------------------
1. Information on the Collection of Personal Data and Contact Details of the Controller
2. Contacting
3. Processing of Data for the Purpose of Order Handling
4. Rights of the Data Subject
5. Duration of Storage of Personal Data
6. Reference to the Etsy Privacy Policy

C. Instructions for cancellation
--------------------------------
1. Right to cancel
2. Effects of cancellation

D. Cancellation form
--------------------


-------------------------------
A. General Terms and Conditions
-------------------------------

1) Scope of Application
1.1 These Terms and Conditions of the company Andrea Wisotzki (hereinafter referred to as "Seller") shall apply to all contracts a consumer or a trader (hereinafter referred to as "Client") concludes with the Seller related to the seller's goods and/or services presented by the Seller on the electronic platform Etsy (hereinafter referred to as "Etsy"). The inclusion of the Client's own conditions is herewith objected to, unless other terms have been stipulated.
1.2 A consumer pursuant to these Terms and Conditions is any natural person concluding a legal transaction for a purpose attributed neither to a mainly commercial nor a self-employed occupational activity. A trader pursuant to these Terms and Conditions is any natural or legal person or company with legal personality acting in the performance of a commercial or self-employed occupational activity when concluding a legal transaction.

2) Conclusion of the Contract
2.1 When placing an item on the electronic platform Etsy , the Seller shall make a binding offer to the interested party for the sale of this item.
2.2 The Client can accept the Seller's offer via the Etsy online order form. In doing so, the Client has to place the selected item in the virtual Etsy shopping basket and subsequently he has to go through the ordering steps specified by Etsy. By clicking on the button finalizing the order process, the Client declares the acceptance of the offer, whereby a contract comes into effect regarding the item previously selected by the Client.
2.3 The contract's content will be stored by the Seller and will be sent to the Client in writing including these Terms and Conditions and Client Information in text form (for example via e-mail, fax or letter) after conclusion of the contract. In addition, the contract's content will be stored by Etsy and can be called free of charge by the Client via his Etsy password-protected customer account.
2.4 The Client can correct all the data entered via the technical means provided by Etsy prior to submitting his order. Corrections can be made directly in the respective input fields of the online shop via the usual keyboard and mouse function.
2.5 The German language is exclusively available for the conclusion of the contract.

3) Right to Cancel
Consumers are entitled to the right to cancel. Further information on the right to cancel can be found in the Seller's instructions regarding the right to cancel

4) Price and Delivery Costs
4.1 The prices indicated by the Seller are final prices and include the legal value added tax. Any additional delivery and shipping costs are indicated in each respective product description if applicable.
4.2 Various modes of payment are available for the
Client which are indicated in the Etsy Seller's online shop.
4.3 If payment in advance is agreed, payment is due immediately after conclusion of the contract.

5) Shipment and delivery conditions
5.1 Should the assigned transport company return the goods to the Seller, because delivery to the Client was not possible, the Client bears the costs for the unsuccessful dispatch. This shall not apply if the delivery cannot be made due to circumstances beyond the Client's control or if he has been temporarily impeded to receive the offered service, unless the Seller has notified the Client for a reasonable time in advance about the service.
5.2 Should the Client collect the goods himself, the Seller informs the Client via e-mail, that the goods are ready for collection. After receipt of the e-mail the Client may collect the goods at the Seller's place of business after consultation with the Seller. In this case no shipping costs will be charged.

6) Liability for defects
Should the object of purchase be deficient, the statutory provisions shall apply.

7) Applicable Law
7.1 The law of the Federal Republic of Germany shall apply to all legal relationships between the parties under exclusion of the laws governing the international purchase of movable goods. For consumers, this choice of law only applies to the extent that the granted protection is not withdrawn by mandatory provisions of the law of the country, in which the consumer has his habitual residence.
7.2 If the Client is a businessman, a legal entity of public law or a separate estate under public law with its seat in the territory of the Federal Republic of Germany, the Seller's place of business shall be the solely place of jurisdiction for all legal disputes arising from this contract. If the Client is domiciled outside the territory of the Federal Republic of Germany, the Seller's place of business shall be the solely place of jurisdiction for all legal disputes arising from this contract provided that the contract or claims from the contract can be assigned to the Client's professional or commercial activities. In any event however, regarding the aforementioned cases the Seller is entitled to call the court responsible for the seat of the Client.

8) Alternative dispute resolution
8.1 The EU Commission provides on its website the following link to the ODR platform: https://ec.europa.eu/consumers/odr.
This platform shall be a point of entry for out-of-court resolutions of disputes arising from online sales and service contracts concluded between consumers and traders.
8.2 The Seller is neither obliged nor prepared to attend a dispute settlement procedure before an alternative dispute resolution entity.

---------------------------------
B. Information on Data Protection
---------------------------------

1) Information on the Collection of Personal Data and Contact Details of the Controller
1.1 We are pleased that you are visiting our Etsy internet presentation (hereinafter "website") and thank you for your interest. In the following, we inform you about the handling of your personal data when using our website. Personal data is all data with which you can be personally identified.
1.2 The controller in charge for data processing on this website within the meaning of the General Data Protection Regulation (GDPR) is Andrea Wisotzki, Lotharstr 14, 15732 Eichwalde, Deutschland, Tel.: 015122910865, E-Mail: kontakt@fitzifloet.de. The controller in charge of the processing of personal data is the natural or legal person who alone or jointly with others determines the purposes and means of the processing of personal data.

2) Contacting
In the context of contacting us (e.g. via contact form or e-mail), personal data is collected. Which data is collected in the case of a contact form can be seen from the respective contact form. These data are stored and used exclusively for the purpose of responding to your request or for establishing contact and for the associated technical administration. The legal basis for processing data is our legitimate interest in responding to your request in accordance with Art. 6 (1) point f GDPR. If your contact is aimed at concluding a contract, the additional legal basis for the processing is Art. 6 (1) point b GDPR. Your data will be deleted after final processing of your enquiry; this is the case if it can be inferred from the circumstances that the facts in question have been finally clarified, provided that there are no legal storage obligations to the contrary.

3) Processing of Data for the Purpose of Order Handling
3.1 To process your order, we work together with the following service provider(s), which support us wholly or partially in the execution of concluded contracts. Certain personal data is transferred to these service providers in accordance with the following information.
3.2 The personal data collected by us will be passed on to the transport company commissioned with the delivery within the scope of contract processing, insofar as this is necessary for the delivery of the goods. We will pass on your payment data to the commissioned credit institution within the framework of payment processing, if this is necessary for payment handling. If payment service providers are used, we explicitly inform you of this below. The legal basis for the transfer of data is Art. 6 (1) point b GDPR.
3.3 Orders are processed by the service provider "Billbee" (Billbee GmbH, Paulinenstrasse 54, 32756 Detmold). Name, address and, if applicable, other personal data will be passed on to Billbee exclusively for processing the online order in accordance with Art. 6 (1) point b GDPR. Your data will only be passed on if this is actually necessary for processing the order. Details regarding Billbee's privacy policy and Billbee's privacy policy can be found on Billbee's website at "billbee.de ".
3.4 When paying by credit card via PayPal or by direct debit via PayPal, we pass your payment data on to PayPal (Europe) S.a.r.l. et Cie, S.C.A., 22-24 Boulevard Royal, L-2449 Luxembourg (hereinafter "PayPal") as part of the payment processing. The transfer takes place in accordance with Art. 6 (1) point b GDPR and only insofar as necessary for payment processing.

4) Rights of the Data Subject
4.1 The applicable data protection law grants you comprehensive rights of data subjects (rights of information and intervention) vis-à-vis the data controller with regard to the processing of your personal data, about which we inform you below:
- Right of access by the data subject pursuant to Art. 15 GDPR: In particular, you have a right of access to your personal data processed by us, the processing purposes, the categories of personal data processed, the recipients or categories of recipients to whom your data has been or will be disclosed, the planned storage period or the criteria for determining the storage period, the existence of a right to rectification, deletion, restriction of processing, objection to processing, a complaint to a supervisory authority, the origin of your data, if that was not collected from you by us, the existence of an automated decision-making process including profiling and, if applicable, meaningful information on the logic involved, the scope and intended effects of such processing concerning you, as well as your right to be informed about the guarantees provided for in Art. 46 GDPR for the transfer of your data to third countries;
- Right to rectification pursuant to Art. 16 GDPR: You have the right to immediate correction of incorrect data concerning you and/or completion of your incomplete data stored by us;
- Right to erase pursuant to Art. 17 GDPR: You have the right to request the deletion of your personal data if the requirements of Art. 17 (1) GDPR are met. However, this right shall not apply if the processing is necessary to exercise the right to freedom of expression and information, to fulfil a legal obligation, for reasons of public interest or to assert, exercise or defend legal claims;
- Right to restricting of processing pursuant to Art. 18 GDPR: You have the right to request the restriction of the processing of your personal data, as long as the accuracy of your data contested is verified, if you refuse to have your data deleted due to inadmissible data processing and instead request the restriction of the processing of your data, if you need your data to assert, exercise or defend legal claims after we no longer need this data because its purpose has been achieved, or if you have filed an objection for reasons of your particular situation, as long as it is not yet clear whether our justified reasons will prevail;
- Right to be informed pursuant to Art. 19 GDPR: If you have exercised your right to rectify, delete or restrict the processing vis-à-vis the controller, he is obliged to inform all recipients to whom the personal data concerning you have been disclosed regarding this rectification, deletion of the data or restriction on processing, unless this proves to be impossible or involves a disproportionate effort. You have the right to be informed about these recipients.
- Right to data portability pursuant to Art. 20 GDPR: You have the right to receive the personal data you have provided to us in a structured, current and machine-readable format or to request its transfer to another person responsible, insofar as this is technically feasible;
- Right to withdraw a given consent pursuant to Art. 7 (3) GDPR: You have the right to revoke your consent to the processing of data at any time with effect for the future. In the event of revocation, we will delete the data concerned without delay, unless further processing can be based on a legal basis for processing without consent. The revocation of consent shall not affect the legality of the processing carried out on the basis of the consent until revocation;
- Right to lodge a complaint pursuant to Art. 77 GDPR: If you believe that the processing of your personal data infringes the GDPR, you have the right of appeal to a supervisory authority, in particular in the member state where you reside or work or in the place of the suspected infringement, without prejudice to any other administrative or judicial remedy.
4.2 RIGHT TO OBJECT
IF, WITHIN THE FRAMEWORK OF A CONSIDERATION OF INTERESTS, WE PROCESS YOUR PERSONAL DATA ON THE BASIS OF OUR PREDOMINANT LEGITIMATE INTEREST, YOU HAVE THE RIGHT AT ANY TIME TO OBJECT TO THIS PROCESSING WITH EFFECT FOR THE FUTURE ON THE GROUNDS THAT ARISE FROM YOUR PARTICULAR SITUATION.
IF YOU EXERCISE YOUR RIGHT TO OBJECT, WE WILL STOP PROCESSING THE DATA CONCERNED. HOWEVER, WE RESERVE THE RIGHT TO FURTHER PROCESSING IF WE CAN PROVE COMPELLING REASONS WORTHY OF PROTECTION FOR PROCESSING WHICH OUTWEIGH YOUR INTERESTS, FUNDAMENTAL RIGHTS AND FREEDOMS, OR IF THE PROCESSING SERVES TO ASSERT, EXERCISE OR DEFEND LEGAL CLAIMS.
IF WE PROCESS YOUR PERSONAL DATA FOR DIRECT MARKETING PURPOSES, YOU HAVE THE RIGHT TO OBJECT AT ANY TIME TO THE PROCESSING OF YOUR PERSONAL DATA WHICH ARE USED FOR DIRECT MARKETING PURPOSES. YOU MAY EXERCISE THE OBJECTION AS DESCRIBED ABOVE.
IF YOU EXERCISE YOUR RIGHT TO OBJECT, WE WILL STOP PROCESSING THE DATA CONCERNED FOR DIRECT ADVERTISING PURPOSES.

5) Duration of Storage of Personal Data
The duration of the storage of personal data is determined by the respective legal retention period (e.g. commercial and tax retention periods). After expiry of this period, the corresponding data will be routinely deleted, provided they are no longer necessary for the performance or initiation of the contract and/or there is no longer any legitimate interest on our part in the further storage.

6) Reference to the Etsy Privacy Policy
The Etsy platform is responsible for all further data processing that goes beyond the data processing described above. For more information about Etsy's privacy practices, please see Etsy's privacy policy: https://www.etsy.com/uk/legal/privacy/?ref=ftr

--------------------------------
C. Instructions for cancellation
--------------------------------

Right to cancel
You have the right to cancel this contract within fourteen days without giving any reason.
The cancellation period will expire after 14 days from the day on which you acquire, or a third party other than the carrier and indicated by you acquires, physical possession of the goods.
If the contract is a contract for the supply of data which are not supplied on a tangible medium and produced and made available in digital form (digital content), the cancellation period ends at the end of 14 days after the day on which the contract is entered into.
To exercise the right to cancel, you must inform us (Andrea Wisotzki, Lotharstr 14, 15732 Eichwalde, Deutschland, Tel.: 015122910865, E-Mail: kontakt@fitzifloet.de) of your decision to cancel this contract by a clear statement (e.g. a letter sent by post, fax or e-mail). You may use the attached model cancellation form, but it is not obligatory.
To meet the cancellation deadline, it is sufficient for you to send your communication concerning your exercise of the right to cancel before the cancellation period has expired.

Effects of cancellation
If you cancel this contract, we will reimburse to you all payments received from you, including the costs of delivery (except for the supplementary costs arising if you choose a type of delivery other than the least expensive type of standard delivery offered by us) without undue delay and not later than fourteen days after the day on which we are informed about your decision to cancel this contract. We may make a deduction from the reimbursement for loss in value of any goods supplied, if the loss is the result of unnecessary handling by you. We will make the reimbursement using the same means of payment as you used for the initial transaction, unless you have expressly agreed otherwise. In any event, you will not incur any fees as a result of the reimbursement.
If the contract is a sales contract for the delivery of goods, we may withhold reimbursement until we have received the goods back.
You shall send back the goods or hand them over to us without undue delay and in any event not later than 21 days from the day on which you communicate your cancellation from this contract to us. The deadline is met if you send back the goods before the period of 21 days has expired.
You will bear the direct cost of returning the goods.
You are only liable for any diminished value of the goods resulting from the handling other than what is necessary to establish the nature, characteristics and functioning of the goods

--------------------
D. Cancellation form
--------------------
If you wish to cancel this contract, please complete and submit this form.

Andrea Wisotzki
Lotharstr 14
15732 Eichwalde
Deutschland
E-Mail: kontakt@fitzifloet.de
I/We (*) hereby give notice that I/We (*) cancel my/our (*) contract of sale of the following goods (*) /for the supply of the following service (*),
_______________________________________________________
_______________________________________________________
Ordered on (*) ____________ / received on (*) __________________
________________________________________________________
Name of consumer(s)
________________________________________________________
Address of consumer(s)
________________________________________________________
Signature of consumer(s) (only if this form is notified on paper)
_________________________
Date
(*) Delete as appropriate