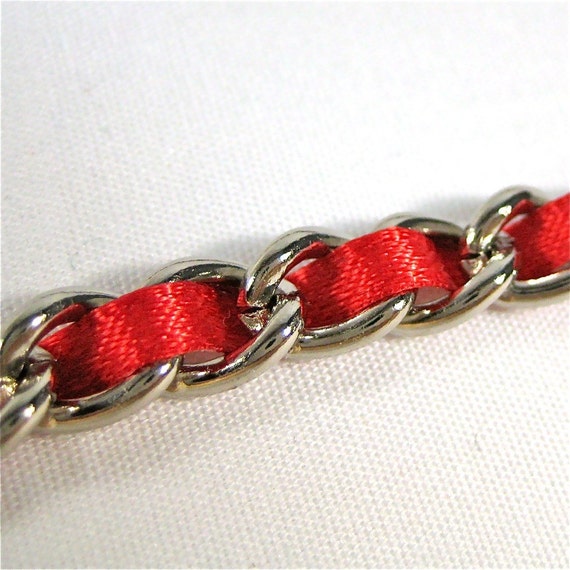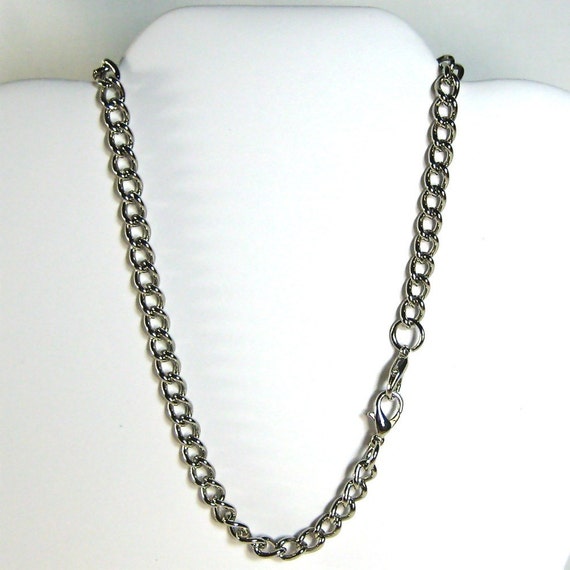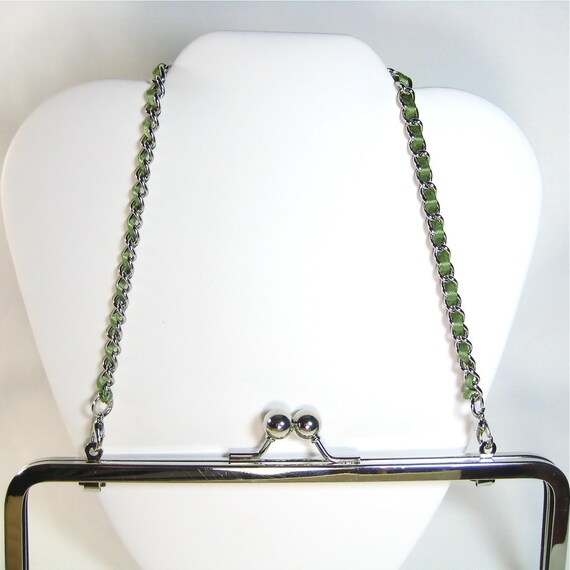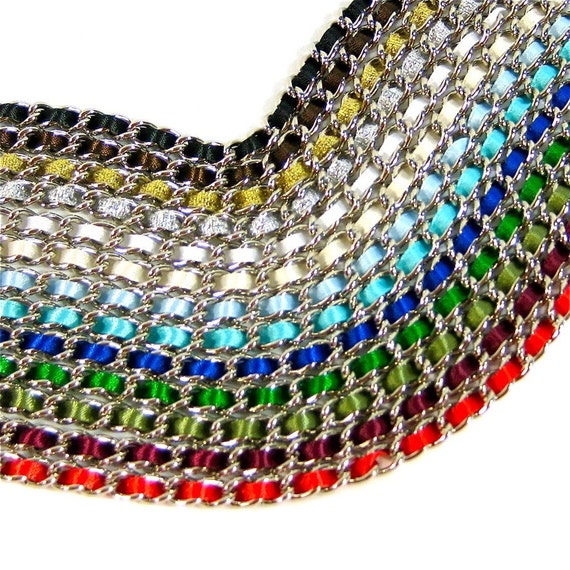 Arrives from the United States
---
Item details
Like jewelry for your bag! Made of iron with a 2-coat nickel-free plating process, this chain is just the right length to go with your clutch bag. So nice you could double it up and wear it like a necklace!

This listing is for the "nickel-free purse chain(TM)" in Sterling and a 24" length of ribbon in CLASSIC RED for you to thread.

Length of chain: 13 inches (33cm) tip-to-tip

Know your metals! The following are FACTS as related to my "nickel-free purse chain(TM)":

My chains are plated nickel-free. Why is this good???

1) 'silver' or 'nickel' plating is cheaper. Nickel-free is a more expensive plating finish that I originated in 2009 in the metal purse frame market.
2) good for people with nickel sensitivity. It's HYPOALLERGENIC, ITCH- and RASH resistant.
3) nickel-free has a protective coating.
4) it meets the US's Environmental Protection guidelines.

I also use the classic, easy-to-use LOBSTER CLAW clasp that is on many necklaces. Easy on, easy off. No awkward, stiff, hard to open, or cheap clasps here!

**Want to add some color? Check out my other listings for the chains with other colored ribbons in it. The choices are endless!**

"nickel-free purse chain(TM)" is a trademark of Khuong LLC 2010. All rights reserved. All my frames come with an unconditional 30-day FULL REFUND (minus shipping costs back to me) for ANY REASON.

All my frames come with an unconditional 30-day FULL REFUND (minus shipping costs back to me) for ANY REASON.

(TM) Trademarks of WhileBabyNaps and Khuong LLC 2009-2012. All rights reserved.

BEFORE YOU BUY from us, please read our detailed shipping policies here to find out about tracking, insurance, or lost packages. We COMBINE ship and you will be refunded any excess shipping fee that was charged to you in Etsy's cart over $1. Please note that you are never charged for packaging (boxes, tissues, poly-bags) or for handling (it takes about 10 minutes per order for a set of 5 frames). The shipping amount charged in your ETSY cart may not be the actual costs.

http://www.etsy.com/shop/whilebabynaps/policy?ref=shopinfo_policies_leftnav
---
---
More from this seller
---
Shipping & policies
Arrives from the United States
Estimated Shipping
USPS raises rates yearly and 2015 rates will be effective January 27, 2015. The international rates have increased substantially: however, it is still unbelievably much cheaper than rates from all other carriers in the US so it's still your cheapest option.

Before you buy from us, please note the following: All orders are shipped using USPS Flat rate Priority Mail service that comes with free Delivery Confirmation, which provides you with a tracking number.

*If your package is delayed or lost? Please use this tracking number with your local USPS office to try to locate your package.

*If you want to ensure that your package will not get lost? Please contact us for the same service plus SIGNATURE confirmation for an additional $2.55.

*If you need your package there quickly? Please contact us for Guaranteed Express Delivery (prices vary depend on region).

*What if you used either service of Signature Confirmation or Guaranteed Express Delivery and your package is late or was never delivered? Per USPS, the shippers are not able to file a claim: only the recipient (you) can file a claim. But to put your mind at ease, since 2009, only 3 packages have been lost so this rarely happens. The risk of shipping mishaps (e.g. damaged and lost packages) is borne on you, the customer, so I advise getting insurance for your package. I have not had one customer with a damaged package. :) YAY!

*What if you want to insure the package in case it's lost of damaged? Please contact us for this additional service. This charge depends on the value of the contents of the package. The following are approximate costs to insure based from USPS.

USPS Insurance rates:

Package contents value $1-50 = $1.85 to insure
Package contents value $51-100 = $2.35 to insure
Package contents value $101-200 = $2.90 to insure
Package contents value $201-300 = $4.85 to insure
Package contents value $301-400 = $5.95 to insure
Package contents value $401-500 = $7.05 to insure
Package contents value $501-600 = $8.15 to insure

*Is there combined shipping? Yes! If you order several items from me, I will try to fit everything in as few boxes as I can to give you the most economical shipping. You will be refunded any excess shipping fee that was charged to you in Etsy's cart over $1. Please note that you are never charged for packaging (boxes, tissues, poly-bags) or for handling (it takes about 10 minutes per order for a set of 5 frames).

*Why does the shipping cost in my Etsy cart so expensive? The shipping program within Etsy makes it very difficult to get the correct shipping rates for the various items in my shop. Shipping metal purse frames that are heavy and that come in many sizes is most economical via a flat rate Priority Mail box. Shipping Gutermann glue, while extremely light, but takes up precious space when added in with the frames makes this task even harder for Etsy to have the correct shipping rates applied. Below are the boxes used along with rates and dimensions.

Mailing method U.S. customers (from USPS):
*1-3 frames depending on size is First Class mail. ~ $3-$5.
*1st flat rate tier: Small flat rate Priority Mail w/ delivery confirmation $5.80 (5 frames)
*2nd flat rate tier: Medium flat rate Priority Mail w/ delivery confirmation $12.35*** BEST BANG for your BUCK! (Can fit up to 35 frames.)
*3rd flat rate tier: Large flat rate Priority Mail w/ delivery confirmation $17.45 (50 frames)

I've shipped tens of thousands of frames to customers. Given the new 2015 shipping rates, I can tell you with certainty that the BEST BANG for your BUCK is the medium flat rate Priority Mail box for domestic US customers and international customers. Plan out your clutch collection and save in 2 ways:

1- VOLUME discount for volume purchase. Each listing tells you how many percent discount I've given.
2- Flat rate as long as it fits in the medium box which is really roomy. It's better to spread the cost of over 35 frames and 6 tubes of Gutermann glue than 10 frames + 2 tubes.

*For International Orders, please note that sellers are not responsible for VAT or any other taxes, import duties, or fees that your government/country charges you.

*Please note that US Customs or your country's Customs Officials may hold up your package. Your country's Customs may not deliver it or release it without charging you an additional fee. ALL packages are subjected to random inspection. Please contact your country's Customs or your local courier if your package has not been delivered. Once the package is shipped, I have no control what/how USPS and their shipping partners move your package.

International customers:
Mailing method CANADA customers (same boxes as US but with different International rates as per USPS):
*1st flat rate tier: Small flat rate Priority Mail with delivery confirmation $20.55
*2nd flat rate tier: Medium flat rate Priority Mail with delivery confirmation $42.25
*3rd flat rate tier: Large flat rate Priority Mail with delivery confirmation $55.75

ALL other COUNTRIES (from USPS):
*1st flat rate tier: Small flat rate Priority Mail with delivery confirmation $24.75
*2nd flat rate tier: Medium flat rate Priority Mail with delivery confirmation $61.75
*3rd flat rate tier: Large flat rate Priority Mail with delivery confirmation $80.50
---
Payments
I'm a verified Premier Business member. You need NOT be a Paypal member to pay. When you are at the Paypal site, there's a little link at the mid-bottom that informs you to click on it if you want to use your own credit card. So if you have a card that you earn miles or cash-back from, use that via Paypal's encrypted network.

Please have the correct address on your Paypal account as all orders will be sent to that account under the Paypal's Seller Protection Policy. (Orders of 50+ frames require a 24-48-hr processing time for inspections.)
---
Returns & exchanges
For 30 days, FREE refunds or exchanges (minus shipping cost that you paid for the order and for shipping it back to me) for metal purse frames and glue if you are not happy or just changed your mind. I sell the finest quality metal purse frames and I'm 100% confident you'll like them. Please note that items must be unused and in same new condition as was shipped to you.

My frames will last the "life of the clutch", that is, it will last as long or longer than the fabric portion of the clutch. However, depending on frequency of use, much like drawer pulls or barrettes, the metal frames will show its wear resulting in a copper patina around the closures and shoulders over time. This patina is not a defect and should not be retouched as the value of the clutch may decrease, much like many antiques should not be buffed up! (Thanks, Antiques Roadshow!) Please know that I use the highest level of plating thicknesses on these frames for its functional use.

Read it here: http://clutchme.wordpress.com/2011/09/09/the-important-of-plating-in-metal-purse-frames/

With everything else, I state clearly the design, trademarks, copyrights, and show with pictures as true as possible. What you SEE is what you GET. NO surprises.
---
Additional policies
READ MY BLOG for a trove of info on the business. If you are in it to start a business, I supply the tutorials and kits to learn the skill, the glue, the metal purse frames, and interface, and the chains .... all you need to make it happen.

So learn things such as:
*How to put glue into U-channel purse frames
*4 Things you can do to improve your clutch business
*What is the lead content in these frames?
*Why nickel-free?

All at my blog http://clutch-me.com.