20 Pink Magnetic Hematite Beads, 8mm Salmon Pink Drum Beads, Bead Destash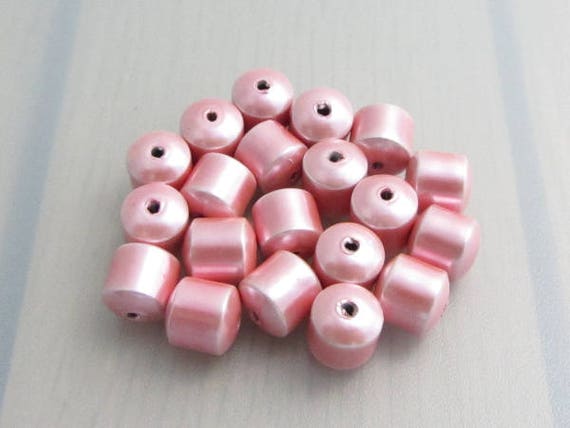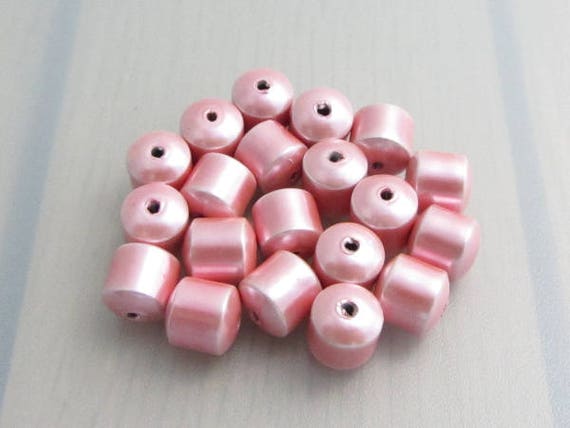 ---
Shipping & policies
Preparation takes 1-5 business days
Arrives from United Kingdom
Estimated Shipping
>>> Dispatch Times <<<

For physical products, dispatch times are provided on each product's listing page and will vary depending upon whether an item is pre-made or custom made.

For digital products, items will be available to download once payment has cleared.

>>> UK Shipping <<<

Orders will be sent via First Class. Royal Mail estimates a delivery time to a UK address as 1 - 3 working days.

>>> International Shipping <<<

Orders will be sent via standard Airmail. Royal Mail estimates the following delivery times to the country destination (therefore extra time needs to be added for your local postal service to deliver your order):
> Western Europe within 3 working days.
> Eastern Europe within 5 working days.
> Everywhere else (including US/Canada) as 5 - 7 working days. Although it is typically taking 1 - 4 weeks for items to be delivered.

Please note that these are only estimates and delivery times can be longer. It depends upon your local postal delivery service and on customs clearance times as well.

***** CANADA SHIPPING DELAYS ******

Royal Mail state "We've been seeing delays of our untracked mail worsening into Canada as a result of increasing volumes as we approach Christmas. Customers should expect delays of approximately 10 working days for untracked items". As of February 2018 Royal Mail have stated that improvements have been made to delivery timescales, however, there are still delays occuring.

So please be aware that shipping to Canada currently is more likely to take 3 - 6 weeks for items to arrive.

******************************************


Agreed Time for Delivery of Goods (as per regulation 42 of The Consumer Contracts (Information, Cancellation and Additional Charges) Regulations 2013) shall be:
> 4 weeks from order date for delivery to UK addresses
> 8 weeks from order date for delivery to addresses outside UK

>>> Duties & Local Taxes <<<

**** IMPORTANT ****

Please be aware that as of 3rd June 2016, Etsy have added wording on to all listings to state "VAT/Taxes are included (where applicable)". I am not registered to collect taxes for ANY country, therefore VAT/Taxes that may be due when importing an item in to your country (for non-UK customers) have NOT been included in the price. I do apologise for any confusion caused, however please understand it was Etsy that added this wording, and I have no control over it.

***********************

Many countries apply custom fees and import taxes on packages over a certain value entering their country. Please be aware that customers have the sole responsibility for these fees and/or taxes that are applied at the point of entry in to the destination country.

>>> Tracking <<<

Tracking is not included in the standard shipping prices. If you require this you can select the shipping upgrade when going through the checkout process.

>>> Lost Packages <<<

Items that the postal services lose (this is rare, but can occasionally happen) will be refunded in full including the original shipping cost. Items are not classified as lost until:
> UK - 2 weeks since package was dispatched.
> Everywhere else - 6 weeks since package was dispatched.

>>> Damaged Packages <<<

For items that arrive damaged (this is extremely rare), I will require you to photograph the damage and send those photos to me. Damaged items will either be replaced OR refunded in full.
---
Payments
You can pay via debit card, credit card or PayPal. I also accept Etsy Gift cards.

>>> Shipping Address <<<

If you pay via PayPal your order will be dispatched to the address you specified to PayPal. All other orders will be dispatched to the address you specified on Etsy. Due to seller protection rules, I will only ship to the address on the order so please ensure your address information is correct prior to purchasing. If a different address is requested after an order is placed, I will unfortunately have to cancel the order and you will need to reorder with the correct address.
---
Returns & exchanges
I sincerely hope that you are pleased with your purchase. However, in the event that you are not happy for any reason, please contact me and I will do my best to resolve the problem promptly.

>>> Right To Cancel <<<

I accept cancellations up till an order is dispatched, and a full refund including shipping will be provided. Please be aware that I only mark items shipped once they have been passed to the postal service. Sometimes it might take me a few hours after an item is shipped, for me to have the opportunity to mark the order as dispatched.

If you wish to return an item, then please return them within 14 days of delivery in the condition they were sent out, and I will issue a full refund including the original shipping cost upon receipt. Please note that the customer is responsible for any return shipping costs.

Standard cancellation notice (delete or add information where applicable):

Seller: Victoria Tickner
Address: 16 Cook Place, Chelmer Village, Chelmsford, Essex, CM2 6TW, UK
Email: purplewyvern.jewels [!at] gmail.com

I/We hereby give notice that I/we cancel my/our contract of sale for the following goods.

Name or description of goods:
Ordered on (date):
Received on (date):
Transaction number (from Etsy receipt):
Customer's name:
Customer's address:
Customer's signature:
Date:

For international returns from outside the EU, please mark the package clearly with "RETURNED GOODS" and include on the customs form a complete and accurate description of the goods, and clearly mark as returned merchandise. If the package is marked correctly, then I will provide a full refund including original shipping price. However, if the package is not marked correctly I will have to deduct any import fees I have to pay from the amount you originally paid, and therefore will only provide a partial refund in that instance.

Due to the reproducable nature of digital products, I am NOT able to offer a refund on PDF patterns/tutorials once you have received your order. However, if you have an issue with your tutorial, please get in touch and I will do my best to resolve it.

>>> Faulty Goods <<<

Faulty Goods may be replaced, repaired, fully or partially refunded. Please contact me before making any faulty goods returns. I will agree a suitable course of action which may include return of goods at my cost or alternative action that does not require return of goods. I will not refund postage costs for unauthorised returns.

I exclude responsibility for any damage caused by wear and tear, excessive stretching, cutting, abrasion, incorrect care, heat, prolonged exposure to sunlight, exposure to water, chemicals, staining, unauthorised repair, heavy wear, rough handling or other inappropriate actions.

>>> Complaints/Dispute Resolution <<<

All sales are subject to UK law, with disputes subject to resolution in English courts. Dispute resolution is also available through Paypal, Etsy or card providers depending on payment method used. For EU customers, you can also now use the EU Online Dispute Resolution https://webgate.ec.europa.eu/odr/main/index.cfm?event=main.home.show&lng=EN
---
Additional policies
>>> Customers Rights & Contracts <<<

These policies do not affect the customer's legal rights.

A contract is not in place until payment has been made, and I am under a legal duty to supply goods that are in conformity with the contract. Purchase of goods is subject to availability. I reserve the right to decline an order.

>>> Marked As Gift <<<

If you select the option "This order includes a gift" during the checkout process, this means that a receipt without prices (i.e. a gift receipt) will be included in the purchase. Please note that for international orders that are sent outside the EU, a customs form will be attached to the package with the value of the order stated on it (this is required by law).

>>> FAQs <<<

>>> Gemstones <<<

Each semi-precious gemstone by their very nature is unique. The patterns, markings and colouring will differ between the same type of gemstone. Please note that minor imperfections may exist as they are natural stones.

>>> Jewellery Care <<<

To help reduce tarnishing of the sterling silver, it is recommended that the jewellery is contained in an airtight container, such as a resealable plastic bag when not in use. If the sterling silver does tarnish, a silver polish cloth can be used to remove the tarnish and restore the shine.

It is important that any macrame jewellery is NOT made wet, by wearing in the shower (for example). Whilst the colour should not run, this cannot be guaranteed. Plus, there is a risk of the jewellery item being damaged by getting wet and coming undone. The glue used on the macrame jewellery to glue the ends of the material, is water resistant, but not waterproof.

As with any plated jewellery, the plating on the silver plated jewellery I sell will wear off with time and wear. I recommend that the silver plated jewellery should not be worn at night, not got wet e.g. not to be worn whilst swimming, showering or exercising. The jewellery should also not be cleaned with any chemicals as the chemicals can remove the plating. If you do need to clean silver plated jewellery, then it's best to do with a dry or slightly damp cloth and wipe gently, vigorous rubbing will wear the plating away.

>>> Packaging <<<

To keep shipping/postage costs to a minimum, jewellery items will be packaged in an organza gift bag and shipped inside a protective padded envelope, such as Mail Lite or Jiffy. Tissue paper and/or bubble wrap may be used, particularly if the item is small so that it doesn't move around inside the envelope.

>>> Reviews <<<

If there are any issues with your purchase, please contact me before leaving a review, as I aim to resolve any problems customers may have.

>>> Other <<<

All sales are subject to UK law.

Due to insurance reasons I can not accept personal callers.

E&OE