Dark grey super soft alpaca wool roving, spinning fiber, felting wool, doll hair, alpaca hair, grey alpaca wool, spinning wool, 100g, 3.5oz
(1)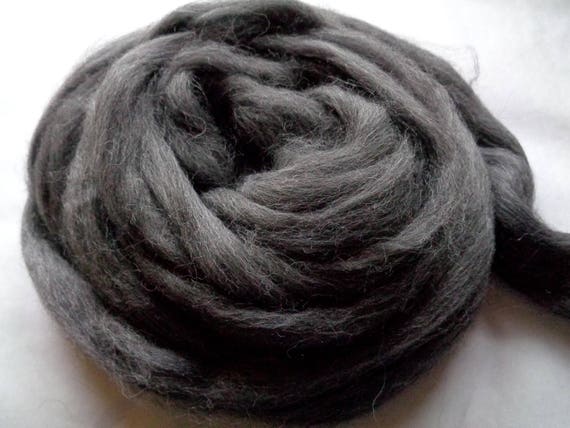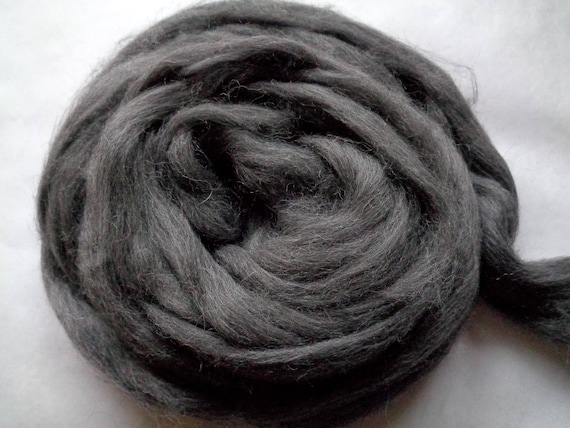 ---
Item details
** FREE worldwide shipping on etsy orders of $100 or more! (please use coupon code SHIP4FREE at checkout). **

This is a very high quality super soft alpaca wool roving of 24 micron in natural dark grey. It is most suitable for handspinning, wet felting, doll hair, and hand dyeing to achieve beautiful dark heathered shades.
The average staple length is 5-6 inches (12.5-15cm). This combed fiber will make the softest yarn and felt indeed.

You are getting 3.5oz (100g) of natural dark grey baby alpaca roving.
Fiber content: 100% alpaca.


**I offer combined shipping on multiple item purchase.**
---
Absolutely lovely fiber. Beautifully processed and extremely quick shipping.
Jan 25, 2018 by Linda
---
Shipping & policies
Preparation takes 1-2 business days
Estimated Shipping
Delivery time:
Germany: 3-5 business days after payment is made.
Destinations outside Germany: A period of 2-9 business days has to be added to the respective domestic delivery time.

For deliveries outside the European Union buyers are responsible for any customs and import taxes that may apply.
---
Payments
For Payment Terms see below in "General Terms and Conditions and Privacy Policy".
---
Returns & exchanges
I gladly accept returns and cancellations
Contact me within:
14 days of delivery
Ship items back within:
30 days of delivery
Request a cancellation:
before item has shipped
I don't accept exchanges
But please contact me if you have any problems with your order.
Conditions of return
Buyers are responsible for return shipping costs. If the item is not returned in its original condition, the buyer is responsible for any loss in value.
Additional return information
Buyers are responsible for return shipping costs. If the item is not returned in its original condition, the buyer is responsible for any loss in value.

CANCELLATION POLICY, RIGHT OF WITHDRAWAL
You have the right to withdraw from this contract within 14 days without giving any reason. The withdrawal period will expire after 14 days from the day on which you acquire, or a third party other than the carrier and indicated by you acquires, physical possession of the goods.
To exercise the right of withdrawal, you must inform us (Heike Rische, Tairnbacherstraße 20, 69234 Dielheim, Germany, phone +49-01738-460239, e-mail alltheprettyfibers [!at] yahoo.com) of your decision to withdraw from this contract by an unequivocal statement (e.g. a letter sent by post or e-mail). You may use the attached model withdrawal form, but it is not obligatory.
To meet the withdrawal deadline, it is sufficient for you to send your communication concerning your exercise of the right of withdrawal before the withdrawal period has expired.

Effects of withdrawal
If you withdraw from this contract, we shall reimburse to you all payments received from you, including the costs of delivery (with the exception of the supplementary costs resulting from your choice of a type of delivery other than the least expensive type of standard delivery offered by us), without undue delay and in any event not later than 14 days from the day on which we are informed about your decision to withdraw from this contract. We will carry out such reimbursement using the same means of payment as you used for the initial transaction, unless you have expressly agreed otherwise; in any event, you will not incur any fees as a result of such reimbursement.
We may withhold reimbursement until we have received the goods back or you have supplied evidence of having sent back the goods, whichever is the earliest.
You shall send back the goods or hand them over to us without undue delay and in any event not later than 14 days from the day on which you communicate your withdrawal from this contract to us. The deadline is met if you send back the goods before the period of 14 days has expired.
You will have to bear the direct cost of returning the goods.
You are only liable for any diminished value of the goods resulting from the handling other than what is necessary to establish the nature, characteristics and functioning of the goods.

Exceptions from the right of withdrawal
The right of withdrawal shall not exist for contracts regarding the delivery of merchandise that is not prefabricated and is made according to the consumer's individual choice and specifications, or of merchandise that obviously is tailored to meet personal customer requirements.


Withdrawal form
(complete and return this form only if you wish to withdraw from the contract)

— To Heike Rische, Tairnbacherstraße. 20, 69234 Dielheim, Germany, e-mail: alltheprettyfibers [!at] yahoo.com


— I/We (﹡) hereby give notice that I/We (﹡) withdraw from my/our (﹡) contract of sale of the following goods (﹡) / for the provision of the following service (﹡),


— Ordered on (﹡) / received on (﹡),


— Name of consumer(s),


— Address of consumer(s),


— Signature of consumer(s) (only if this form is notified on paper),



— Date


(﹡) Delete as appropriate

================================================================================================
---
Additional policies
General Terms and Conditions and Privacy Policy of the Etsy Shop "All The Pretty Fibers"

Part I: General Terms and Conditions
Part II: Privacy Policy

Part I: General Terms and Conditions
Section 1 – Vendor, inclusion by reference of the General Terms and Conditions
(1) The vendor and contracting party for the merchandise presented in the Etsy Shop "All The Pretty Fibers" is Heike Rische, Tairnbacherstraße. 20, 69234 Dielheim, phone 01738-460239, e-mail alltheprettyfibers [!at] yahoo.com (referred to hereinbelow as the "vendor" for short).
(2) The present General Terms and Conditions are a component part of any contractual agreement made between the vendor and the respective customer. The vendor hereby objects to any terms and conditions that the customer may have established and that contradict the present General Terms and Conditions.

Section 2 – Merchandise offered and conclusion of contract
(1) The vendor is offering the articles presented in the Etsy Shop "All The Pretty Fibers" for sale to other DaWanda users. The colors of the articles shown on the website may vary slightly depending on the internet browser and monitor settings used by the customer; these variations are technically unavoidable.
(2) The selection of merchandise, conclusion of contract and implementation of the agreement shall take place, to the selection of the customer, in German or English.
(3) The vendor shall deliver the merchandise to destinations worldwide.
(4) Customers shall select the merchandise desired by placing it in their "Cart" ("Warenkorb") by clicking on the button "Add to Cart" ("In den Warenkorb") or by clicking on the button "Proceed to Checkout" (Zur Kasse gehen) or "Check out with PayPal" ("Mit PayPal kaufen"). The order will be conclusively placed with the Vendor by clicking on the button "Pay Now" ("Jetzt bezahlen"). Until the order is transmitted to the Vendor, customers have the opportunity to review, at any time, the data they have input when placing the order, to modify them or to completely discontinue the order.
(5) The Vendor is making a binding sales offer for the merchandise presented in its shop. By transmitting the order using the button "Pay Now" ("Jetzt bezahlen") within the step of order "Review and submit your order", the customer accepts the sales offer. The Vendor shall confirm the conclusion of the contract by e-mail (contract confirmation).
(6) The content of a contract concluded is stored by Etsy in the vendor's and the customer's Etsy user accounts and may be viewed by the customer in his user account on the Etsy portal by clicking on the item "Purchases and reviews" ("Einkäufe und Bewertungen") in the "You" ("Du") menu. After conclusion of a contract, Etsy shall also send an e-mail with the content of the contract to the customer. Beyond that, the vendor does not save the content of the contract nor does he provide access to it outside the Etsy platform.
(7) The Vendor shall inform the customer by e-mail of any impediments preventing the delivery from being made, or of any other circumstances that might prevent contractual performance.

Section 3 – Prices and payment
(1) All product prices are total prices plus shipping costs. Prices include turnover tax in the amount of 19%.
(2) The shipping costs are listed in the respective product description under "Payment & Shipping" (Bezahlung & Versand).
(3) Where deliveries are made to destinations outside of the European Union, customs or acquisition tax for imported goods may have to be paid by the customer to the customs authorities upon receipt of the shipment. These duties will accrue in addition to the purchase price and the shipping costs; the vendor has no means of influencing them.
(4) At the selection of the customer, the Vendor shall deliver the merchandise against pre-payment by redeeming an Etsy-voucher, against pre-payment by credit card, or against pre-payment using PayPal.
(5) For orders subject to pre-payment, an immediate payment shall apply.

Section 4 – Shipment, delivery periods
(1) The vendor shall deliver the merchandise within 3-5 business days after payment is made.
(2) For products labeled as "Customisable", the delivery period shall be extended by one week in the case that the customer has requested the offered customisation.
(3) For deliveries to destinations outside Germany, a period of 2-9 business days has to be added to the respective domestic delivery time.
(4) If the customer's order contains more than one product, all products will be delivered in one single shipment; for this shipment, the longest given delivery period for any of the contained products will apply. If the customer wishes a product to be delivered seperately in shorter time, he may place a seperate order for that product.
(5) Where a delivery cannot be made because the customer has provided a wrong or incomplete delivery address, an attempt to once again deliver the merchandise shall be made only if the customer accepts to bear the costs of re-shipping the merchandise. The re-shipping costs correspond to the shipping costs agreed at conclusion of contract.

Section 5 – Right of withdrawal for consumers
(1) A customer purchasing as consumer is entitled to a right of withdrawal in accordance with the statutory pre-requisites. A consumer means every natural person who enters into a legal transaction for a purpose that is mainly outside his commercial or self-employed professional activity.
(2) The pre-requisites and legal consequences of the German stipulations as to consumers' rights of withdrawal shall apply to consumers having their permanent residence outside of Germany also in those cases in which the consumer's national law does not provide for a right of withdrawal or provides for a shorter withdrawal period or for stricter requirements as to form; for Slovenia the withdrawal period shall be extended to 15 days.

Section 6 – Warranty
(1) For the used goods offered, the parties agree that the period of limitation regarding warranty claims shall be shortened to one year. However, the shortened period shall neither apply to claims based on injury to life, body or health nor to claims for other damages arising from a grossly negligent or intentional breach of duty by the vendor, by a legal representative of the vendor or by a person used to perform an obligation of the vendor.
(2) In all other regards, the warranty claims shall be governed by the statutory regulations.

Section 7 – Final provisions
(1) The laws of the Federal Republic of Germany shall apply, to the exclusion of the United Nations Convention on the International Sale of Goods (UNCISG). However, German law shall not apply to transactions with consumers having their permanent residence abroad to the extent the national laws applicable to those consumers set out provisions that cannot be contracted out to the detriment of the consumers.
(2) Should individual provisions of the present General Terms and Conditions prove to be invalid or impossible to implement, this shall not affect the validity of the remaining provisions.

Part II: Privacy Policy
(1) After conclusion of a purchase contract Etsy transfers to the vendor the customer's Etsy user name and his full name and billing address as they are stored in the customer's user account. If the customer has specified additional information with the order (eg a different delivery address or a phone number), it is also transferred to the vendor.
(2) The vendor shall process the data referred to in paragraph 1 for the performance of the contract, shipping of the merchandise, invoicing and recording payments. For shipping purposes, the vendor may transfer the customer's name and address to the contracted shipping company.
(3) The data remains stored by the vendor until all claims arising from the order are fully fulfilled and until the applicable commercial and tax law retention periods have expired.
(4) The customer may at any time, free of charge, request information from the vendor about the stored data concerning him. Furthermore, the customer may at any time request the correction of erroneous data.
(5) Regarding data processed by the vendor according to the paragraphs above, controller of data protection is the vendor (Heike Rische, Tairnbacherstraße 20, 69234 Dielheim, phone 01738-460239, e-mail alltheprettyfibers [!at] yahoo.com). Beyond that, Etsy's Privacy Policy applies.
(6) If the customer uses the services of PayPal for payment, the data protection provisions established by PayPal shall apply to the payment process additionally. In this context, PayPal shall be taking action as the person employed by the customer in the performance of his obligations (Erfüllungsgehilfe), not as a person so employed .
(7) You may find Social Media Buttons beneath a product photo; they can be recognized by the logos of the social media platforms (hereinafter "platforms") (Facebook: blue "f", Pinterest: red "p", Twitter: blue bird silhouette). These are links to the respective platforms based in the United States (USA). Clicking on such a link calls the respective Platform's website; at the same time, the IP address of your device and the address of the page where the link is placed ("Referrer") will be transmitted to the Platform in the USA. The vendor himself will neither collect, transmit nor otherwise process any data related to the use of the social media buttons.