Vintage OLYMPUS Infinity Stylus Epic Zoom 80 u(mju)-II Compact AF 35mm Point & Shoot Camera W/Quartz Date, Circa: 1991, Beautiful Camera!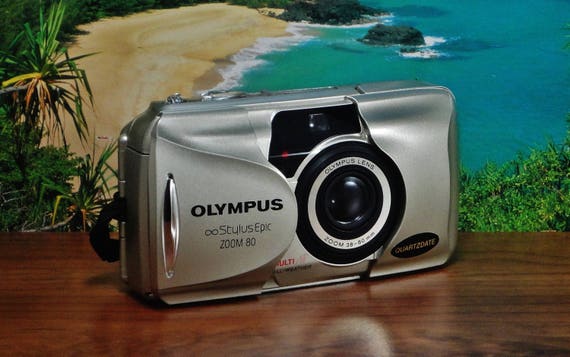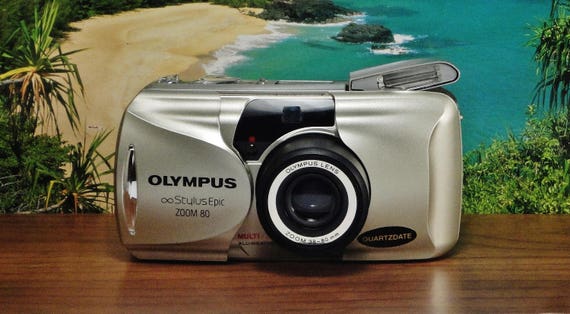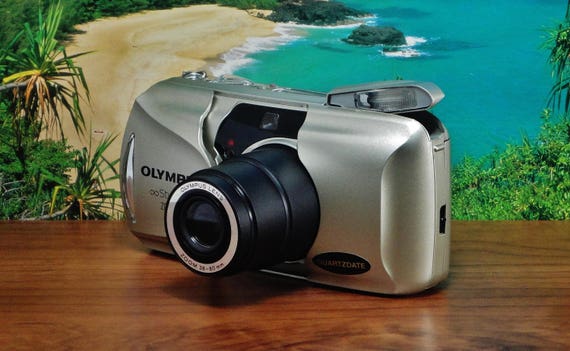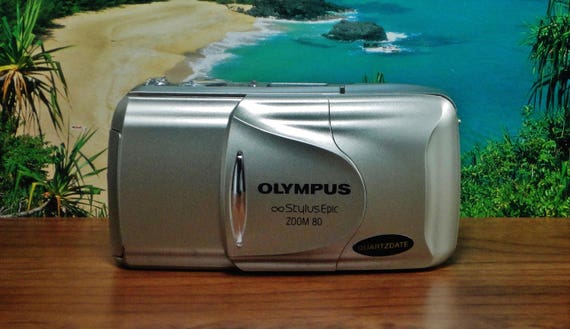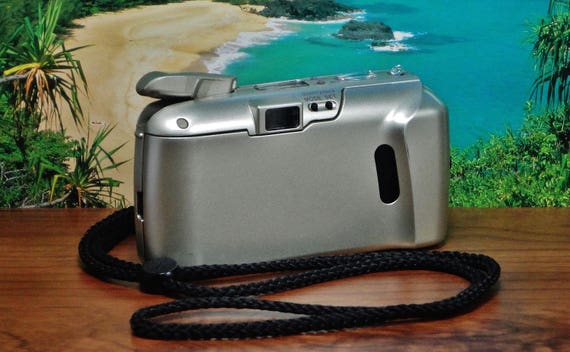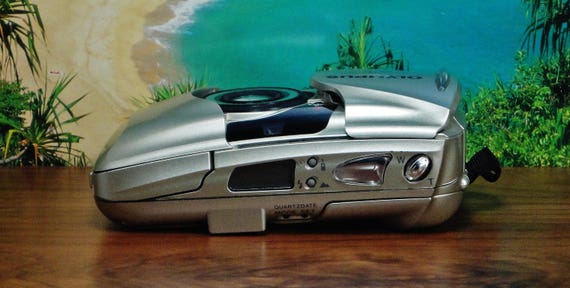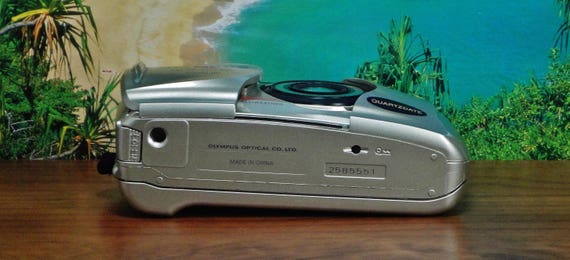 ---
Features
---
Item details
PROVIDING FINE QUALITY AND CUSTOMER SATISFACTION
~~~~~~~~~~~~~~~~~~~~~~~~~~~~~~~~~~~~~~~~~~~~~~~~~~~~~~~~~~~~~~
TESTIMONIALS
"This vintage camera is in such perfect condition; even more exquisite than description" - CALIFORNIA
"Absolutely better than I expected. Like it came out the box brand new" - MINNESOTA
"Camera arrived in excellent condition, delivery was fast, well packaged. I would definitely recommend buying from them and will continue to shop here" - NEW YORK
"The camera came in so fast and looks brand new. My boyfriend loves it and takes it with him every where he goes. I definitely recommend buying from this shop. They were absolutely wonderful and able to ship the camera to me quickly as I was on a time crunch" - TEXAS
~~~~~~~~~~~~~~~~~~~~~~~~~~~~~~~~~~~~~~~~~~~~~~~~~~~~~~~~~~~~~~

We have available a well cared for OLYMPUS INFINITY STYLUS EPIC QD Zoom 80 subcompact fully automatic point and shoot 35mm camera sporting an OLYMPUS 38~80mm f/4.5~8.9 zoom lens. Introduced in 1991, the STYLUS series is one of the nicest subcompact fully automatic sized film cameras ever made. It's a "feel good in your hands" type of camera small enough to pocket carry around with you. It's got a great lens for a small point and shoot. Pictures are crisp and accurately exposed. Features include auto wind/rewind, situational photography: low light, backlight, fill-in flash, self-timer, Auto-S for red-eye reduction, flash OFF button, focus lock for off centering subjects, Quartz Date and tripod socket for close-up photography. THIS OFFERING INCLUDES the OLYMPUS EPIC camera and original OLYMPUS adjustable neck/wrist strap.

This INFINITY STYLUS EPIC has been thoroughly inspected and cleaned inside and out and found to be in excellent physical and mechanical condition with clear optics. We tested the camera with film and all aspects of producing a picture worked superb. You'll find minimum surface wear for a camera of this vintage. In short, The OLYMPUS is a wonderful example of a gently used compact, fully automatic point-and-shoot 35mm camera.

Your OLYMPUS INFINIT STYLUS EPIC Zoom 80 will come to you securely packaged and protected for safe shipment. It will be ready to use the minute you receive it. So, if you've been looking for an excellent example of a vintage OLYMPUS point and shoot, you just might want to give this one a try. We are very confident you'll not be disappointed. Your questions are always welcomed. Thank you for stopping by!

CAMERA SPECIFICATIONS/FEATURES
~~~~~~~~~~~~~~~~~~~~~~~~~~~~~~~~~~~~~~~~
TYPE: Fully automatic 35mm autofocus lens-shutter point and shoot camera.

LENS: Olympus 38~80mm f/4.5~8.9 zoom lens, 5 elements in 4 groups.

SHUTTER: Programmed electronic shutter.

VIEWFINDER: Real image zoom viewfinder with autofocus mark, close-up correction marks, autofocus indicator and flash indicator.

FOCUSING: Active type autofocus system. Focus lock possible. Focus range 2 ft. to infinity.

EXPOSURE CONTROL: Auto exposure control with programmed electronic shutter. Auto control range: Wide angle EV 2.4~EV 16, Telephoto EV 4.3~EV 17.

BACKLIGHT CONTROL: +1.5 EV.

EXPOSURE COUNTER: Progressive type with automatic reset, displayed on LCD panel.

SELF-TIMER: Approx. 12 sec. delay. LED lamp indicator.

FILM SPEED RANGE: ISO 50 to 3200.

FILM LOADING: Auto loading. Advances to first frame.

FILM ADVANCE: Auto film winding.

FILM REWIND: Auto rewind after last frame. Auto rewind stop. Rewind possible at any point with rewind button.

FLASH: Built-in flash. Recycling time: Approx. 0.5 - 7 sec. (at normal temperature with new battery). Flash working range: Wide angle — 0.6 - 4.4 m (2 ~ 14.4ft)/Telephoto — 0.6 ~ 2.2 m (2 - 7.2 ft) with ISO 100 color negative film; Wide angle — 0.6 ~ 8.8 m (2 ~ 28.9 ft)/Telephoto — 0.6 ~ 4.4 m (2 ~ 14.4 ft) with ISO 400 color negative film.

FLASH MODES: Auto (automatic flash activation in low light and backlight); Auto-S (automatic flash activation in low light and backlight); OFF (no flash); FILL-IN (forced activation).

BATTERY CHECK: Display on LCD.

LENS BARRIER: Sliding type with release lock.

POWER SOURCE: 3V lithium battery DL123A, CR123A OR equivalent.

DIMENSIONS: 4.5" (L) x 2.3" (H) x 1.6" (D).

CAMERA SERIAL NUMBER: 2585551, Made in China

##
---
Shipping & policies
Preparation takes 1-2 business days
Arrives from the United States
Estimated Shipping
Shipping and Handling: At this time, we only ship within the United States. Items will be shipped by the US Postal Service (USPS) only. Depending on the shipping weight and package dimensions, items will ship First Class Mail, Priority Mail or Parcel Select. The Seller will choose the most practical and economical method for shipment. However, the Buyer may request Priority Mail over Parcel Select and First Class Mail. Orders will ship within 48 hours after payment has been approved and cleared. All shipments will include delivery confirmation. Express Mail is available upon request. Within 24 hours of shipment, you will receive notice from us with shipping information and a confirmation number.

---
Payments
TheVintageShop5 accepts all major credit cards and mobile payment methods approved for use by Etsy including Etsy gift cards. Immediate payment is expected at the time of "Checkout". Preparation for shipment will begin once your payment has been approved and cleared.
---
Returns & exchanges
IT IS THE RESPONSIBILTY OF THE BUYER TO READ AND UNDERSTAND THE BUSINESS POLICIES AS STATED HEREIN. PLEASE READ THE POLICIES FIRST BEFORE PURCHASING TO AVOID ANY CONFUSION. A PURCHASE CONSTITUTES AN ACKNOWLEDGEMENT THAT THE BUYER HAS READ, UNDERSTANDS AND AGREES TO THE POLICIES AS STATED HEREIN. THERE ARE NO WARRANTIES OR GUARANTEES EXPRESSED OR IMPLIED IN DOING BUSINESS WITH THEVINTAGESHOP5. YOUR QUESTIONS ARE ALWAYS WELCOMED. THANK YOU FOR STOPPING BY!


ORDER CANCELLATIONS / RETURN / REFUND POLICY
~~~~~~~~~~~~~~~~~~~~~~~~~~~~~~~~~~~~~~~~~~~~~~~~~~~~~~~~

ORDER CANCELLATIONS:

The buyer has 24 hours from the time an order is placed to cancel that order. After 24 hours, the buyer will be subject to a 20% restocking fee. The restocking fee will be calculated off the sell price of the product. NO EXCEPTIONS.

RETURNS AND REFUNDS:

All cameras and related accessories are sold "as is" which means there are no returns accepted or refunds given. Return/Refund consideration will ONLY be given under the following conditions: 1) Items that were clearly damaged during shipment (PROOF OF DAMAGE WILL BE REQUIRED). 2) The wrong item was shipped. 3) The item received did not match the description given in the original listing. THE BUYER HAS 48 HOURS FROM RECEIPT OF THE ORDER FROM THE CARRIER TO INSPECT, TEST AND OPERATE THE PRODUCT TO DETERMINE THAT IT MATCHES THE PRODUCT DESCRIPTION IN THE ORIGINAL LISTING. UNDER NO CIRCUMSTANCES WILL A REFUND/RETURN OF PRODUCT BE CONSIDERED/AUTHORIZED AFTER THE 48 HOUR PERIOD.

In the event of any of the above conditions, the Buyer must contact the Seller within 48 hours of receipt of product from the carrier. Contact will be in the form of an email or convo clearly stating the reason for the Buyer's request to return the item(s). If a return is warranted, the Buyer will provide insurance on all returns unless waived by the Seller. The Buyer is responsible for the shipping costs of the return including any insurance. The Seller will determine the method of return. No returns will be accepted without an approved Return Authorization Number (RAN) assigned by the Seller and clearly marked on the outside of the return package by the Buyer.

Upon receipt of the return, TheVintageShop5 will perform an inspection of the item(s) and evaluate the condition for which the return was authorized within 48 hours. Upon completion of that inspection, the Seller will notify the Buyer of the results. If the inspection results do not match the reason for the return, no refund will be authorized. If an approved refund is warranted, it will be processed within 24 hours of the inspection result notification. Any sign of product tampering, missing or exchanging of parts or any other sign of fraudulent conduct by the buyer will be reported and no refund will be authorized.

An approved refund may consist of, in full or in part, the original purchase price, the original cost to ship to the Buyer and the shipping cost to return. No insurance charges will be refunded. Please be aware should the inspection results not match the reason for the return, the Buyer may forfeit his/her request for a refund or the Buyer may be assessed a 20% restocking fee.

Any issues regarding the return and refund of an item must first be sorted out by the Buyer and the Seller. If an agreement cannot be reached, the Buyer and/or the Seller can open a resolution case with Etsy for further review and final dispensation.



---
Additional policies
CONDITION OF PRODUCT
~~~~~~~~~~~~~~~~~~~~~~~~~~~
We describe condition as best and as honestly as possible from our vantage point and our expertise in evaluating product condition. Product description of condition can be subjective in nature depending on condition type. For example, what we may view as a minor surface scratch may be a major scratch to another. We will not entertain nor debate these subjective conditions of wear. The buyer will assume the risk of these kinds of subjective wear conditions. Further, used vintage products are not perfect specimens. Therefore, in some cases, certain aspects of camera operation may require minor adjustments. A perfect example of that is a camera's exposure meter which may be in operating condition but requires a zero light adjustment so it gauges accurately. In this case and other like situations, the buyer assumes the responsibility in making these kinds of adjustments.

COMMUNICATIONS/SERVICE
~~~~~~~~~~~~~~~~~~~~~~~~~~~~~~~
We make every effort to provide fine quality products at a fair price and ship those items on-time. Providing excellent customer service is a prime goal for all of us here at TheVintageShop5. Should you have any questions, concerns, issues or even praise of any kind, please don't hesitate to contact us anytime, day or night. We are here to serve you. Thank you for visiting our store and we hope to do business with you soon.