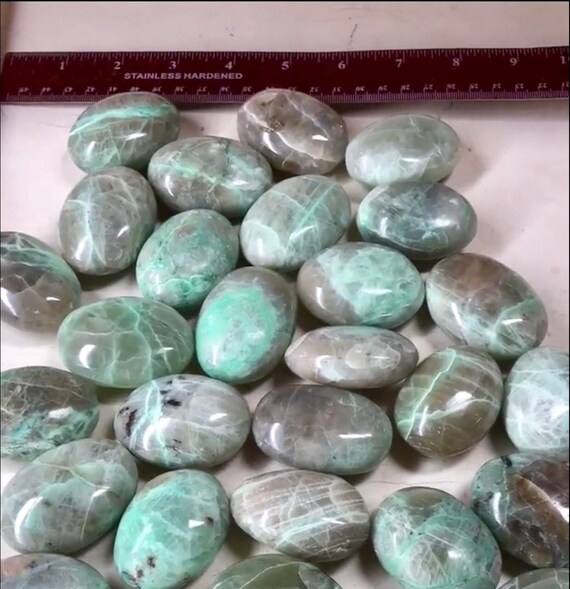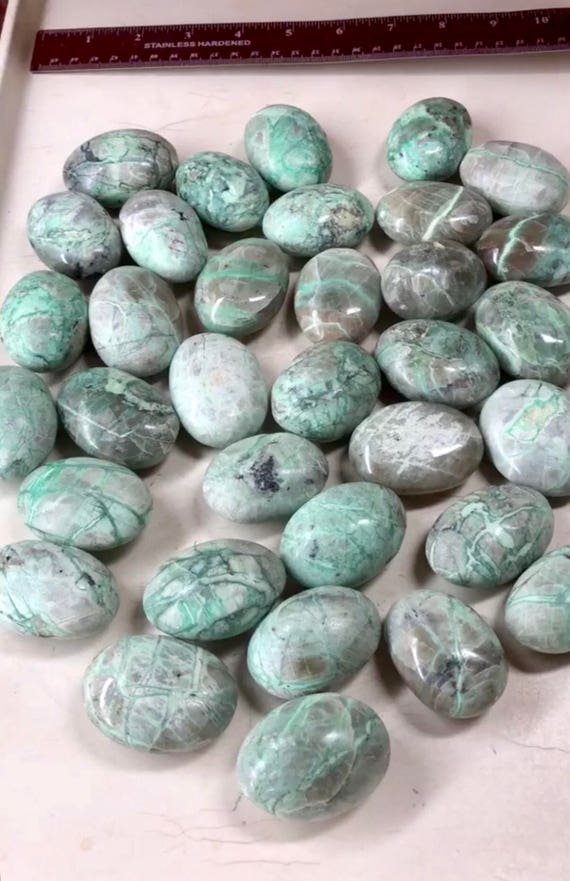 ---
Features
Made in Los Angeles, California
---
Item details
Glossy & matte finish Garnierite palm stones. These beauties measure approx 1 3/4"-2 1/8" range. I wish I could accommodate special requests, however, I can't. By necessity, this is a random pick by me. Garnierite is a very unique stone. Nothing comes close. It's getting rarer and rarer to find.

First photo shows a high polish finish. Second photo shows a matte finish. Please select which finish you would like.

In terms of healing properties, Garnierite helps you find your truth, your calling, and connect you with your divine self. As a green stone, it is associated with the heart chakra, encouraging you to embrace love and compassion, for those around you and for yourself. This is a stone of empowerment, of embracing your true and your inner divinity. Finding truth is at the heart of all goals; physical, spiritual, mental and emotional. Garnierite is also associated with nature and the natural world; it encourages and empowers us to preserve it and defend it, and as such, it is a stone associated with Mother Earth, Gaia. As are other green stones, Garnierite is cleansing and clearing, and helps you rid your space, physically and otherwise, of energetic muck and yuck. Garnierite honors the most amazing parts of ourselves, the divine, the truth, the magnificent. It has a gentle, loving energy. Definitely a must have for all avid collectors.
---
A lovely piece. Very glad to have bought it. A great splash of the mint green. Thank you.
May 8, 2018 by jordanmaneg
Bigger than I expected, but so very beautiful. The pictures don't show the real beauty of these stones; the color contrast between mint green and grey, the flash that appears when you move the stone back and forth. It is lovely and felt very nice in my hand. Thank you so much for my first palm stone and a beautiful garnierite!
Feb 20, 2018 by Alexandria Gemar
Feb 13, 2018 by Sabrina Cremia
Such a gorgeous stone! I got one each of polish & matte. Both are beautiful & have wonderful energy! Fast shipping & packaged well! Will definitely order from this shop again!
Feb 13, 2018 by Sabrina Cremia
---
Shipping & policies
Arrives from the United States
Estimated Shipping
**Note that I ship via first class through USPS. Tracking numbers are always provided. However, I am not responsible if package gets lost, stolen or arrives without contents. (It's happened before) therefore if you want to add insurance to your shipping then I can add it for an additional cost. Convo me and I can update the listing with the appropriate shipping price. For insurance I ship via priority mail and shipping starts at $8.45 (protects up to $50) and goes up depending on weight and how much insurance you want. Want to get a price quote for insurance prior to purchasing? Dm me and I can let you know.**

Please allow approximately 2 - 2 1/2 weeks for made to order ornaments, memory stones and jewelry. I ship standard delivery (approx 5-10 business days). If you need it faster please convo me and we can add on any additional fees for tracking or expedited delivery.

For made to order Crystal Goddess Skulls in the chakra set, please allow 3 1/2 weeks to make your one of a kind creation. I ship standard delivery (approx 5-10 business days). If you need it faster please convo me and we can add on any additional fees for tracking or expedited delivery.

Made to order mandala bowls take special handling and take from 3-4 weeks to create and set before they are ready for shipping. I ship standard delivery (approx 5-10 business days).

Made to order ombré rainbow macrame wall hangings take 3-4 weeks to complete before shipping.

Please also be aware that made to order items will be one of a kind and may vary from the photo in the listing. Clay colors can vary and marbled clay will always have a different design.

Decorative stones vary in size and weight. Shipping quotes on listing are estimates and may be more once the post office weighs it. If shipping happens to be more I will send a second invoice for the difference.

Returns: Buyer is responsible for shipping fees to return the item unless previously stated in PM. I suggest purchasing insurance and getting a tracking number as I am not responsible for lost or stolen items that don't make it back to me.

Holiday Season:
Please expect delivery delays during the holiday season. I have no control over how long the post office will take to deliver. If you would like to purchase tracking I can provide that for you.

**UPDATE**
Due to Etsy's new procedure on how sellers get the funds of a sale, I cannot ship any items without having payment clear first.
---
Payments
---
Returns & exchanges
I gladly accept returns
Contact me within:
5 days of delivery
Ship items back within:
7 days of delivery
I don't accept exchanges or cancellations
But please contact me if you have any problems with your order.
The following items can't be returned or exchanged
Because of the nature of these items, unless they arrive damaged or defective, I can't accept returns for:
Custom or personalized orders
Perishable products (like food or flowers)
Digital downloads
Intimate items (for health/hygiene reasons)
Conditions of return
Buyers are responsible for return shipping costs. If the item is not returned in its original condition, the buyer is responsible for any loss in value.
Additional return information
All my items are listed to the best of my ability. If item arrives damaged convo me and I will try to correct the problem as best as possible. Custom items are non refundable. If for any other reason you are unhappy with your purchase, convo me and I will find a way to make it right.

*buyer responsible for return shipping fees
---
Additional policies
Find my facebook page and like for special promotions and giveaways!
https://www.facebook.com/pages/Cubasianchicas-Etsy-Shop/1537441166486328

Hand painted clothing:
Hand painted onesies will vary since they are painted by hand. Fabric can be machine washed (turn inside out) and avoid fabric softener.

Available Fonts: please see my fb page and see album titled "Fonts"
Available Clay Colors: All
Available Luster Colors:

Maroon
Reddish copper
Copper
Antique copper (slightly darker copper)
Bronze (orangey gold)
Yellow
Light gold
Brilliant gold
Rich gold
Dark gold
Light green
Dark green
Mint green
Light blue
Royal blue
Dark blue
Purple
Purple pink
Pink with blue sheen
Bubblegum pink
Flamingo pink
Light silver
Antique silver
Charcoal gray
Pearl
Pearl with gold sheen
Pearl with pink sheen

Measurements of necklaces and bracelets: Each of my listings lists the measurement of the exact item photographed. Please keep in mind these are made to order items unless specifically otherwise mentioned in the listing. Exact measurements will vary per item as it depends on the stone size used. I will recreate these made to order items to look as close to the listed item as possible. But please know actual length will vary.

If you are interested in the healing properties of the stones I use feel free to read below:

Red: Red Jasper ~ Stimulates blood flow, the circulatory and digestive systems as well as the sexual organs.
Chakras: Base

Maroon: Garnet ~ Garnet cleanses and re-energises the chakras. It revitalises, purifies and balances energy, bringing serenity or passion as appropriate. Inspires love and devotion. Garnet balances the sex drive and alleviates emotional disharmony. It activates and strengthens the survival instinct, bringing courage and hope. Stimulates past-life recall. Sharpens perceptions of oneself and others. Garnet removes inhibitions and taboos. It opens the heart and bestows self-confidence. Garnet regenerates the body and stimulates the metabolism. It treats disorders of the spine and spinal fluid, bone, cellular structure and composition. Purifies the heart, lungs, blood and regenerates DNA. Garnet boosts the immune system and energy levels.
Chakras: Base, Heart

Orange: Red Aventurine ~ Red aventurine has the properties of aventurine, plus more because of its color and composition.Red aventurine enhances creativity and ability to see possibilities. It is said to be able to heal the reproductive system, and sometimes reverse diseases. It also can bring prosperity and lessen negativity.
Chakras: Base, Sacral, Solar Plexus, Root

Transparent Orange: Amber ~ Amber is not strictly a gemstone, but fossilized tree resin. It is a powerful healer and cleanser of the body, mind and spirit. It also cleanses the environment. Amber draws disease from the body, healing and renewing the nervous system and balancing the right and left parts of the brain. It absorbs pain and negative energy, helping to alleviate stress. Amber clears depression, stimulates the intellect and promotes self-confidence and creative self-expression. It encourages decision-making, spontaneity and brings wisdom, balance and patience. Amber opens the throat centre, treating goiters and other throat problems. It also treats stomach, spleen, kidneys, bladder, liver and gallbladder. Amber strengthens the mucus membranes and alleviates joint problems.
Chakras: Sacral, Solar Plexus Chakra & Throat

Yellow: Citrine ~ Helps the digestive organs and the heart, reduces infection, aids tissue regeneration, circulation and detoxifies the physical, emotional & mental bodies. It is also helpful for menstrual and menopausal symptoms, balancing hormones and alleviating fatigue.
Chakras: Solar Plexus, Crown

Green: Green Amazonite ~ Amazonite is a soothing stone. It calms the brain and nervous system and aids in maintaining optimum health. Balances the masculine and feminine energies. Amazonite helps you to see both sides of a problem or different points of view. It soothes emotional trauma, alleviating worry and fear. Dispels negative energy, aggravation and blockages within the nervous system. Also assists in manifesting universal love. It protects against electromagnetic pollution and absorbs microwaves. Also beneficial in osteoporosis, tooth decay, calcium deficiency and calcium deposits. It relieves muscle spasms.
Chakras: Heart, Throat

Turquoise: Turquoise ~ Turquoise is a purification stone. It dispels negative energy and can be worn to protect against outside influences or pollutants in the atmosphere. Turquoise balances and aligns all the chakras, stabilising mood swings and instilling inner calm. It is excellent for depression and exhaustion, it also has the power to prevent panic attacks. Turquoise promotes self-realisation and assists creative problem solving. It is a symbol of friendship, and stimulates romantic love. It aids in the absorption of nutrients, enhances the immune system, stimulates the regeneration of tissue, and heals the whole body. It contains anti-inflammatory and detoxifying effects, and alleviates cramps and pain. Turquoise purifies lungs, soothes and clears sore throats, and heals the eyes, including cataracts. It neutralises overacidity, benefits rheumatism, gout, stomach problems, and viral infections.
Chakras: Heart, Throat, Third Eye

Dark Blue: Kyanite ~ Encouraging communication and self-expression. It cuts through fears and blockages, helping to speak one's truth. It is very useful for public speakers and performers as it strengthens the voice and heals the throat and the larynx.
Chakras: Throat, Third Eye, All (aligning)

Light Blue: Aquamarine ~ Calms the nerves and reduces fluid retention, is good for sore throats. It strengthens the kidneys, liver, spleen and the pituitary & thyroid glands.
Chakras: All (aligning), especially the Throat

Dark Purple: Amethyst ~ Assists in calming the mind, reduces insomnia and allows restful sleep, reduces stress, eases headaches, helps with hormone production, strengthens the immune system, cleansing organs and respiratory system, reduces bruising and swelling. Assists in the function of the pineal and pituitary glands.
Chakras: Third Eye, Crown

Light Purple: Ametrine ~ A powerful cleanser, useful in treating and getting to the bottom of long standing illnesses, helps with depression, fatigue, headaches and stress related illnesses
Chakras: Solar Plexus, Third Eye, Crown

Milky/ Opaque Stone: Opalite ~ Opalite is a subtle yet highly energetic stone. It is the ideal stone for meditation. Opalite improves communication on all levels, especially the spiritual. It removes energy blockages of the chakras and meridians. Emotionally, Opalite helps by assisting during transitions of all kinds. It engenders persistence and gives us strength in verbalising our hidden feelings. It can also help us to be successful in business. Opalite is an all-round healing stone. It aids sexual prowess, enhancing sexual experience. Opalite stabilises mood swings and helps in overcoming fatigue. It purifies the blood and kidneys.
Chakras: Third Eye, All (aligning)

Clear: Quartz/ Crystal Quartz ~ Clear Quartz is known as the "master healer" and will amplify energy and thought, as well as the effect of other crystals. It absorbs, stores, releases and regulates energy. Clear Quartz draws off negative energy of all kinds, neutralising background radiation, including electromagnetic smog or petrochemical emanations. It balances and revitalises the physical, mental, emotional and spiritual planes. Cleanses and enhances the organs and subtle bodies and acts as a deep soul cleanser, connecting the physical dimension with the mind. Clear Quartz enhances psychic abilities. It aids concentration and unlocks memory. Stimulates the immune system and brings the body into balance.
Chakras: Crown, All (aligning)

White: Howlite ~ Howlite is an aid to insomnia, especially when caused by an overactive mind. Formulates ambitions and aids in achieving them. Howlite strengthens memory and stimulates desire for knowledge. It teaches patience and helps to eliminate rage, pain and stress. Calms communication, facilitates awareness and encourages emotional expression. It balances calcium levels in the body. It aids teeth, bones and soft tissue. Helpful in cases of osteoporosis.
Chakras: Crown, All (aligning)

Smokey color: Smokey Quartz ~ In addition to the generic healing properties of Quartz, Smokey Quartz is an excellent grounding stone. It gently neutralises negative vibrations and is detoxifying on all levels, prompting elimination of the digestive system and protecting against radiation and electromagnetic smog. Smokey Quartz disperses fear, lifts depression and negativity. It brings emotional calmness, relieving stress and anxiety. Promotes positive thoughts and action, and alleviates suicidal tendencies. Dispels nightmares and manifests your dreams. Smokey Quartz aids concentration and assists in communication difficulties. Smokey Quartz dissolves cramps, strengthens the back and fortifies the nerves. It is particularly effective for abdomen, hips and legs. Relieves headaches, back pain, eases muscular spasms. Smokey Quartz benefits the reproductive system, the heart, muscles and nerve tissue. It regulates liquids within the body and aids assimilation of minerals.
Chakras: Base & Solar Plexus

Silver: Pyrite ~ Pyrite is a powerful protection stone which shields and protects against all forms of negative vibrations and/or energy, working on the physical, etheric, and emotional levels. It stimulates the intellect and enhances memory, helping to recall relevant information when needed. Pyrite assists one in seeing behind facades, promoting an understanding of that which lies beneath words and actions. The ancient Incas used Pyrite for meditation. It inspires the universal energies to activate the nourishing energies of the body. It encourages the ideal of health, intellect, and emotional well-being. It allows one to recognise the purity of the universe. It can be used in the treatment of bones and in the healing of cell formation. It treats lung disorders and bronchitis and has been used to reduce swelling and fevers. Pyrite aids in the treatment of infective disease, whilst also providing protection from the disease for the caregivers.
Chakras: Sacral, Third Eye, Solar Plexus, All (aligning)

Black: Black Tourmaline ~ Black Tourmaline is a protective stone which repels and blocks negative energies and psychic attack. It also aids in the removal of negative energies within a person or a space. It will cleanse, purify, and transform dense energy into a lighter vibration. It balances, harmonizes, and protects all of the Chakras. Use Black Tourmaline to protect against electromagnetic "smog" (i.e. cell phones, computers, etc), radiation, noise sensitivity and other such disturbances. Black Tourmaline can be used as an aid to remove fear and boost self-confidence. It has a calming effect when needed, grounding flighty or scattered energies into the earth. Those who face challenges from negativity, frequent worrying, and/or OCD can work with Black Tourmaline to help heal these issues. Carry a piece of Black Tourmaline in your pocket to increase physical vitality throughout your day. Meditation with Black Tourmaline can enhance the integration of insights and visions into one's daily life.
Physically, Black Tourmaline helps to strengthen the immune system, balance the left and right hemispheres of the brain, and detoxify the body. Black Tourmaline is very helpful when dealing with illnesses of the lungs such as bronchitis, emphysema, pneumonia and Pleurisy. Black Tourmaline is a must for any medicine bag and is great for body layouts.
Chakras: Root, All (aligning)

Onyx ~ Onyx is a variety of Chalcedony. gives strength. It promotes vigor, steadfastness and stamina. Imparts self-confidence, helping you to be at ease in your surroundings. Onyx banishes grief, enhances self-control and stimulates the power of wise decision-making. It encourages happiness and good fortune. Onyx treats disorders of the bones, bone marrow and blood. It is beneficial for teeth and the feet.
Chakra: Base

***Please note all the information contained in my shop is for information purposes only. I do not recommend this as a means of diagnosing or treating any illness, all matters concerning physical and mental health should be supervised by a health practitioner knowledgeable in treating that particular condition***