Handmade lampwork beads | earring pair | set | ELEMENTARY PURPLE | free-formed | SRA | artisan glass | Silke Buechler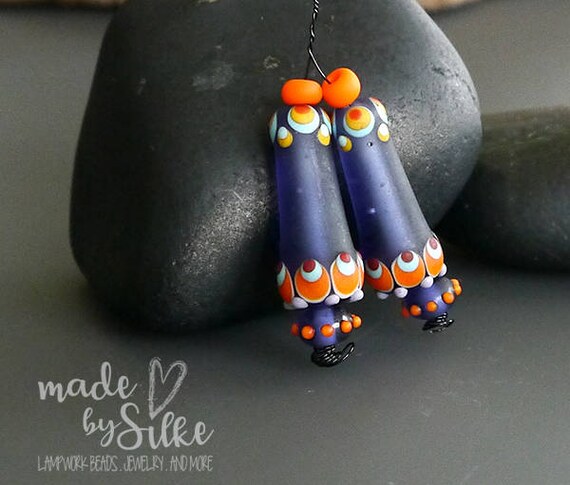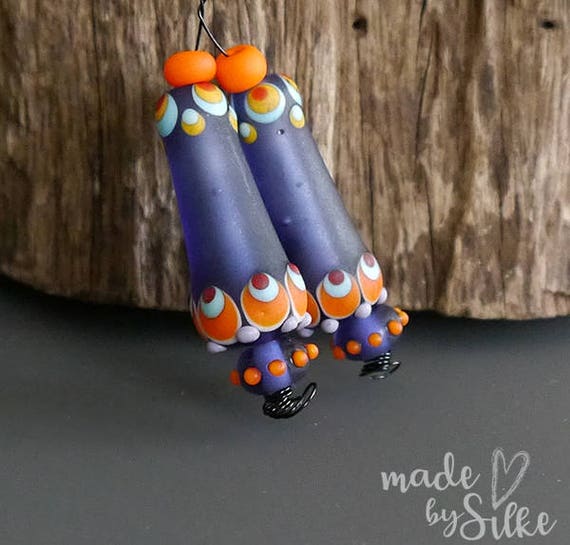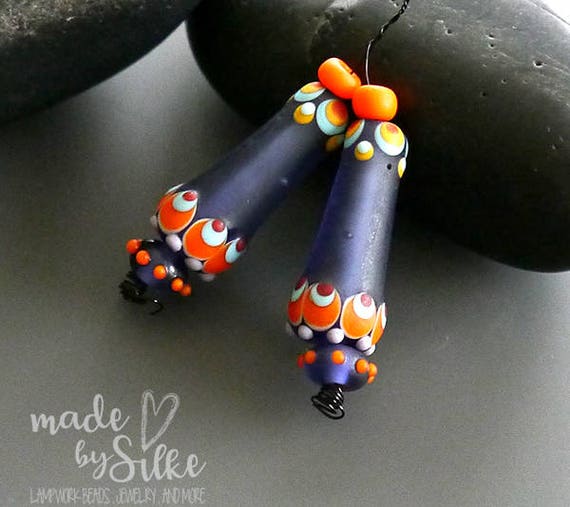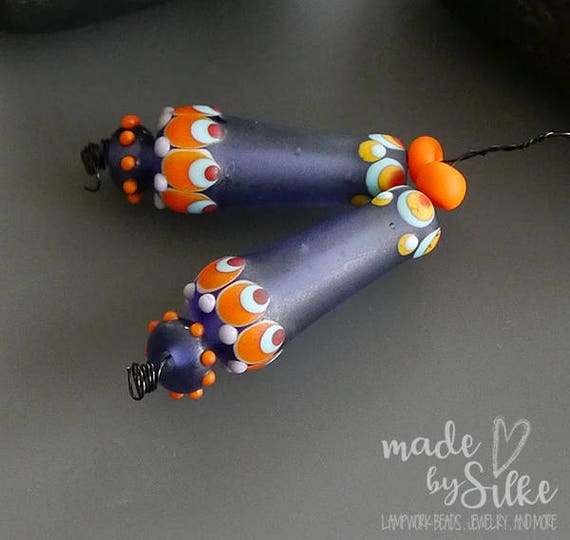 ---
Features
---
Item details
2 free-formed beads - richly decorated with a lot of patience and love :-)
.... made with fine glass stringers ... no paint or decals ...

They are around 29mm (1.14'') long.
Beadholes: 1.6mm or slightly more.
Beads are softly etched for a satin finish.
I added two handmade matching spacers.




** FURTHER **

Every single one of my glass beads is unique and a little work of art in itself. They are lovingly made by me in my studio in Ulm, in Southern Germany.

http://www.madebysilke.de

My beads are annealed in a digitally controlled kiln to ensure strength and durability and are properly cleaned.

Photographies were taken by daylight and are enlarged to show details. Colors may slightly differ depending on your screen.

I am a "Self-Representing-Artist" SRA, member No. B127

*****
Alle Preise verstehen sich inkl. MwSt.
Bitte klicken Sie auf den Link "Shipping & Policies", um AGB und Widerrufsbelehrung und -formular einzusehen.
Impressum:
Silke Büchler-Wendt, Meersburger Str. 18, 89079 Ulm, Germany
info (at) silkedesign . d e
---
Shipping & policies
Estimated Shipping
I send the goods immediately after receipt of payment.
International shipping by registered mail is 5,90 USD (actually it is a bit higher but I will cover the difference). Please allow at least 7 - 10 workdays to arrive. Please also make sure to give me an address where the postman can reach you as he might ask for your signature. If the package can not be delivered on the account of the buyer, the buyer has to pay for the shipping costs, same if he rejects the package.
---
Payments
International customers please pay safely through PayPal, European customers can also pay by bank transfer.
Payment is due within 6 days after order confirmation.
---
Returns & exchanges
If for some reason you are not happy with my beads, I accept returns with prior approval and will refund your purchase price (minus shipping costs) after the beads have been returned. Beads must be returned within 7 days of purchase for a refund. Please understand that I cannot pay the shipping costs for the return shipment.
---
Additional policies
Guarantee.
All goods are carefully checked and packed. If for any reason you should receive damaged articles please make sure to fill in a notification of claim in front of the postal service. You may send return packages by registered mail to my address. If you do not send it via franked mail, I will not accept it.

Data safety.
According § 28 Federal Data Protection Act (BDSG) I point out that I may collect from you limited personal data which includes your name(s) and contact details to perform the order transaction. I do not sell or otherwise give away your private information to any third party.

______

Widerrufserklärung

Widerrufsrecht

Sie können Ihre Vertragserklärung innerhalb von 14 Tagen ohne Angabe von Gründen in Textform (z. B. Brief, Fax, E-Mail) oder – wenn Ihnen die Sache vor Fristablauf überlassen wird – auch durch Rücksendung der Sache widerrufen. Die Frist beginnt nach Erhalt dieser Belehrung in Textform, jedoch nicht vor Eingang der Ware beim Empfänger (bei der wiederkehrenden Lieferung gleichartiger Waren nicht vor Eingang der ersten Teillieferung) und auch nicht vor Erfüllung unserer Informationspflichten gemäß Artikel 246 § 2 in Verbindung mit § 1 Abs. 1 und 2 EGBGB sowie unserer Pflichten gemäß § 312g Abs. 1 Satz 1 BGB in Verbindung mit Artikel 246 § 3 EGBGB. Zur Wahrung der Widerrufsfrist genügt die rechtzeitige Absendung des Widerrufs oder der Sache.

Der Widerruf ist zu richten an:

made by silke
Silke Büchler
Meersburger Str. 18
D-89079 Ulm
E-Mail: mail4silke@web.de


---------------------------------------------------------------------------------------------------------

Widerrufsformular

Wenn Sie den Vertrag widerrufen wollen, dann füllen Sie bitte nachfolgendes Formular aus und senden Sie es zurück an:

Silke Büchler, Meersburger Str. 18, 89079 Ulm, Germany (per Post) oder

per Email an: info (at) silkedesign.de

Hiermit widerrufe(n) ich/wir (*) den von mir/ uns (*) abgeschlossenen Vertrag über den Kauf der folgenden Waren (*):

______________________________________


Bestellt am (*) ____________/ erhalten am (*) ________________

______________________________________
Name des/ der Verbraucher(s)

______________________________________
Anschrift des/ der Verbraucher(s)

_______________________________________________________
Unterschrift des/ der Verbraucher(s) (nur bei Mitteilung auf Papier)

______________________
Datum


* = Unzutreffendes bitte streichen

---------------------------------------------------------------------------------------------------------

Widerrufsfolgen

Im Falle eines wirksamen Widerrufs sind die beiderseits empfangenen Leistungen zurückzugewähren und ggf. gezogene Nutzungen (z. B. Zinsen) herauszugeben. Können Sie uns die empfangene Leistung sowie Nutzungen (z. B. Gebrauchsvorteile) nicht oder teilweise nicht oder nur in verschlechtertem Zustand zurückgewähren beziehungsweise herausgeben, müssen Sie uns insoweit Wertersatz leisten. Für die Verschlechterung der Sache und für gezogene Nutzungen müssen Sie Wertersatz nur leisten, soweit die Nutzungen oder die Verschlechterung auf einen Umgang mit der Sache zurückzuführen ist, der über die Prüfung der Eigenschaften und der Funktionsweise hinausgeht. Unter "Prüfung der Eigenschaften und der Funktionsweise" versteht man das Testen und Ausprobieren der jeweiligen Ware, wie es etwa im Ladengeschäft möglich und üblich ist.
Paketversandfähige Sachen sind auf unsere Gefahr zurückzusenden. Sie haben die regelmäßigen Kosten der Rücksendung zu tragen, wenn die gelieferte Ware der bestellten entspricht und wenn der Preis der zurückzusendenden Sache einen Betrag von 40 Euro nicht übersteigt oder wenn Sie bei einem höheren Preis der Sache zum Zeitpunkt des Widerrufs noch nicht die Gegenleistung oder eine vertraglich vereinbarte Teilzahlung erbracht haben. Anderenfalls ist die Rücksendung für Sie kostenfrei. Nicht paketversandfähige Sachen werden bei Ihnen abgeholt. Verpflichtungen zur Erstattung von Zahlungen müssen innerhalb von 30 Tagen erfüllt werden. Die Frist beginnt für Sie mit der Absendung Ihrer Widerrufserklärung oder der Sache, für uns mit deren Empfang.

-----

Allgemeine Geschäftsbedingungen


Die nachfolgenden Allgemeinen Geschäftbedingungen gelten für alle Lieferungen zwischen mir und einem Verbraucher in der zum Zeitpunkt der Bestellung gültigen Fassung. "Verbraucher" im Sinne dieser Geschäftsbedingungen ist jede natürliche Person, die ein Rechtsgeschäft zu einem Zwecke abschließt, der weder seiner gewerblichen noch seiner selbständigen beruflichen Tätigkeit zugerechnet werden kann.

1. Zustandekommen eines Vertrages, Speicherung des Vertragstextes

Die folgenden Regelungen über den Vertragsabschluss gelten für Bestellungen über meinem Internetshop. Im Falle des Vertragsschlusses kommt der Vertrag zustande mit:

Silke Büchler, Meersburger Str. 18, 89079 Ulm, Germany.

Die Präsentation der Waren in meinem Internetshop stellen kein rechtlich bindendes Vertragsangebot dar, sondern sind nur eine unverbindliche Aufforderungen an den Verbraucher, Waren zu bestellen. Mit der Bestellung der gewünschten Ware gibt der Verbraucher ein für ihn verbindliches Angebot auf Abschluss eines Kaufvertrages ab.
Bei Eingang einer Bestellung in meinem Internetshop gelten folgende Regelungen: Der Verbraucher gibt ein bindendes Vertragsangebot ab, indem er die in meinem Internetshop vorgesehene Bestellprozedur erfolgreich durchläuft.

Die Bestellung erfolgt in folgenden Schritten:

1) Auswahl der gewünschten Ware
2) Bestätigen durch Anklicken der Buttons "Bestellen"
3) Prüfung der Angaben im Warenkorb
4) Betätigung des Buttons "zur Kasse"
5) Anmeldung im Internetshop nach Registrierung und Eingabe der Anmelderangaben (E-Mail-Adresse und Passwort).
6) Nochmalige Prüfung bzw. Berichtigung der jeweiligen eingegebenen Daten.
7) Verbindliche Absendung der Bestellung.

Der Verbraucher kann vor dem verbindlichen Absenden der Bestellung durch Betätigen der in dem von ihm verwendeten Internet-Browser enthaltenen "Zurück"-Taste nach Kontrolle seiner Angaben wieder zu der Internetseite gelangen, auf der die Angaben des Kunden erfasst werden und Eingabefehler berichtigen bzw. durch Schließen des Internetbrowsers den Bestellvorgang abbrechen. Ich bestätige den Eingang der Bestellung unmittelbar durch eine automatisch generierte E-Mail ("Auftragsbestätigung"). Mit dieser nehme ich Ihr Angebot an.

Speicherung des Vertragstextes bei Bestellungen über unseren Internetshop : Ich sende Ihnen die Bestelldaten und AGB per E-Mail zu. Die AGB können Sie jederzeit auch unterhttp://www.madebysilke.de einsehen. Ihre Bestelldaten sind aus Sicherheitsgründen nicht mehr über das Internet zugänglich.

2. Preise, Versandkosten, Zahlung, Fälligkeit

Die angegebenen Preise enthalten keine Umsatzsteuer, da ich nicht Umsatzsteuer-pflichtig bin. Hinzu kommen etwaige Versandkosten.

Der Verbraucher hat die Möglichkeit der Zahlung per Vorkasse (Überweisung) oder PayPal .

Hat der Verbraucher die Zahlung per Vorkasse gewählt, so verpflichtet er sich, den Kaufpreis unverzüglich nach Vertragsschluss zu zahlen. Bei Nichteingang des Betrages innerhalb 4 Werktagen, wird die Bestellung von mir storniert.

3. Lieferung

Sofern dies in der Produktbeschreibung nicht deutlich anders angegeben ist, sind alle von mir angebotenen Artikel sofort versandfertig.

Hat der Verbraucher die Zahlung per Vorkasse gewählt, so versende ich die Ware nicht vor Zahlungseingang.

4. Eigentumsvorbehalt

Ich behalte mir das Eigentum an der Ware bis zur vollständigen Bezahlung des Kaufpreises vor.

5. Widerrufsbelehrung gemäß § 355 Abs. 2 BGB

Das nachfolgende Widerrufsrecht besteht nicht, wenn die von Ihnen georderte Ware für Ihre eigene gewerbliche oder selbständige berufliche Tätigkeit verwendet werden soll.

Widerrufsrecht
Sie können Ihre Vertragserklärung innerhalb von zwei Wochen ohne Angabe von Gründen in Textform (z. B. Brief, E-Mail) oder durch Rücksendung der Ware widerrufen. Die Frist beginnt frühestens mit Erhalt dieser Belehrung. Zur Wahrung der Widerrufsfrist genügt die rechtzeitige Absendung des Widerrufs oder der Ware. Der Widerruf ist zu richten an:
Silke Büchler, Meersburger Str. 18, 89079 Ulm, Germany, Email: info (at) silkedesign.de.

Widerrufsfolgen
Im Falle eines wirksamen Widerrufs sind die beiderseits empfangenen Leistungen zurückzugewähren. Die Ware ist in einem einwandfreien und unbenutzten Zustand einschließlich aller unbeschädigten Verpackungsteile an mich zurückzusenden.

Rückgaberecht
Ein Rückgaberecht besteht grundsätzlich nicht bei Verträgen über die Lieferung von Waren, die auf ausdrücklichen Wunsch des Kunden extra für ihn hergestellt werden.

6. Erstattung des Kaufpreises bei Rückgabe

Nach Rückerhalt der Ware werde ich unverzüglich, spätestens jedoch innerhalb von 7 Werktagen nach Rückerhalt der Ware die Erstattung des gezahlten Kaufpreises vornehmen. Hierzu hat der Kunde rechtzeitig, spätestens mit der Rücksendung, seine Kontoverbindung bekannt zu geben.

Eine Erstattung der vom Kunden für die Zusendung der Ware an ihn gezahlten Versandkosten erfolgt nicht, es sei denn, es handelt sich um einen Gewährleistungsfall. Sollte die Ware versandkostenfrei versendet worden sein, werden die tatsächlich entstanden Versandkosten bei der Erstattung des Kaufpreises einbehalten.

Die Kosten der Warenrücksendung sind vom Kunden zu tragen. Unfrei versandte Rücksendungen werden von mir grundsätzlich nicht angenommen, sondern von der Post umgehend an den Absender zurückgesandt.

Ein Anspruch auf Rückerstattung des gesamten Kaufpreises besteht nicht, wenn der Wert der Ware durch Gebrauch, der über die übliche Prüfung der Ware, wie sie dem Kunden auch in einem Ladengeschäft möglich gewesen wäre, hinausgeht, durch Beschädigung der Ware oder ihrer Verpackung oder durch sonstige Umstände, die der Kunde zu vertreten hat, gemindert ist. In diesem Fall werde ich einen im Einzelfall angemessenen Abzug für die Wertminderung vornehmen. Sollte die Wertminderung des Kaufgegenstandes so erheblich sein, dass ein Wiederverkauf der Ware unmöglich oder nur mit unvertretbaren Verlusten möglich ist, ist eine Rücknahme der Kaufsache grundsätzlich ausgeschlossen.

----

Impressum

Silke Büchler
Meersburger Str. 18
89079 Ulm
Germany
E-Mail: mail4silke@web.de
Tel.: 0172-7168453