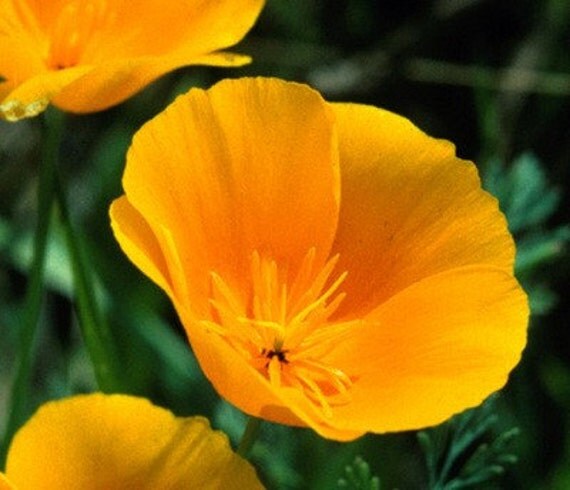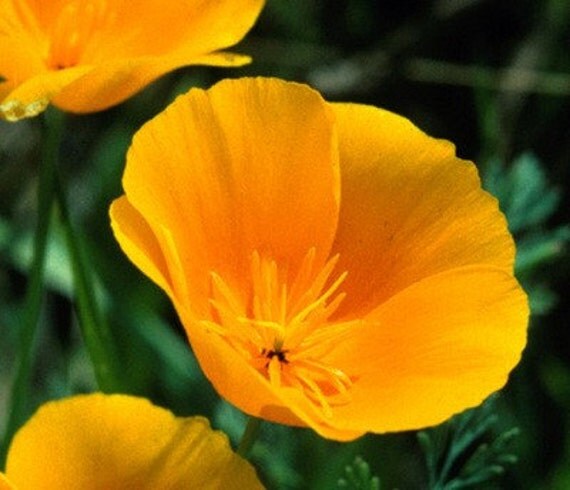 Arrives from the United States
---
Features
Made in Olympia, Washington
---
Item details
California Poppy Seeds, Free Shipping!

Bright orange or yellow orange flowers. 50-100 seeds per package.
Very drought resistant!

Latin name: Eschscholzia californica

Family: Papaveraceae)

An upright, compact annual or tender perennial native to California, Oregon and the southwestern United States. It is grown as an annual in colder climates. California Poppy is the state flower of California. Extremely drought tolerant, ideal for arid environments. The brilliant orange or yellow-orange, cup-shaped flowers, are 2-4 inches in diameter, borne individually on long stalks. Some flowers are cream or rose in color, but most flowers blaze a bright orange or yellow-orange. Leaves are finely divided and blue-green in color. Blooms close each night at sunset or on gray days, and then open again in the morning with a blaze of color.
Prefers full sun in light to sandy soils. Not hardy below 20F.

Height: 12-18 inches
Germination: 15-30 days
Optimum soil temperature for germination: 60-70F
Sowing depth: 1/16"
Sun Exposure: Full Sun
Seeds should be broadcast in the fall or early spring in well-drained sandy soil and in full sun. Plant in spring after last frost.
Bloom Time: Late Spring to early fall
Drought-tolerant; suitable for xeriscaping
Planting zones: USDA Zones 6 –10b; All Sunset zones
Suggested use: Borders, rock gardens, meadows, mixes, hillsides.

Shipping is free for these seeds within the United States.
---
---
THANKS SO MUCH!! Excited to plant the bonus seeds you sent!
Feb 18, 2013 by A fellow maker
Apr 14, 2012 by A fellow maker
---
More from this seller
---
Shipping & policies
Arrives from the United States
Estimated Shipping
I ship mostly using U.S Postal Service, but can occasionally use United Parcel Service or FedEx. I will attempt to ship using the most reasonable shipping option.
---
Payments
I accept paypal payments or money orders. Please send money orders to:
Brooke Wickham
520 O'Farrell Avenue SE
Olympia WA 98501-3470
---
Returns & exchanges
I will consider refunds and exchanges on a case by case basis. Buyer must first contact me at brookingham@comcast.net before returning an item. There will be no returns or refunds for fresh wreaths. All items must be returned in new, unused condition.
---
Additional policies
How to burn your beeswax or bayberry wax pillar candle

• Burn pillar candle on a ceramic plate or a level, solid heat-resistant surface.

• Burn pillars for extended periods of time instead of short burning sessions

Burn pillars roughly 1 hour per inch in diameter. For example, the first time you light a 3-inch diameter pillar candle, you should burn the candle for at least 3 hours. Burning for this extended time ensures that the wick burns the candle evenly out to the edge. This also helps to avoid tunneling and relighting issues.

• Hug your beeswax candles.

Gently press the edges of the candle occasionally towards the center of the candle to make sure that all of the wax burns properly. Do this carefully as your candle is burning or immediately after extinguishing it.

• Tunneling

To avoid tunneling, simply hug your candles on occasion while burning. Some people like the glow of a tunneled pillar candle where the flame glows through the thin outer wall of beeswax while burning, but I don't recommend tunneling because the candle will be hard to light and it is difficult to keep the candle lit.

• Keep the wick trimmed to 1/4".

Trim the wick during or immediately after burning your candle. The wick itself becomes fragile when cooled due to the amount of beeswax still remaining in the wick. Trimming a cold wick may break the wick off, making it difficult to relight.

• Properly extinguish a beeswax pillar candle.

A good way to extinguish pillar candles is to gently push the wick into the wax pool until the candle is extinguished and then pull the wick straight. You can also use a candle snuffer to extinguish the candle flame. Avoid handling the wick after it is cooled as it may break.

• Fix too-thin pillar walls.

If your pillar does drip or melt through its side, (usually because the flame is too large), extinguish the candle and let it harden before relighting it. Avoid moving the pillar while the beeswax is cooling.

• Fix too-thick pillar walls.

If your pillar develops a thick wall, generally due to not burning long enough each burning session, carefully cut the wall down to the level of the wax pool inside. Do this when the wax pool is hardened. We recommend using a heated craft knife found at most hobby stores. Be careful!

• How to relight a pillar candle

The best way to relight your pillar candle is to hold the flame to the base of the wick for 5 to 10 seconds. This will ensure all of the hardened wax in the wick is melted. This allows the wick to now pull newly melted beeswax from the candle and burn properly. Sometimes you need to tilt the candle to relight the wick. Be sure to have another fireproof container underneath the tipped candle to catch melted wax while the candle is tilted.

I also recommend using wooden matches instead of a butane lighter to light your candle.

• The wick won't stay lit.

If your pillar doesn't stay lit it could be one of two main causes. First, it may be that the flame you're using to light the wick isn't large enough. Because the wick for a beeswax or bayberry wax candle is thicker than most other candles, a large flame is needed to melt the wax in and directly around the base of the wick in order to get the wax flow started. Use a wooden match instead of a butane lighter because the wooden match burns at a higher temperature than a butane lighter.

The other reason that your candle won't stay lit could be that the wick is too short. To fix this, expose fresh wick by melting the wax around the wick with another lit candle and pouring it off the wax, or warming the wick and gently digging out from around the wick. Once fresh wick is exposed be sure to burn the candle for an hour per inch in diameter to get it back in balance.