Digital Collage Sheet 176 . Bee Illustrations with Vintage Beekeeping Text . Scrabble Tile (0.75 x 0.83 inches)
(14)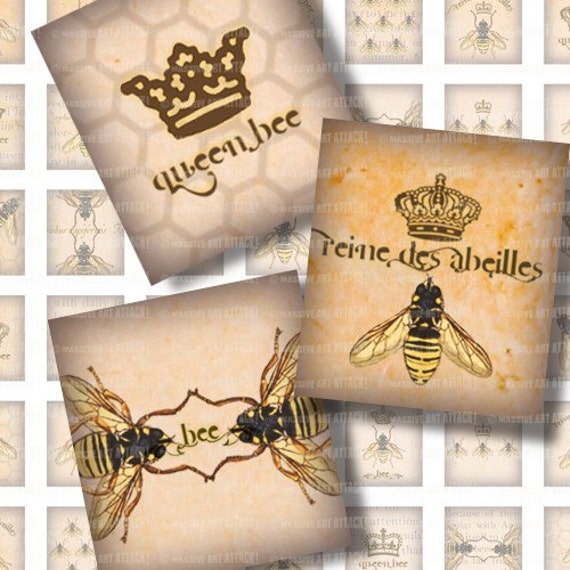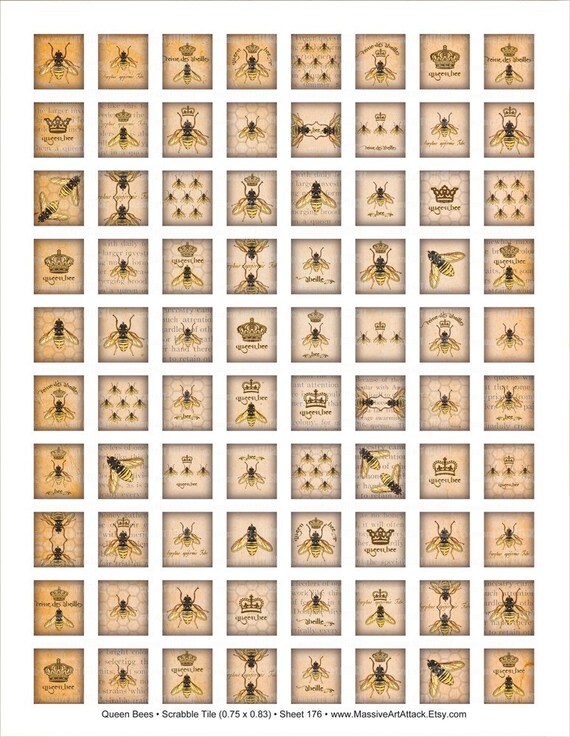 ---
Features
Made in Charleston, South Carolina
---
Item details
This printable digital collage sheet is buzzing with vintage bee illustrations and vintage beekeeping text that details how to raise queen bees. "Queen Bee" and "Bee" are written in French on some squares.

Click on the photos to zoom in and get a closer look!

Be sure to ask if you need this in another size/shape/color...


FAQ
_____________________________________________________________

What can I use a collage sheet for?
You can print out the file I send you as many times as you want and use it for:
decoupage • cards • jewelry • art cards (aceo) • altered art • stickers • charms • artist trading cards • journals • compact mirrors • keychains • paperweights • tags • magnets • and anything else you dream up!


Can I sell the items I make using your collage sheets?
Yes! These collage sheets were created for you to use in any way your creative heart can dream up! I retain copyright to them, but with your purchase you have permission to use them to create your own works of art or crafts for personal use or to sell. You just can't sell or redistribute the collage sheets themselves. If you'd like more detailed information, see the Terms of Use on my policy page: http://www.etsy.com/shop/massiveartattack/policy


How many times can I print this collage sheet?
As many times as you'd like! (See last question if you plan to use them on something that will be in mass production.)


What size are your collage sheets?
Unless otherwise specified, they are 8.5 x 11 inches for easy printing.


What will you send me?
I will email you a high quality, high resolution digital file (JPG) of the collage sheet. Let me know if you'd prefer a PDF or other file type.


When will it arrive?
Within 24 hours of your order (usually much sooner).


Will your watermark (the logo across the images) be on the collage sheet you email to me?
No, absolutely not!


What if I need the collage sheet or the artwork in another size?
Be sure to ask if you need this in another size, shape or color! Custom orders are welcome, just convo me to let me know what you'd like to see.


Are your images legal to use?
All images have been thoroughly researched (or created by me), and are perfectly legal for use in your projects, whether they are personal or commercial.


What if I want to use the collage sheet on something that will be in mass production?
In this case please convo me with details first to get permission in writing.



PRINTING TIPS
_____________________________________________________________

Quantity
Print the collage sheets as many times as you'd like as long as they're for your own use. Please let your friends buy their own, though! If you plan to use them for something that will be in mass production, please convo me to get permission in writing first. See the Terms of Use on my Policy page for more detailed usage info: http://www.etsy.com/shop/massiveartattack/policy

Color
Be aware that colors may appear differently on your monitor than they do on your printer. There are probably settings within your software and also on your printer that allow you to achieve the best results for your setup. Because there are so many different printers and so much different software out there it's impossible to give a universal solution, but if you experiment a bit I'm sure you'll find a suitable result.

Paper
Slightly thick paper in white is generally the best option for most uses of the collage sheet, but people often use different weights and colors of paper including vellum, textured papers, or transparencies. You will probably want to experiment and see what you like best for your particular use. Different options here can certainly set the mood for your project.

Size
The sizes on my collage sheets are exact and have been test printed, but your software may be "helping" you print them at the wrong size. Often there is a setting in the print dialog that makes things "fit to page" or "size to fit." Make sure you don't have these options selected. This will most certainly alter the image size if you do. Also, be sure it's set to print at 100%, no less and no more.

Quality
The files I send are high resolution, high quality JPG's. They are 300 dpi, which means they are the optimum size and setup for printing. To make sure you're getting the best result from your particular equipment, make sure the best printing quality is selected in your print dialog box. This will vary from program to program, but you should have some options such as Normal or Fine under your Print Settings. Go for Fine or whatever your best option is.
---
---
Perfectly suited for my mini projects
Mar 19, 2013 by A fellow maker
Dec 11, 2012 by A fellow maker
can't wait to make a bracelet with these! love! thank you!!
Sep 5, 2012 by A fellow maker
Jul 19, 2012 by A fellow maker
Excellent images!
Oct 11, 2011 by A fellow maker
---
More from this seller
---
Digital downloads
---
Payments
Direct checkout (credit card), gift card, and Paypal.

Upon receipt of payment, you'll be able to instantly download your high resolution JPG file so you can get right to work!
---
Returns & exchanges
Because what I sell cannot really be returned, no refunds or exchanges can be made. However, if you accidentally lose or delete your file I will certainly resend it to you. All I need you to do is email me proof of your purchase.
---
Additional policies
PRINTING TIPS

Quantity
Print them as many times as you'd like as long as they're for your own use. Please let your friends buy their own, though! See Terms of Use for more detailed usage info.

Color
Be aware that colors may appear differently on your monitor than they do on your printer. There are probably settings within your software and also on your printer that allow you to achieve the best results for your setup. Because there are so many different printers and so much different software out there it's impossible to give a universal solution, but if you experiment a bit I'm sure you'll find a suitable result.

Paper
Slightly thick paper in white is generally the best option for most uses, but some people use different weights and colors of paper including vellum, textured papers, or transparencies. You will probably want to experiment and see what you like best for your particular use. Different options here can certainly set the mood for your project.

Size
The sizes are exact and have been test printed, but your software may be "helping" you print them at the wrong size. Often there is a setting in the print dialog that makes things "fit to page" or "size to fit." Make sure you don't have these options selected. This will most certainly alter the image size if you do. Also, be sure it's set to print at 100%, no less and no more.

Quality
The files I send are high resolution, high quality JPG's. They are 300 dpi, which means they are the optimum size and setup for printing. To make sure you're getting the best result from your particular equipment, make sure the best printing quality is selected in your print dialog box. This will vary from program to program, but you should have some options such as Normal or Fine under your Print Settings. Go for Fine or whatever your best option is.


TERMS OF USE

These files were created for you to use in just about any way your creative heart can dream up! I retain copyright to them, but with your purchase you have permission to use them on products for personal use or to sell. You just can't resell the digital or printed file as is. (In other words, you're safe as long as you make something new out of it!) If you still have questions after reading what follows, please feel free to contact me so you can ask!

I'm pretty easy to get along with! Basically, just don't be a jerk, but to clarify:


YOU CAN DO THIS:

The images can be used for any personal projects.

These images can be used on items you plan to sell, so long as you create something new from them rather than reselling the sheet as is.

These images can be printed as many times as you'd like as long as they're for your own use as outlined in the Terms of Use. Please let your friends buy their own, though!

You can resize the images as needed.


YOU CANNOT DO THIS:

The images (or portions of the images) cannot be resold as collage sheets in their entirety or in part (digitally or in print).

The images (or portions of the images) cannot be used for mass production unless you contact me and we work out agreeable terms in writing. This includes commercial printing projects.

The images (or portions of the images) cannot be shared or resold in any other image collection, including clipart collections, CDs or DVDs, digital downloads, etc.

The images (or portions of the images) cannot be sold as part of a scrapbooking kit unless you contact me and we work out agreeable terms in writing.

The images (or portions of the images) cannot be sold in any way that is in direct competition with Massive Art Attack.

The images (or portions of the images) cannot be shared or redistributed digitally or in print, even if ultimately for personal use. (For example, don't make the images available in a workshop.) If you would like permission to distribute a limited amount of printed sheets for a workshop or similar situation at a reduced rate, please contact me.

The images (or portions of the images) cannot be made available in such a way that others can access it for free. (For example, don't put the full size image up on a website.) You can, however put up photos of the work you've made with them.

• If you have unknowingly purchased my work from another source please let me know.

• If you would like to use my files digitally, please convo me first. This includes web and banner design.