MILLINERY Lessons Make Hats LOEWEN Hat Making Design & Technique Spiral Bound Book
(1)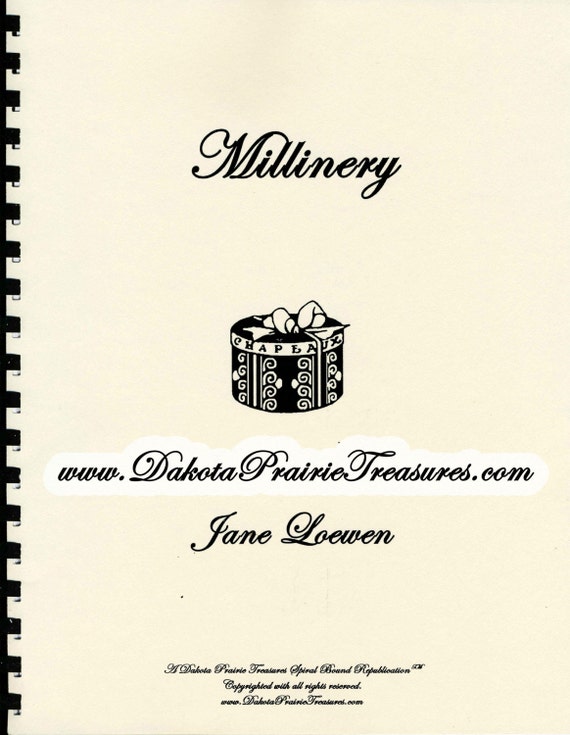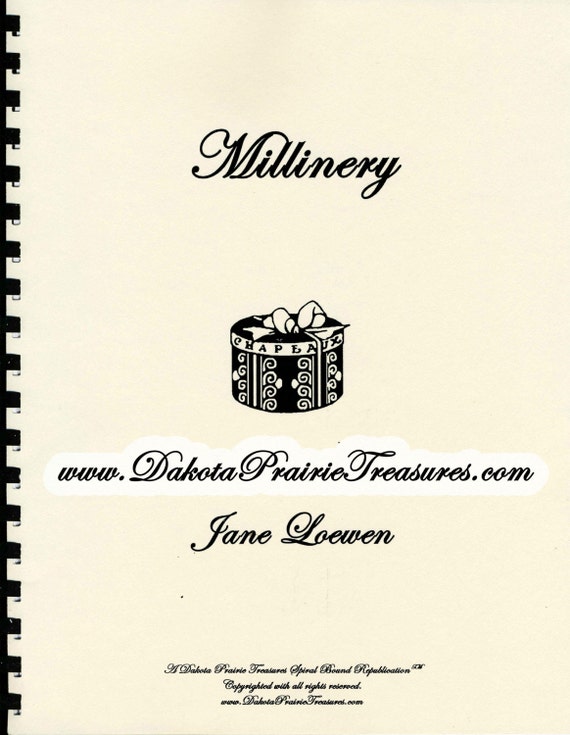 Preparation takes 5-7 business days
Arrives from the United States
---
Item details
Millinery by Jane Loewen!

Spiral Bound Book Republication™

Originally Published in 1925!

Make your own hats; for yourself, family and friends or to sell! Just in time for Easter Bonnets, etc.!


Up for the enjoyment of your creative muse is another marvelous Dakota Prairie Treasures Spiral Bound Book Republication™ of the original "Millinery" by Jane Lowen, originally published in 1925, with NO RESERVE! We scanned and reformatted a scare original and are pleased to offer you this wonderful antique millinery reference for your reenactment or recreation sewing pleasures!

This Spiral Bound Book Republication™ has scores and scores of line drawings and numerous photos of the most deliciously feminine chapeaux in its 223 pages! It includes general instructions for making the many hats displayed in the listing collage using a variety of needle working techniques. I hardly know where to begin! (Original is NOT for sale)


Unlike other book reproduction products all Dakota Prairie Treasures Spiral Bound Book Republications™ lie flat for ease of use & reading! A great advantage when you are working & can't afford to loose that page especially when your work space is a bit too crowded! We all know what those situations are like. When you feel you need 3 or 4 hands to get the work done! So why not provide youself with the best for less? Furthermore, these can be placed with only one page up providing more open work space for you to work on your newest creation! :)


This is certainly a huge source of historically valuable inspiration for the creative millinery and fabric artists out there who recreate the hats and headdresses from the early 1900's. This is the perfect opportunity to purchase your own version of another wonderful craft instructional revealing our heritage from early America and European cultures!

This item would be great for millinery students, recreationists, SCA and Red Hat Society members!


CONTENTS

Chapter I. Wire Frames

Uses of wire frames -Mathematical side of frame making - Process of constructing a wire frame for a hat - Dimensions for standard hats - Question

II. MOLDED FRAMES

Molded or pressed frames - Hand-molded frames - Bias dry-molded frames - Questions

III. PATTERN FRAMES

Classification of frames made from patterns - Comparison of processes in making unrolled and rolled brims - Cutting the frame - Wiring frame - Binding a frame - Covering frame with interlining - Questions

IV. CROWNS

Frame foundations used for crowns - Kinds of crowns - Out-line of kinds of crowns and their appropriate brims - How to determine kinds of crowns suitable to individual types of faces - Questions

V. STAPLE MILLINERY MATERIALS

Materials used - Questions

VI. CUTTING MATERIALS

Cutting a true bias - Cutting a long bias - Table of bias measures - Rules for measuring material for a bias that is to be stretched - Correct shading for velvet and soleil - Measuring a frame for the correct amount of material - Accuracy in cutting, a large factor in cost saving - Methods used for cutting maline - Cutting bias binding from frame and crown edges - Questions

VII. THE FABRIC HAT

Fall materials and fabrics - Classified construction of fabric hats for fall and winter - Questions

VIII. BRAID HATS

Kinds - Manner of sewing - Questions

IX. TRANSPARENT HATS

Kinds - Preparing the frame - Edge finishes - Appropriate trimmings - Questions

X. DRAPED HATS

Matrons' turbans - Harem turbans - Draped tams - Section hats - Questions

XI. TAILORED TRIMMINGS

Severe, factory-tailored hats - Semitailored hats - Kinds of tailored trimmings - Questions

XII. DRESS-HAT TRIMMINGS

Trimmings for which the hat is a background - Trimming which is part of the design - Questions

XIII. CLEANING AND REMODELING

Cleaning - Remodeling - Questions

XIV. COLOR HARMONY AS APPLIED TO THE INDIVIDUAL

Purpose of color in adorning the person - Color versus temperament - Chart of color combinations suitable to various types - Questions

XV. LINE HARMONY

Fundamental principles of line - Principles of line as applied to the individual - Questions

What a historically educational and delightful art instructional piece this is!

The ladies of earlier times put their hands to such marvelous work and now you can too! These are beautiful items and sure to delight you and yours! These instructions are very clear and easy to follow and yet the experience needle worker will be capable of altering as per individual needs and artistic whim.

The antique and vintage thread, fabrics, hat blocks, flowers, feathers, etc., can be found on eBay quite readily. You just have to hunt a little bit! :) Or, of course, you can utilize contemporary tools and materials found at a near by fabric, craft or hobby store…


You will appreciate the attention taken in providing a TOP QUALITY PRODUCT that you will use for many years to come. This information has been scanned and reformatted into another Dakota Prairie Treasures Spiral Bound Book Republication historical gem!


Curious about the quality of these scans? Please contact me and I will forward an image for your own personal inspection! You will appreciate the attention taken in providing a TOP QUALITY PRODUCT that you will use for many years to come...


Check out Dakota Prairie Treasures' current auctions for many other unique needlework CD and Spiral Bound Book Republications™ for your creative needle working pleasure!


Payment: I prefer Paypal but also accept money orders or personal check.

Shipping: Within the USA: $4.50 via USPS. Out-of-country destinations (Canada included): $5.50. Insurance is optional and runs $1.30 per $50 increments per shipment. Combined shipping is available for all Dakota Prairie Auctions ending within 48 hours. Bead and book actions are shipped separately in order to insure they arrive in the very best condition at their new home! You may opt to purchase insurance to cover your item. INSURANCE is optional. We offer our own private insurance for items up to $25 in value and postal insurance for items over $25 value.

Copyright Restrictions: All Dakota Prairie Treasures needlework, design and/or other CD or hardcopy products produced by said seller are copyrighted and owned by us (as is all listing text and photos). Any descriptive text and trademarks provided by the seller in this listing's title, subtitle and description are the sole property of Dakota Prairie Treasures. All rights reserved. You are permitted to use our product's information for items you make for yourself, as gifts or for items you may produce to sell. However, the original designs and images remain the exclusive legal property of Dakota Prairie Treasures. Neither the CD Product content or Hardcopy designs or images, or any part thereof, may be reproduced, used in class lessons or duplicated in any media format to be resold or "shared" (either individually or as a package) without Dakota Prairie Treasures' prior written consent. Any and all violations will be prosecuted to the full extent of the law. Returns allowed due to manufacturing defects only.
---
---
Feb 9, 2010 by A fellow maker
---
More from this seller
---
Shipping & policies
Preparation takes 5-7 business days
Arrives from the United States
Estimated Shipping
Within USA: Media, 1st Class and Priority.

Out-of-country: 1st Class International Air Mail.
---
Payments
Within USA customers: PayPal, money order and personal check.

Out-of-country customers: PayPal only.

International buyers are responsible for their country's custom duties. We do not mark merchandise shipments as "gift" on the USPS Customs form. Combined shipping is available for all Dakota Prairie Auctions ending within 48 hours. A 50% s/h discount will be automatically applied to each item after the first purchase in all combined orders.
---
Returns & exchanges
Returns due to manufacturing defects only.
---
Additional policies
Thank you my wonderful customers!

Just an FYI that I'll have go on vacation mode due to upcoming surgery on my eyes. :p No fun but no choice anymore.

Surgery date is February 9th, 2016 and I most likely will start the vacation mode a few days earlier. My Ophthalmologist tells me 4 weeks but if I can I'll open up sooner (I'm kinda like that, wanting to be able to pay the doctor bills means pushing myself as much as I can).

Thank you for understanding and best regards,

Linda