Upgrade to Gold Plated Ear Hooks - Some of my earrings already have them, but for those that do not - here is an upgrade :)
(2)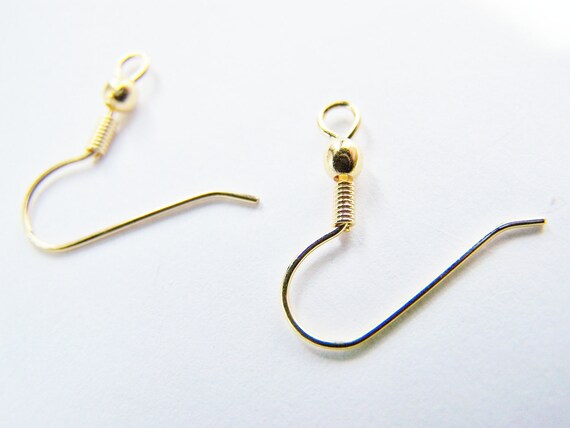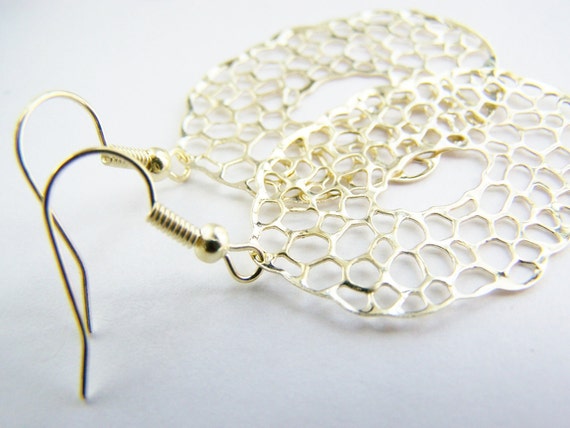 Preparation takes 1-3 business days
Arrives from the United States
---
Item details
~~~ This listing is for one pair of the gold plated hooks only ~~~
(If you need more than the amount available, just convo me and I will change it for you!)

While many of my earrings already feature gold and sterling silver plated ear wires / hooks, some are bronze, surgical steel, brass and copper. I strive to provide very high quaility ear wires from reputable stores (Hobby Lobby, Michaels, etc.) at affordable prices, but I know some people prefer sterling silver & gold. This is for you...

Now you can upgrade any pair you like - even my 20 cent sale items - to sterling silver plated or gold plated ear wires for just $1.00 per pair. Simply add this listing to your order and I will be happy to change them out for you.

*PLEASE do be sure to let me know which earrings you would like switched out in your order, if you don't let me know or if the earrings you choose already have sterling silver or gold hooks - You will receive an extra little pair of silver or gold hooks in your package. If you are purchasing multiple pairs, be sure to let me know which ones you would like switched.

If you purchase this listing and do not purchase any earrings, you will receive only a little pair of hooks - not the earrings shown above as an example - if you like the earrings above, they are on sale now and you can find them here:
http://www.etsystudio.com/listing/91663750/sea-foam-golden-filigree-earrings

Thank you to all of my wonderful customers for supporting handmade!!
---
Sep 28, 2012 by A fellow maker
Apr 5, 2012 by A fellow maker
---
Shipping & policies
Preparation takes 1-3 business days
Arrives from the United States
Estimated Shipping
Orders are shipped within 1-3 business days of payment.
(If payment is made by echeck there is a delay for check to clear)
Custom orders take appx. 2-4 days to fill, depending on size of order and awaiting orders.

Address changes & contacting me:

Please check your shipping address BEFORE you make a purchase to be sure that the Etsy & PayPal address is the same. I ship to your "Etsy" address. Please understand that it is your responsibility to provide the correct shipping address on Etsy. I ship orders very fast and if the address is wrong on Etsy, I have no control over changing it for you once a box leaves my hands.

If this does happen, PLEASE use "Etsy Conversations" to "convo" me right away on Etsy. DO NOT use the llgray email, because your message will most likely go into my spam folder and be deleted since this email is linked to PayPal and not Etsy. If you convo me on Etsy, I will do my very best to correct the problem for you, but again, please understand that I cannot change the address once the box ships and I ship some boxes within an hour of your order. If you send me an address change before you receive the shipping notification it may still be too late. I ship at different times of the day and send out shipping notifications sometimes the folliowing day after orders have been shipped, when our courier returns with the previous day's receipts. I check "convos" daily and this is the fastest way for you to reach me if you have any questions, concerns or comments.
~~~~~~~~~~~~~~~~~~~~~~~~~~~~~~~~~~~~~~~~~~~~~~~~~~~~~~~~~~~~~~~~~
For gift purchases and one time address changes:
If you need to change the address you would like your order to be shipped, please provide the address you would like the gift to be shipped to in the "note to seller" portion at checkout. Please check the address BEFORE you complete your order because once the box leaves my hands there is no way for me to change it for you.
All orders are tissue wrapped and come with a ribbon - I am always more than happy to include a little note from you, the sender - so feel free to leave your message in the "note to seller" section with the address and I will be sure to include it for you! Don't worry about the receipt, since much of my business consists of gift orders, I do not ship any receipt or pricing info in the box. If you would like one you can print it from your paypal account for your records.

~~~~~~~~~~~~~~~~~~~~~~~~~~~~~~~~~~~~~~~~~~~~~~~~~~~~~~~~~~~~~~~~
~~~ Multiple 20 CENT Purchases ~~~

If you are purchasing a bunch of .20 items and you are wondering about the shipping fees, here is a breakdown of my expenses and an explanation of the shipping fees...
If the shipping fee was only postage I would be happy to combine it for you, however I incur additional charges in my shipping process because I live in a very remote area. These fees & charges are pennies on each item and are absorbed in the higher priced items, however on the .20 cent sale items - I am unable to "combine shipping" or offer any further discount due to the charges I incur on each item sold:

3.80 Postage and Box (this drops $1.00 per item after the first item)
0.20 Etsy listing fee per item
0.20 Paypal fee per item
0.35 Etsy & Paypal percentage charges on total sale
0.15 Packaging for each item (card backing, bubble wrap, tissue paper, ribbon)
0.83 Courier Service that delivers the boxes to the closest postal service center (this is an average price per item - $10 per delivery (whether I have 1 box or 5, so sometimes I lose money here also.)

$5.53 - Is the amount that I pay on each 20 cent item to deliver it to you.

*** 20 cent items average only about $2 to $6 after shipping***

PLEASE take a moment to look at the average cost per item and consider if you would purchase it if it were $1 to $4 with free shipping? This is the same.

I believe everyone deserves an affordable treasure and a place they can "splurge" on themselves and loved ones without feeling guilty or breaking the bank. I do my best to offer promotional items at 20 cents and keep prices REALLY low so that even after shipping is added you still get a great deal on a beautiful little treasure. I strive to make pieces that are affordable for all, but please understand that I am unable to discount 20 cent items any further.
~~~~~~~~~~~~~~~~~~~~~~~~~~~~~~~~~~~~~~~~~~~~~~~~~~~~~~~~~~~~~~~~

*FREE SHIPPING for almost all items after the first item in your order. The only exceptions are the promotional PIF items (pay it forward). Those items are already reduced and only $2-$6.50 with shipping included (for US residents & after the first item for our customers in other countries).

~~~~~~~~~~~~~~~~~~~~~~~~~~~~~~~~~~~~~~~~~~~~~~~~~~~~~~~~~~~~~~~~~~
FREE SHIPPING WAI

Items marked "FREE SHIPPING WAI" (free shipping with another item) and all regular priced items, ship for free when purchased with another item. If you purchase 2 or more of these items, then you are charged shipping for one item in your cart and the following items will ship for free after the first.

*Please note that "free shipping with another item" is not the same as free shipping when you purchase 2 or more items.
For example: If you purchase 2 items, shipping is still charged on 1 item since they can't BOTH be the "other" item.
~~~~~~~~~~~~~~~~~~~~~~~~~~~~~~~~~~~~~~~~~~~~~~~~~~~~~~~~~~~~~~~~~~~
Deliveries Outside of the US / special services

While orders are shipped within 48 hours from the time we receive payment, please kindly understand that orders shipped outside of the US can take 2-7 weeks for delivery depending on your location and customs regulations. This is not something we can control and delays in most cases are likely due to customs at borders. France, Russia and China normally take the longest to arrive. We are happy to say only 1 in 7000 orders are lost when shipped overseas. I highly recommend purchasing insurance or adding priority or registered shipping, to your purchase if you are purchasing a custom, one of a kind, or large order. In order to keep our prices affordable for all, we only offer the customs declaration number for your order once it is shipped so that you may check the status online. We are not responsible for lost or stolen packages, so please purchase additional services if you feel the need. I hardly ever have problems with overseas orders, other than the fact that they can take a while to arrive. Again, please be patient and remember customs delays are beyond our control and please feel free to contact me if you would like me to add any special services to your order prior to shipping.
~~~~~~~~~~~~~~~~~~~~~~~~~~~~~~~~~~~~~~~~~~~~~~~~~~~~~~~~~~~~~~~~

Thank so much for supporting handmade and choosing to shop with me. Every customer is appreciated, whether you are a large retail repeat customer or purchasing a single sale item. I am grateful to you for the opportunity to do what I love and I am happy to serve you!

My Kindest Regards,
Laura
lacylauragray.etsy.com






---
Payments
Customers may pay using Paypal, credit card or echeck. Please look for the link in the "shop announcement" at the top of the home page if you are a first time buyers and need help checking out or changing your payment option, you can click where it says "read more" and look for "New to Etsy?" and you'll find a link I have posted for a tutorial on how to go through the checkout process.

(*Please kindly view the full "shop policies" section as well as the "shop announcement' at the top of my shop page for additional information on items and giveaways as well as answers to the most commonly asked questions.)
---
Returns & exchanges
For hygiene reasons (because no one wants to purchase any items that may have be worn by someone else - especially piercings) and to ensure that our customers are always provided with a clean and new product - ALL SALES ARE FINAL. This helps to keep the prices low for everyone and reduces internet purchasing scams, however if you are unhappy for some reason, or a mistake was made, I am a very polite person and I will do my best to provide you with exceptional service and make it right which may or may not include an exchange for another item of equal or lesser value once you return the shipped item back to me in it's original box and undamaged packaging. Custom orders, sale items (items "$5 and under" or marked as "discounted"' "slightly Imperfect"' or "sale" items) and bridal orders are final and may not be exchanged. Customer is responsible for return / reship costs, packaging and postage.

---
Additional policies
Please be sure to read the complete descriptions of items you are purchasing and feel free to ask any questions prior to purchasing.
PLEASE NOTE: I normally return emails and convos once daily, however it may be 2 business days from time to time because I like to respond to each person individually and we can easily receive over 100 emails daily during busy times of year.
I will sometimes post photos of sets or multiple pieces together to show a complete collection in a single photo, but most pieces are sold seperately and the desription will state exactly which piece of the set you are purchasing. Props in photos are not included in purchase.
For sea glass pieces, I use 3 kinds of sea glass: (1) genuine or handpicked, this is genuine handpicked sea glass collected by me and / or friends and family members from the local beaches and rivers. (2) Cultured by the sea, this is sea glass that is found on the beach or in some cases may be beautiful bits of glass from various locations that is placed into one of a kind, handmade containers and anchored into high current locations along our local rivers, basins and barrier islands, then left for long periods of time for the ocean to smooth the glass into finished pieces, it is still ocean tumbled and completed by mother nature, just in a controlled environment. (3) Purchased, this is man made/ manufactured sea glass, this is sea glass that is purchased from local businesses and other individuals on Etsy and the internet. Most of the very round pieces (sometimes referred to as sea stones) are purchased at local surf shops and are man made, which allow me to provide beautiful matching sets as an affordable alternative for people that cannot or do not want the expense of genuine pieces but still want the look for bridesmaids, wedding photos, etc. Under each description, or in the "tags" or "items used" section, you will find that I will post one of the above words or a description of the origin of pieces whenever possible. I try to be as clear as possible about each piece I create and whether it is handpicked by me, further cultured by the sea, or purchased, so please feel free to ask prior to purchase if you have any questions about specific pieces and I will be happy to clarify.