Use air-dry clay and essential oils to create a celestial-inspired wall hanging that adds style – and a fresh scent – to your space. The first step is cutting out moon shapes from air-dry clay, then letting them dry overnight. Once your clay pieces are fully dry, it's time to dive back in and adorn them with paint, silver leaf, and resin-like dimensional adhesive. The final step is stringing them together, attaching a tassel, and adding scent by way of essential oils. Experiment with your favorite scent pairings, or try one of ours: grapefruit + bergamot, lavender + ylang ylang, or patchouli + bergamot.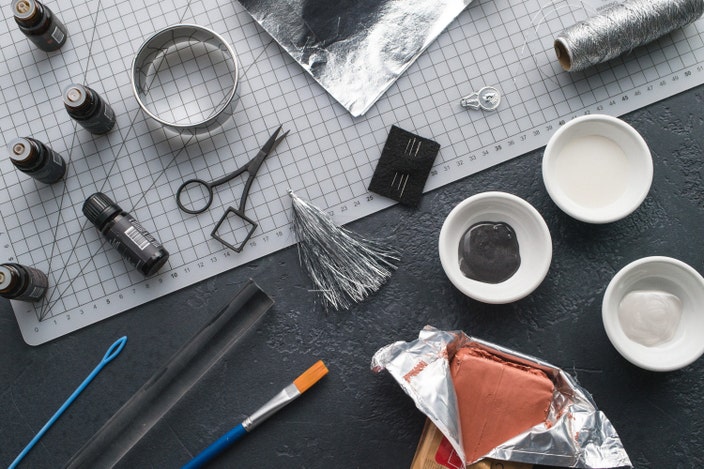 You will need
Step 1: Roll out the clay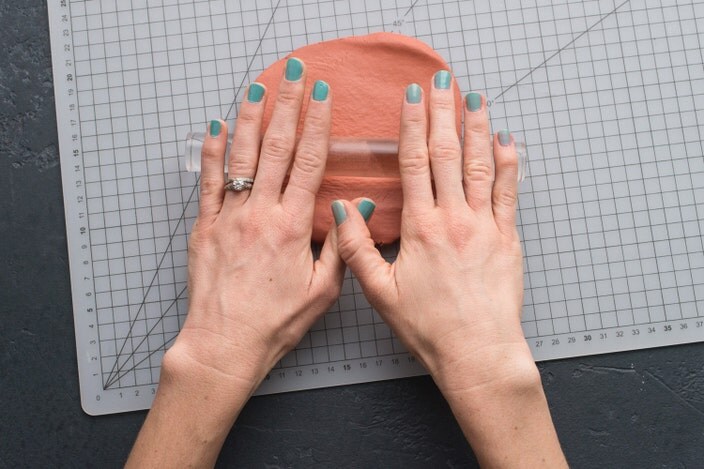 Use a rolling pin to roll out clay to ¼ in. / 7 mm. thickness. You'll want to work on a smooth surface, like a cutting mat, to keep your clay as smooth as possible.
Step 2: Cut out two circles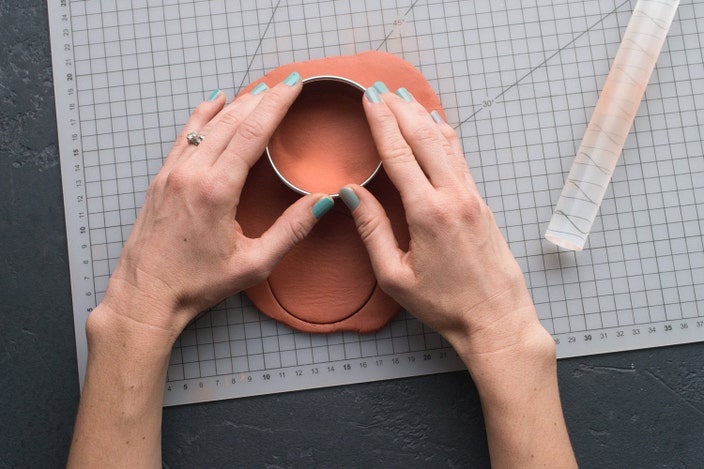 Once your clay has an even thickness and a smooth surface, use a round cookie cutter to cut out two circles for every wall hanging you want to make. Even if you're only making one wall hanging, it's a good idea to make an extra set of clay pieces in case anything dries unevenly or goes awry during the painting phase. After cutting your circles, remove excess clay without touching the circles themselves. Tip: A good rule of thumb for working with air-dry-clay is to avoid handling your pieces until they're dry; otherwise, you'll end up with fingerprints or uneven finished pieces.
Step 3: Make the crescent shape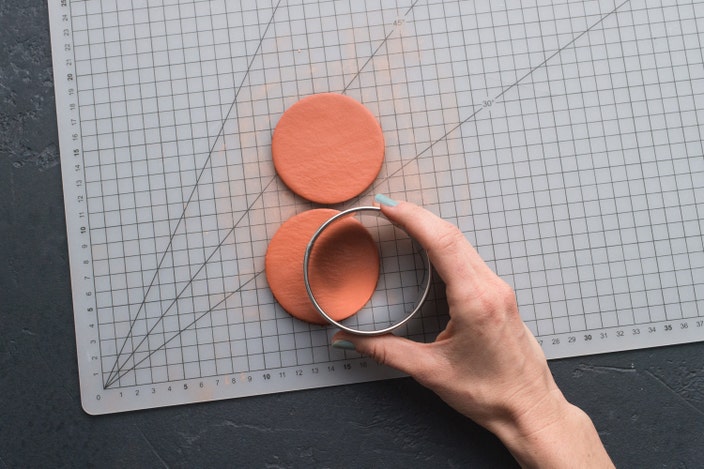 To make the crescent shape, take one of your circles and carefully cut it in half using your round cookie cutter. Again, be careful not to touch or handle the crescent shape itself. Remove excess clay.
Step 4: Poke holes for threading and let dry overnight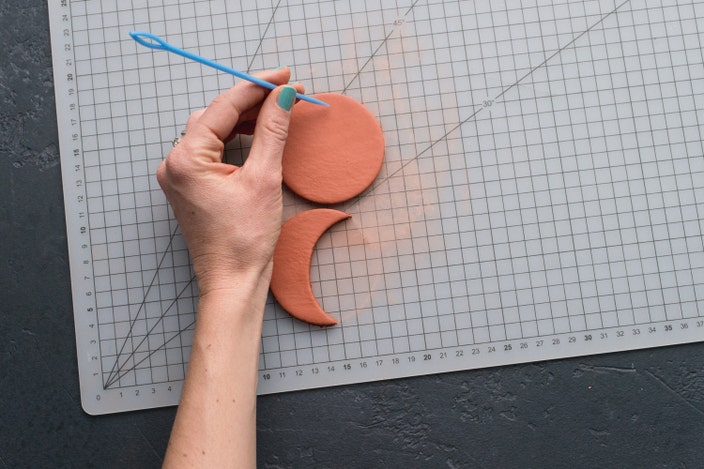 Use a tapestry needle or small straw to poke a hole at the top and bottom of your circle shape. Next, poke a single hole in the top of the crescent shape. Let your clay pieces dry overnight.
Step 5: Paint your clay shapes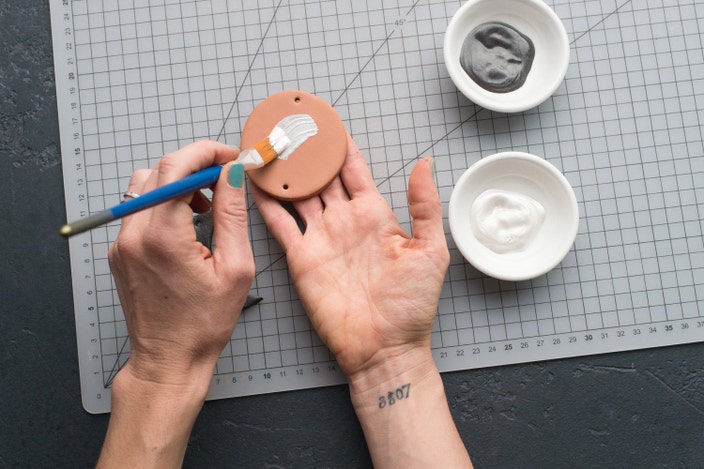 Once your clay shapes are dry, apply iridescent paint to the front and sides of your circle and crescent pieces. Let dry.
Step 6: Apply silver leaf to circle piece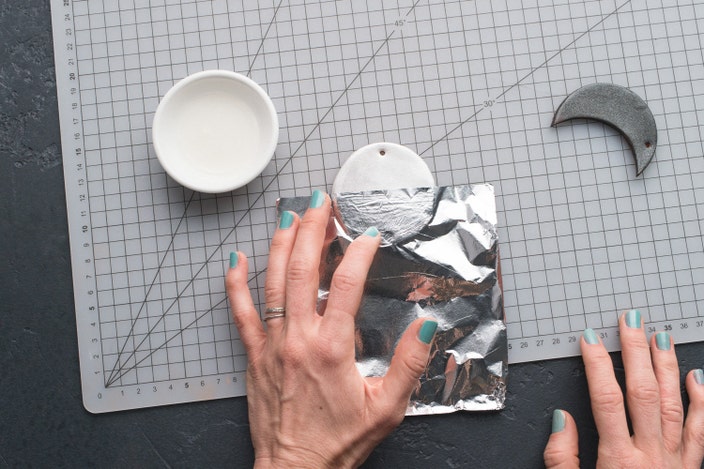 When the circle piece is dry, apply a thin layer of dimensional adhesive to the bottom half using a paintbrush. Next, carefully place a sheet of silver leaf over the adhesive. Gently tap the silver leaf to the surface with your fingers to adhere. Let dry.
Step 7: Apply dimensional adhesive to both pieces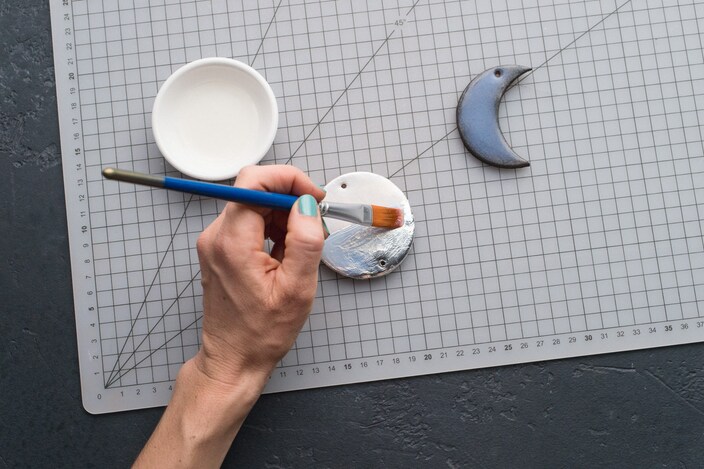 Use a clean paintbrush to apply a thick coat of dimensional adhesive to the front and sides of both your finished clay pieces. This will give them a sleek, glossy finish. Let dry.
Step 8: Cut your thread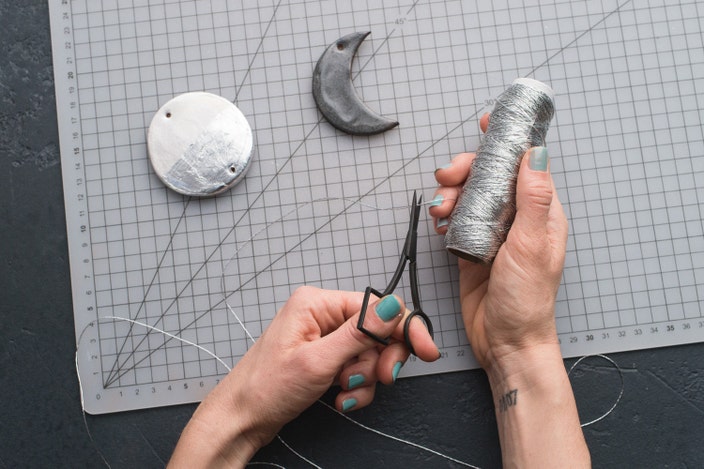 Now you're ready to string your clay pieces together. To begin, cut a full arm's length (fingertip to fingertip) of metallic thread. Fold the length in half, and then fold it in half again. Tie a loop at the second fold.
Step 9: Begin threading clay pieces together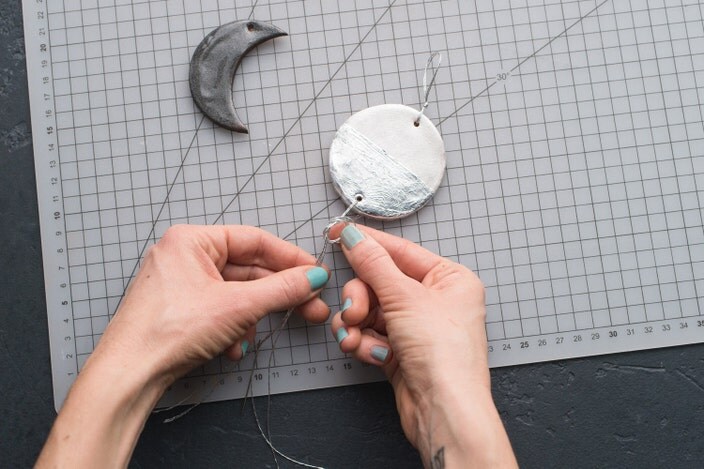 Use your threading tool to thread one side of your string onto a needle. Use the needle to thread the string through the top hole of the full circle, going from the front to the back. The other string will stay behind the full circle, flat against the clay piece. Next, the strings with the needle on it are going to come through the back of the bottom hole and out the front. Keep your needle on the thread and tie a knot against the bottom of the first clay piece.
Step 10: Attach crescent piece and tassel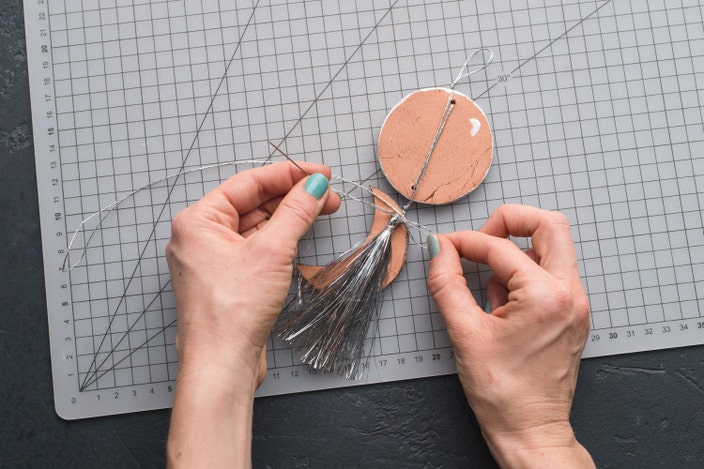 To attach your crescent piece, guide the thread on your needle through the front hole of the crescent. Add your tassel by threading the needle through the top. Tie in a tight knot and cut.
Step 11: Add essential oils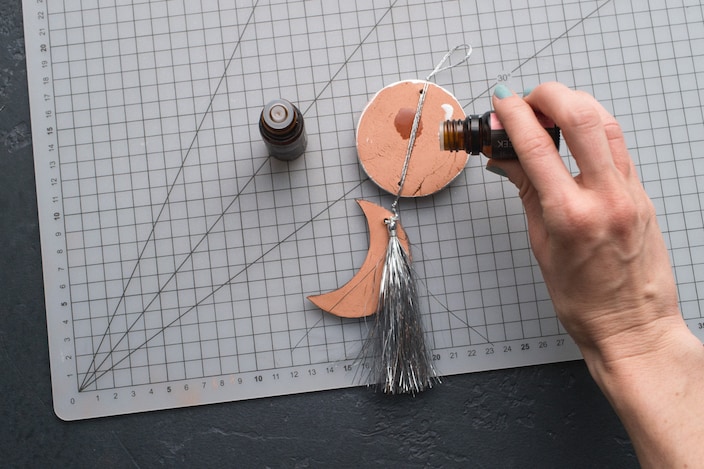 Next, add five drops each of your favorite essential oils to the back (unpainted) side of your clay pieces. Allow to soak in. Done! Place your wall hanging in any space that needs a refresh. You may need to add more essential oils as the scent fades over time.