Treat yourself! Whether you're looking to add an extra dose of calm to your meditation practice or simply seeking a more restful self-care routine, this simple DIY eye pillow made with buckwheat hulls and lavender will do the trick. In this tutorial, we'll show you how to cut fabric, sew the pillow, and fill it up. Add a tassel or two for good measure and you'll be ready to kick back and relax.
You will need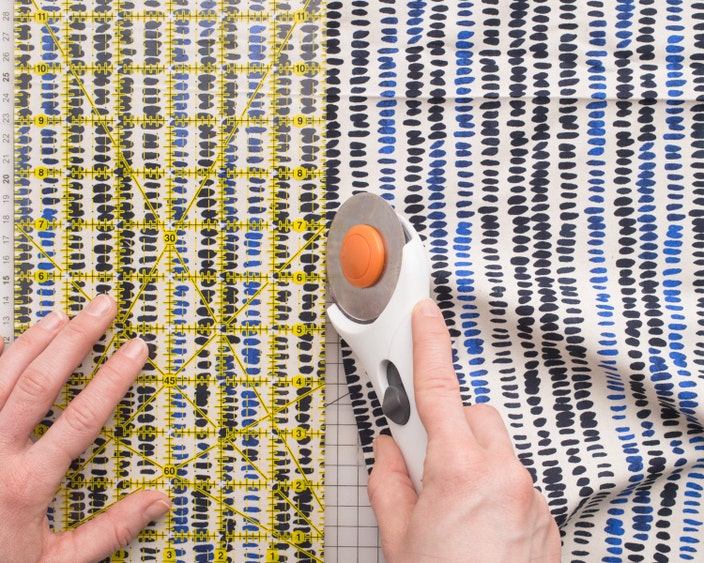 Use a rotary cutter and an acrylic ruler to cut two 6 in. x 10 in. / 15 cm. x 25 cm. rectangles of fabric. We used two different pieces of fabric in this tutorial to create a bold, two-pattern eye pillow. Follow our lead or keep it simple with one fabric. Totally up to you! Tip: Give your fabric a quick iron to smooth any wrinkles before you sew.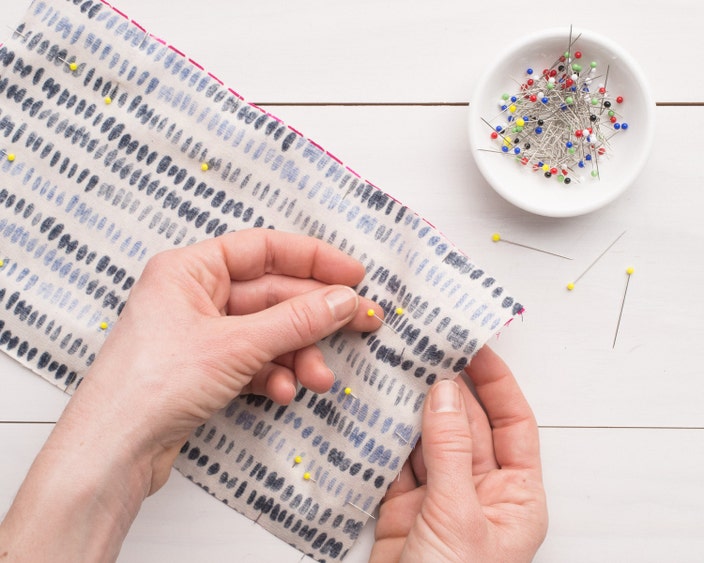 Use pins to secure the pieces of fabric together so that the print side is facing inwards.
Step 3: Sew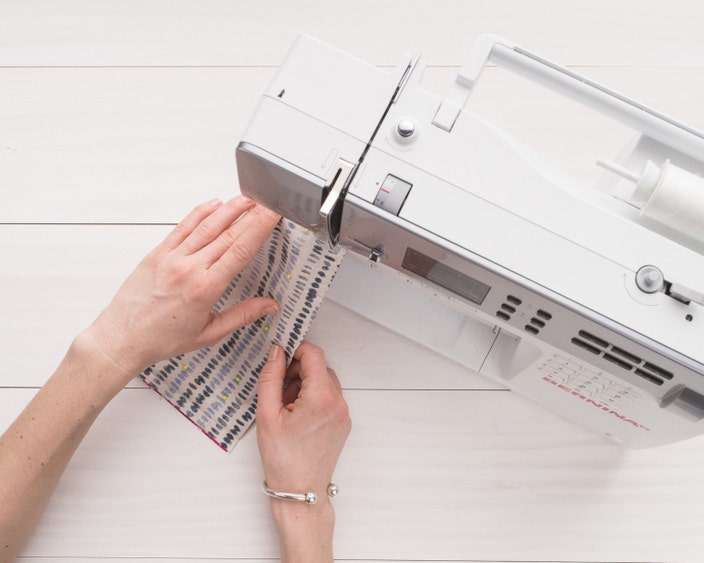 Use a sewing machine to sew around all four edges, leaving a ½ in. / 12 mm. seam allowance and 2 in. / 5 cm. opening. Tip: Trim the excess fabric from the corners at a 45-degree angle to help the corners stay pointy when flipped right-side out.
Carefully turn the fabric pillowcase right-side out.
Step 5: Add buckwheat and lavender filling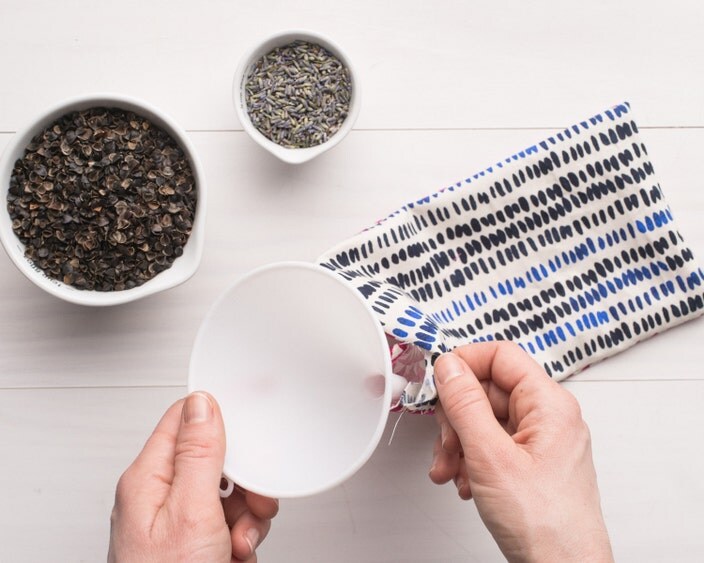 Use a funnel to fill your fabric pillowcase with 2 cups of buckwheat hulls and ¼ cup lavender. Tip: If your funnel has a narrow opening, you may need to carefully shake it as you fill to help the buckwheat hulls and lavender pass through.
Step 6: Sew the opening of your eye pillow shut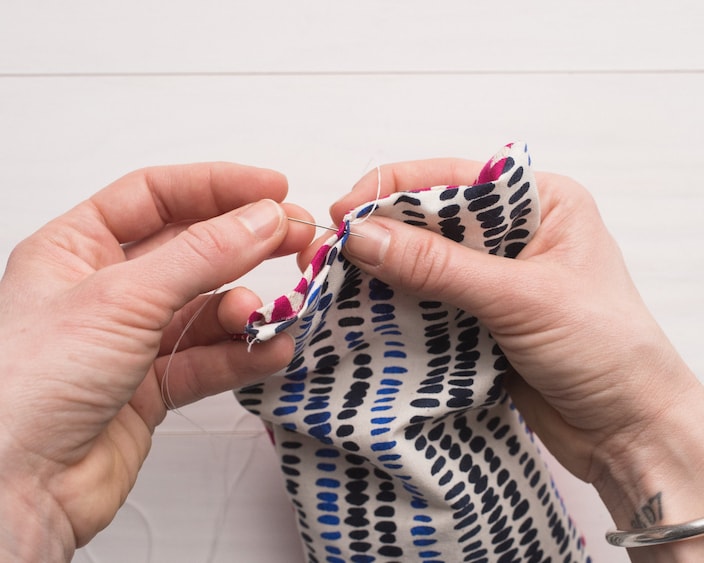 Use a whipstitch to sew the small opening of your eye pillow shut. When you're finished, give your pillow a shake to help distribute the lavender.
Step 7 (Optional): Add tassels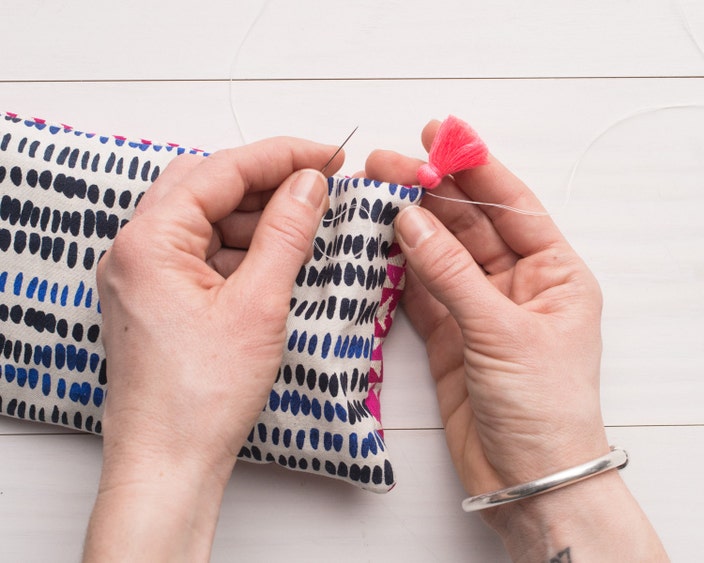 Use a needle and thread to add tassels or other embellishments to your eye pillow as desired. Tip: Be sure to choose 100% cotton embellishments if you plan to heat up your eye pillow in the microwave. Metal and microwaves don't mix!
To use your eye pillow:
Place over your eyes and enjoy. Take your relaxation practice up a notch by experimenting with different temperatures to see which feels the most soothing for you. For a cooling experience, place your mask in the freezer for 10-15 minutes before using. For something warmer, pop your mask in the microwave for 10 seconds, being careful that it's comfortable to the touch before placing over your eyes. Breathe deeply, and enjoy.