Step 1: Prep and add wax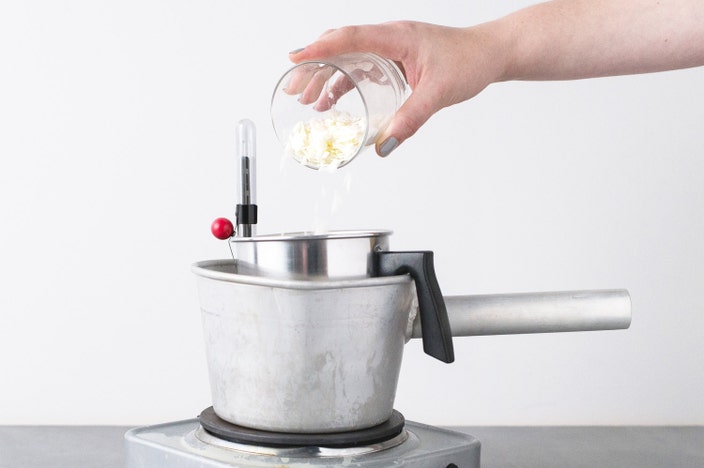 Fill a saucepan halfway with water. Bring to a boil. Lower heat to a simmer. Place your pitcher inside the saucepan. Clip your thermometer on the side of the pitcher. Use your container to transfer two heaping scoops of wax flakes into the pitcher. The flakes will melt down to fill the container; if you're planning to make more than one candle at a time, you'll want to adjust accordingly.
Step 2: Melt wax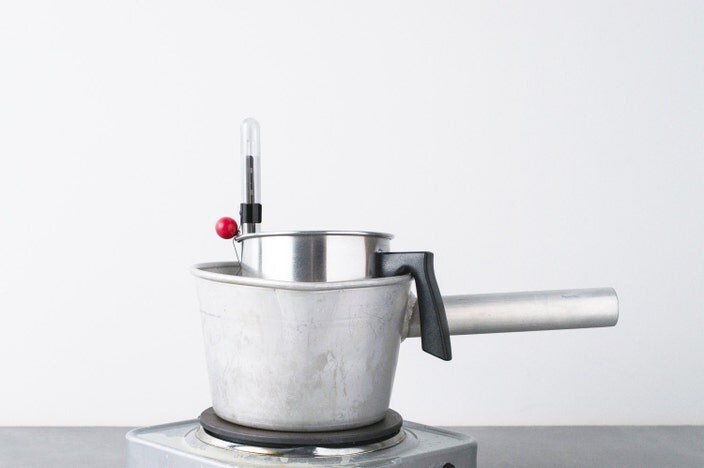 Make note of your wax's melting point (usually included on the packaging). Monitor the temperature of your wax flakes as they melt down with your thermometer. Be careful when handling wax – as it starts to melt it will become hot. Keep an eye on your thermometer to ensure that your wax does not overheat. If wax becomes too hot, remove from heat and let it cool back down to its melting point.
Step 3: Add dye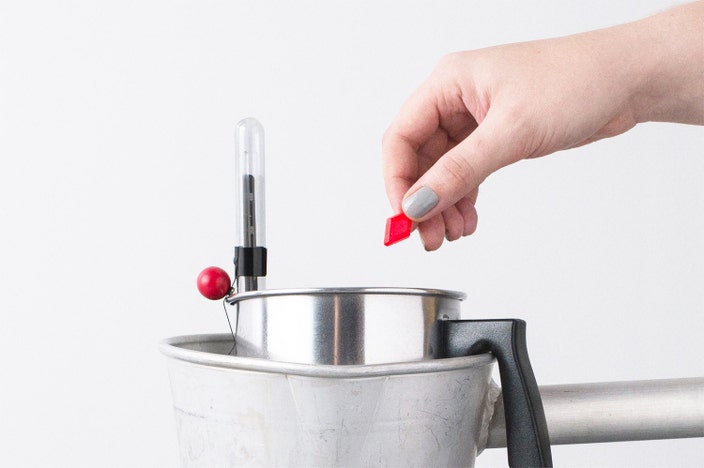 When wax has melted, lower the heat. Break off a piece of your dye and stir to incorporate.
Step 4: Test color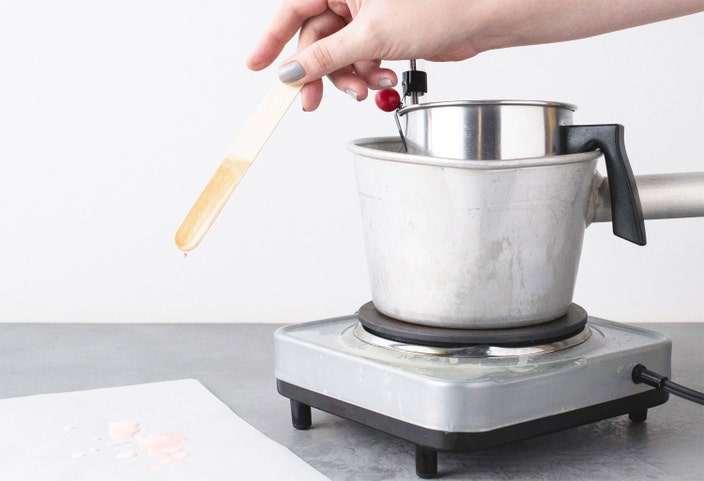 Did you know: Melted wax appears much darker than hardened wax. To test wax color, dip a craft stick into the wax mixture, and make a droplet onto the wax paper. When the droplet has hardened, you'll be able to tell what the color will look like for your finished candle. If needed, add more dye or mix colors to achieve your desired hue.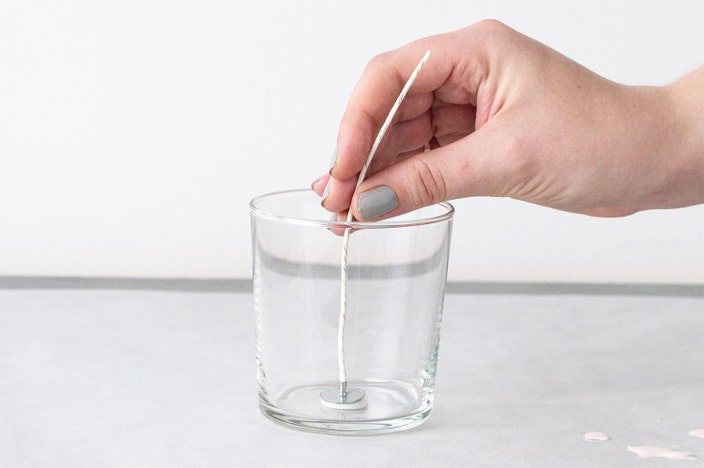 Prep your wick by placing a wick sticker at the bottom center of your container. Next, place the metal part of your wick directly on top. You're almost ready to pour!
Step 6 (Optional): Add fragrance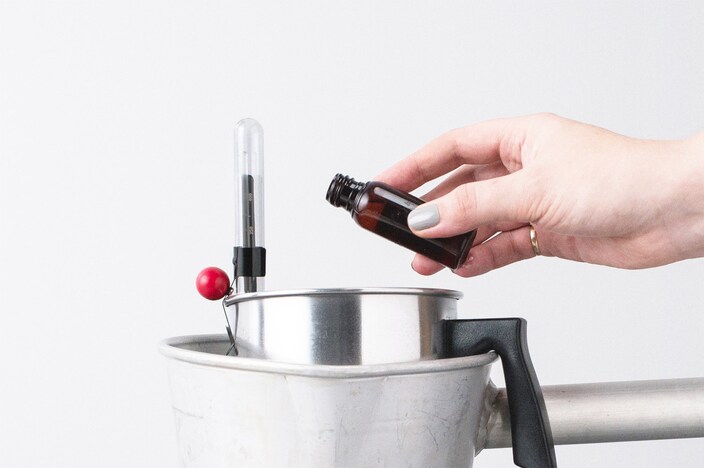 Add fragrance to your wax mixture. Tip: Be cautious not to leave your wax on the heat after adding in your fragrance or it might burn off.
Step 7: Pour wax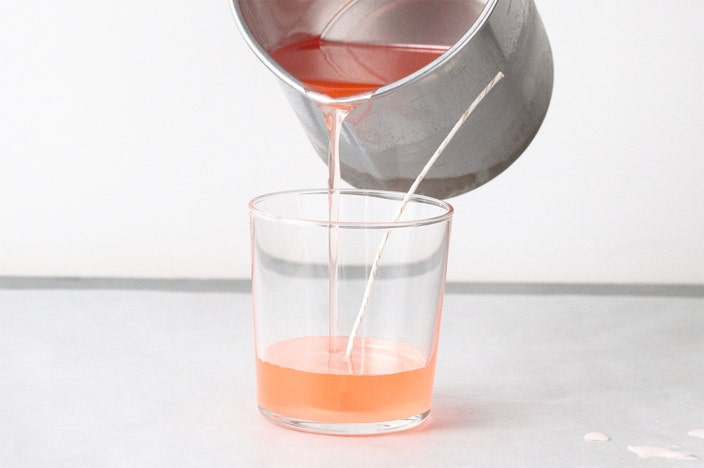 Begin pouring your melted wax VERY SLOWLY into your container, until it is about ½ in. / 1 cm. from the top. If you pour too quickly, your wax won't cool properly, and your candle may develop a sinkhole around the wick.
Step 8: Center your wick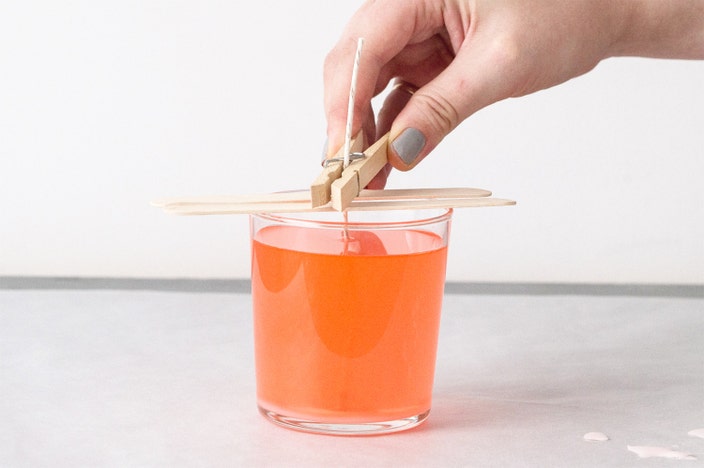 Lay two craft sticks on both sides of your wick. Use a clothespin to hold your wick centered by resting the clothespin on the craft sticks. Let candle harden at room temperature.
Step 9: Trim wick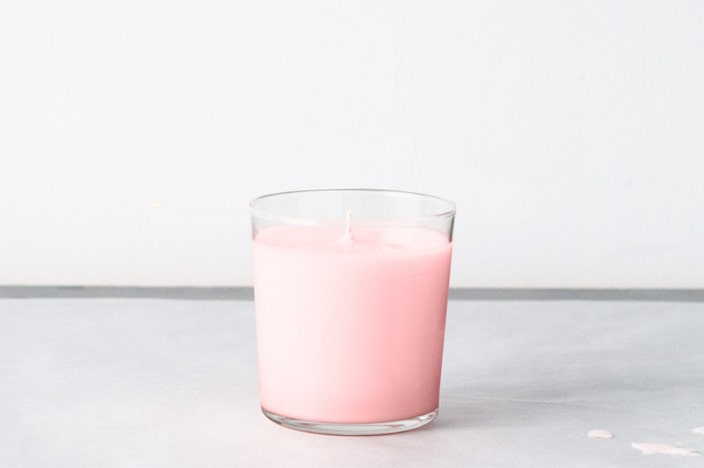 When your candle is fully hardened, remove the clothespin. Trim wick to ¼ in. / 6 mm. from the top of the candle.