Step 1: Arrange flowers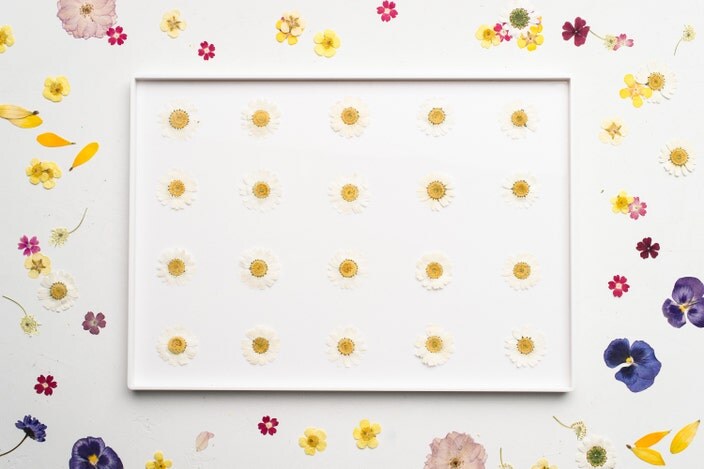 Begin arranging pressed flowers on your tray.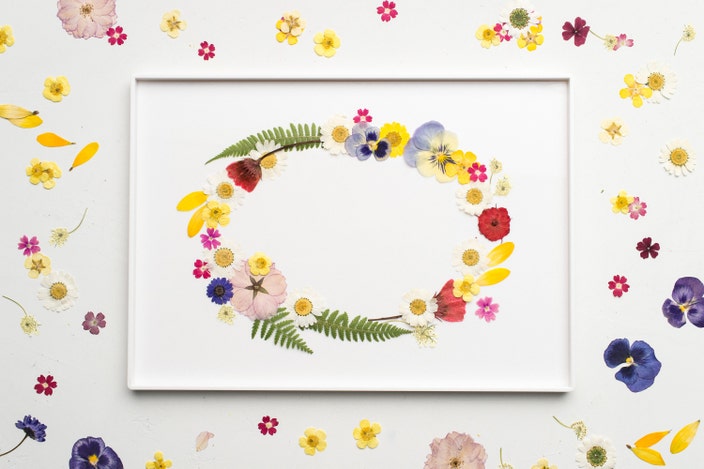 Line them up by color, create a wreath design, or scatter them about. When you find a composition you like, set aside.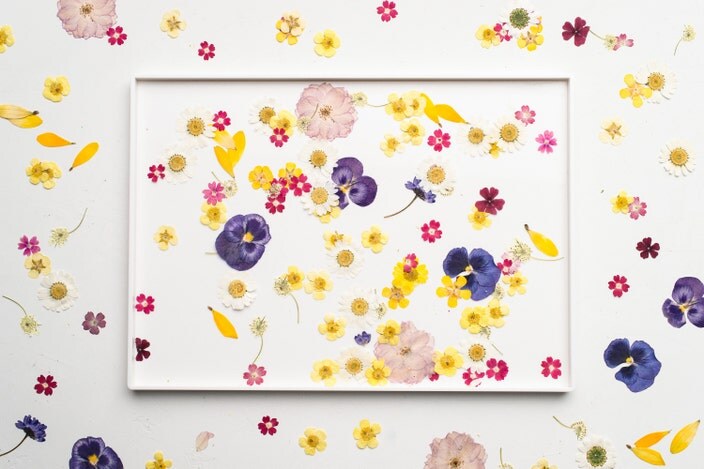 Optional: Once you've decided on flower arrangement, add glue dots to the flower backs so they don't move around when you pour the resin.
Step 2: Mix resin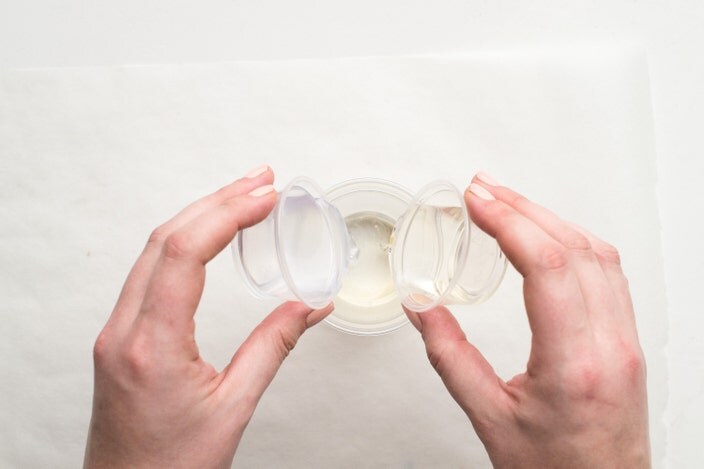 Line your workspace with parchment paper. Transfer resin and hardener to measuring cups, so that you have 2 oz. / 60 ml. of resin and 2oz. / 60 ml. of hardener. Pour both resin and hardener into your mixing cup and stir with a wooden stick, following manufacturer's instructions for exact mixing time. Remember to scrape the sides of your mixing cup as you stir so the resin mixes evenly. Tip: We recommend starting with 4 oz. of mixed resin to avoid wasting any resin; you can always mix more later if needed.
Step 3: Pour resin onto tray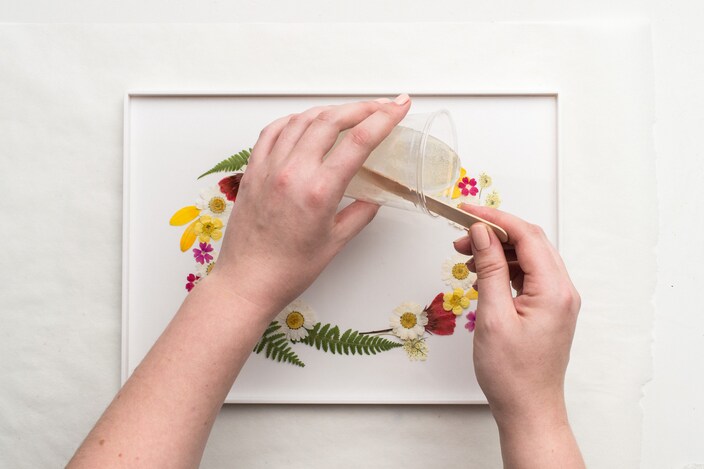 Pour resin onto tray. Work in small batches to help prevent overflow or excess.
Step 4: Spread resin mixture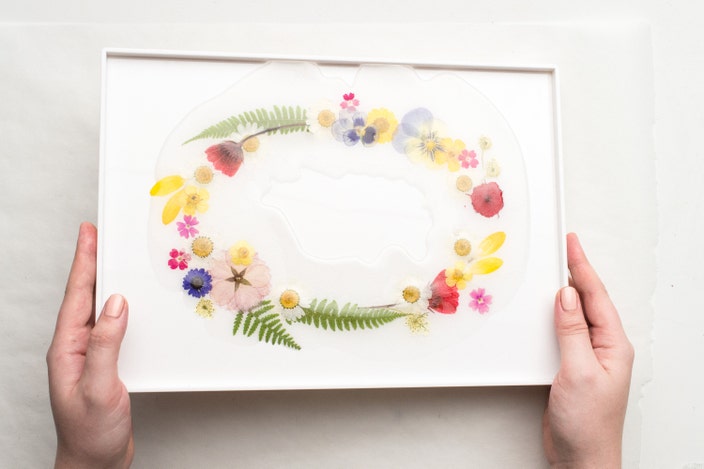 Carefully tilt your tray in all directions until the resin has reached all four walls of the tray. Gently blow on the resin to remove any bubbles.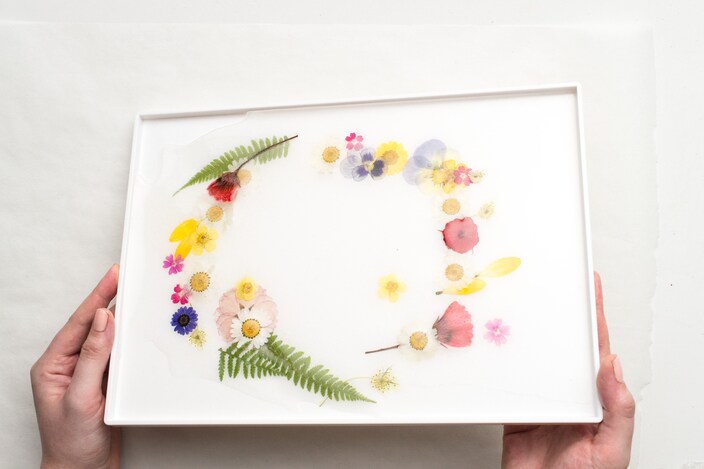 If you need more resin to fully cover your pressed flowers, whip up a new batch as you did in step 2 and add it on top of your first layer. You'll want to do this quickly, or the first layer of resin will start to set.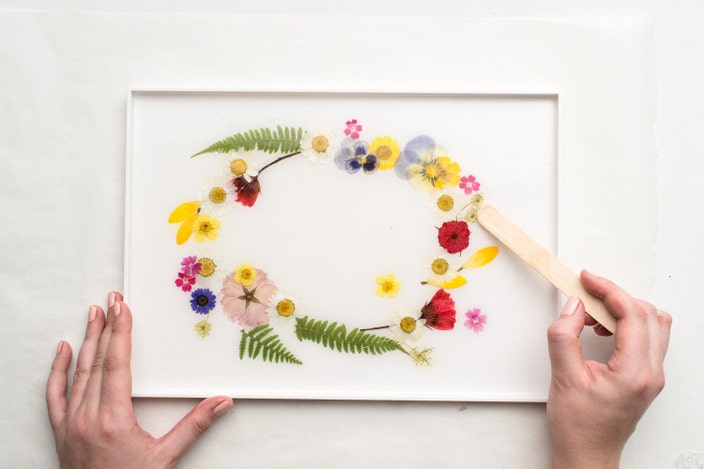 Tip: If flowers shift position as you're spreading the resin mixture, gently glide them back into place with your wooden stick.
Step 5: Let your resin cure
Set your tray on a level surface away from dust, children, and any pets, and let cure for at least 24 hours, or per the instructions on your resin package. Voila!