AlmaSueShop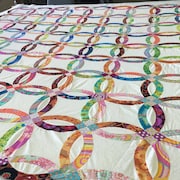 Sorry we don't have anything like that.
About
Alma Sue's Shop
Alma Sue's Shop is located in Sarasota, Florida where people from all over the U.S. and Europe come to experience the year-round beauty of its beaches, shoreline, and sunsets.

Many have discovered Alma Sue's Shop is a unique, "always quilting" store where quilters with years of experience practice their craft, right in the store. Visitors watch, ask questions, and enjoy the friendly atmosphere.

We make custom quilts, host quilting and sewing classes and special events, and offer a large selection of quilts, kits, fabric, and supplies. Most days, quilts are being made as customers shop.

May 10, 2018 by wendy robinson

The picture does not do it justice - you must make it to appreciate the depth - breathtaking
May 8, 2018 by Pam Johnson

Apr 9, 2018 by Pat Shelley

Love the colors and nice and vibrant
Mar 15, 2018 by Sandra Malaniak

Love the kit!! Great service. Thank you!!
Mar 13, 2018 by bjeffrey2

Mar 3, 2018 by IzabelaPokora

Feb 23, 2018 by Karen Harp

Jan 18, 2018 by Wells1274

This is a beautiful and beautifully made quilt! My grandchild will love it.
Dec 26, 2017 by Needlesandbooks

LOVE it. Beautiful. am planning on a quilt from it.
Dec 25, 2017 by Deb Sherart