AnmolEthnics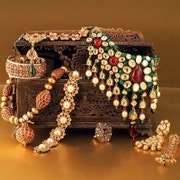 Sorry we don't have anything like that.

Apr 30, 2018 by shukriyaa

Mar 1, 2018 by vallescana

The gems in the jewelry look like plastic, and probably is.
Jan 24, 2018 by sewssome

A gift she loved it. Smaller than anticipated but beautiful
Dec 5, 2017 by schubee2

Very original, beautiful! !
Jan 21, 2017 by harleymomkat

Oct 12, 2016 by Meera Nair

Oct 5, 2016 by Meera Nair
Oct 5, 2016 by Meera Nair

Oct 1, 2016 by Anitha Muniswamappa

Oct 1, 2016 by Anitha Muniswamappa