AnnettesKeepsakes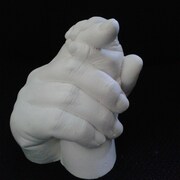 Sorry we don't have anything like that.

Feb 22, 2018 by Jen Jezak

Feb 2, 2018 by Brandon Garrison

Very fast shipping, easy to figure out and use. The only difficult thing was trying to hold my cats foot still. 😋 thank you!!!
Jan 16, 2018 by Erin K

Did not receive on time.
Jan 9, 2018 by Courtney Irvin

I had fun (eh, maybe it's suppose to be my baby had fun) making these ornaments! Great fun item.
Dec 13, 2017 by Marisa


Looks exactly as shown. Happy with the packaging (can't wait for my parents to do this once they receive it xmas). Really fast shipping and response time for DM. I recommend so far.
Dec 4, 2017 by Jazmin Maria Shae

Didn't realize until after I ordered that the shop wasn't currently taking orders. BUT they shipped it anyways! Got it very quickly and there was enough clay to make 2 ornaments. Only thing is even when it compleatly dries it still feels a little foamy. But still a great buy!
Nov 14, 2017 by charlie sutton

I loved this kit. Annette was kind enough to include two small containers for the foot cast so l could do my babes left and right foot. I messed up the cast the first time I tried so I only have one foot done but I ordered more of the casting and rock powder. The one that I managed to get looks amazing. The wrinkles in the foot and all the visible marks and lines are incredibly shown. What an amazing keep sake.
Sep 3, 2017 by Lauren Munro