Annikabazar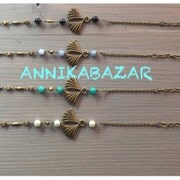 Sorry we don't have anything like that.

PARFAIT! Superbes perles. Vendeuse passionnée et très sympathique. Réponses très rapide à mes messages et envoi rapide et particulièrement bien soigné. Je recommande vivement cette boutique!
7 days ago by Agnès

La taille est parfaite et le motif est super beau!en fait il m'en faudra sûrement d'autres.Envoi rapide.Commande au top!Merci!
Mar 10, 2018 by Esperluette

Je suis très satisfaite du produit
Jan 23, 2018 by brigittemariotta

Nice note from shipper, but these are just ok. A bit of scratchy and roughness at the drill holes. Pretty color though. Thanks.
Jan 21, 2018 by Irene Claire

Nov 17, 2017 by karinedissard

Nov 17, 2017 by karinedissard

Nov 17, 2017 by karinedissard

Oct 19, 2017 by karinedissard

Oct 19, 2017 by karinedissard

L'article correspond à la photo et à l'annonce
Oct 19, 2017 by karinedissard