BLUERIVER4747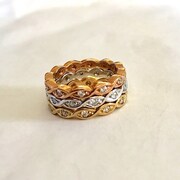 Sorry we don't have anything like that.
About
Buy your diamonds at Jewelers prices, submit any design from any website
I have been making jewelry since 1970, all my jewelry is designed and made made by me, along with assistance of making the jewelry by different craftsmen, like the polishing or setting certain types of settings, or recutting some of the gems, I also make any design you submit, or if you want to personalize with your design, or a variation of what I make, I like to work with Gold and Platinum only, and do not use other metals, I prefer to use VS clarity or better for the accent diamonds, as a member of a Diamond Club, I can get you Any Size Any Shape diamond, you can submit any picture you wish.

Apr 13, 2018 by Philip De La Garza

This ring is so much more beautiful than the pictures! The sapphire is stunning and a lovely shade of blue, and the diamonds are radiant. The size fits great and is as advertised. Wonderful communication throughout the buying process and quick shipping. I could not be happier with this gorgeous ring and Gary's exceptional customer service!
Apr 10, 2018 by Emily Hensley
this ring is exactly what I wanted! it can be worn 24-7. it has great detail but is simple and austere which is what I was looking for. I looked at a lot of designs,new and vintage but this ring was the one for me.
Apr 10, 2018 by gatorjawsw113

Outstanding experience. Gary really goes above and beyond to help design just what you're looking for. He was very patient with my many questions. The workmanship is better than I could ask for!
Apr 4, 2018 by JoAnne Pierce

Absolutely beautiful diamond. Thank you so much for finding it for me. Kathy
Mar 12, 2018 by Kathy Vaillancourt

Exactly as Gary described and I already have it mounted in a pinky ring.
Feb 8, 2018 by Derrel

Once again, thank you! It is beautiful and I wear it all the time! It came quickly in the mail. Totally satisfied. :)
Dec 4, 2017 by Yael

My ring came swiftly in excellent condition. I'm highly satisfied with my purchase!!! Thanks!
Oct 29, 2017 by Yael