Brigadoonfiberfarm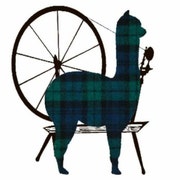 Sorry we don't have anything like that.
About
Brigadoon Fiber Farm - heriloom fibers and hand crafted gifts
Hand spinning fibers is a centuries old craft. Providing warmth and comfort to people around the world. Brigadoon Fiber Farm follows in those footsteps and creates unique, organic yarns using the same techniques and tools used historically. All processing is done completely by hand.

Prior to the industrial revolution and the use of harmful chemicals in all consumer products, yarns were spun at home. Our yarns are spun in our homes, in front of the living room fire and bring this antiqued feeling of hearth and home to everything we do.

This craft has been passed down from one generation to another. Rachel was taught at a young age by a long time spinner in Nova Scotia.

Choosing to create breed specific yarns comes with the challenge of re-educating an audience who expects 'wool' yarn from a craft store. Creating and purchasing breed yarns ensures breed preservation. With the industrial revolution, yarns are produced in large factories with corrosive chemicals. They favor white yarns to later dye. This ensured that herdsmen tend to keep white sheep. Those beautiful breeds with colored fleeces are being bred out of existence to suit this expanding market.

Each variety of fleece is not simply 'wool'. Similar to paint, one would not just purchase 'paint' to touch up their car, paint their finger nails, and also paint their home. Breed specific yarns carry this distinction too. These breeds have been selectively breed for thousands of years to produce fleeces with very specific attributes and purposes.

The alpaca fiber is grown on our farm, right outside our door. In mid spring we shear our animals, then skirted to remove all portions that are unsuitable for spinning. It's then washed in organic handmade laundry soap made for sensitive skin. The wool is then sun or air dried depending on the outside weather and finally hand carded, hand spun and dyed.

Check out www.facebook.com/brigadoonfiberfarm to see us on facebook or www.brigadoonfarms.com to see all of our Alpaca adventures.

Please feel free to contact us if you have questions or would like something only you would think of!
Shop members
Rachel

Owner, Maker, Designer, Social Media, Owner, Spinner And Artist
Shop policies
Last updated on
June 7, 2018
Welcome to Brigadoon Fiber Farm, specializing in eco friendly and renewable fiber.
Accepted payment methods
Payment
Payment can be made through Paypal, etsy gifts cards or direct checkout and must be paid immediately.

If visiting us at a local craft fair, we accept cash and most major credit cards
Shipping
If you live locally, belong to a craft group and would like to pick up your items we would be happy to oblige! Please enter code OTTAWAVALLEY4PU when checking out and let us know when you'll be by.

All pre-made yarns will be shipped in 1-3 days after payment has been completed. All shippments will be made with Canada Post through Paypal and can take 1 week (within Canada) and up to 2 weeks for everywhere else.

For all shippments leaving north America, the shipping prices are generalized quotes. I will check shipping prices and contact the seller prior to shipping. All additional shipping costs will be the sellers responsibility. If the charges are too high, a full refund of the shipping amount will be made.
Returns and exchanges
All returns must be made within 5 days of your receiving the item. Please remember that you are purchasing hand spun wool. There will be vegetation and each is unique. We do our best to give accurate measurements, weights and all information possible. If you've purchased the material and found that it's not to your liking we're very sorry you'd like to return it. The item may be returned and a refund will be made, minus original shipping charges and $5.00 restocking fee.

The item must remain in it's original wrapper, remain in skein form and not have been used in any way. (not frogged and re-wrapped). If the item is returned and smells of smoke, has been used, is stained or dirty we are unable to offer a refund at all.

Any return shipping charges are the responsibility of the customer making the return.

We are also unable to take leftover yarn. If you have 200yds or only used a small portion from a skein there are lots of things you can do with this! you just can't return it :)
Additional policies and FAQs
If purchasing bulk orders of 3 skeins or more, we can offer bulk discounts of %5. Please include coupon code 'BULKINGUP3'

Larger projects do require more yarn and we understand that this can be costly. If you require a certain yardage over 300yds we can offer you a discount. This cannot be applied to pre-made yarns listed. We have a variety of fibers, colors and patterns that you may choose from. The first 150yds range from $25-40.00 depending on the fiber and pattern with each consecutive yard $0.10-0.20. As this is done on the bobbin we will spin as close to your required yardage as possible. This yardage may go over and all additional yardage will be included in the final price. Please send us a message here on etsy or at brigadoonfarm [!at] outlook.com for more information!

If you've stashed away your own fiber and would like it spun, we can do this as well! Dog fur, sheeps fiber, llama, alpaca - whatever! We can also blend colors or fibers or dye them $3/skien. This is a flat rate of 25.00 for the initial $150yds. Each additional yard is $0.07. We would be happy to spin the entirety of the fiber or to a specific yardage. We do require that these fibers be clean (in the very least skirted) prior to them coming to us. If you're unsure how to wash and process fibers, we'd be happy to do this for you. A processing fee will be added to your order per lb of fiber. $15 for cleaning and carding, or $10 for carding.

All custom made yardage will be spun over never under the required amount - we know what it's like to run out at the last row!!

HOW WE'RE CRUELTY FREE:

Most importantly, my yarns are cruelty free. We raise our own flock of sheep and Alpaca right here on our farm. I know each's personality and have a bond with them all. They are more than livestock! My boys love tending to our flock and spending time in the paddock is quite therapeutic. Shearing is done every year to prevent skin problems that can be caused by long matted fur.
As the animals know us from our many daily visits to the pasture, they are not stressed at shearing or check up time. If you're ever in our area, visit our farm gate shop for yourself and see our beautiful herd.

Shipped on time. Beautifully made and extremely warm! Thank you
Mar 14, 2018 by Sandy Thomas

Very nice. Like working with it.
Jan 22, 2018 by Naomi Wikane

Very nice. Love working with it.
Jan 22, 2018 by Naomi Wikane

So very please with the wuality of this shawl i love it.
Jan 9, 2018 by Diane

Very nice to work with.
Jan 2, 2018 by Naomi Wikane

Wonderful yarn! Beautiful texture and coloring. Thank you!
Dec 15, 2017 by Naomi Neiman

Nov 17, 2017 by Joan Rankin

Nov 17, 2017 by Joan Rankin

Nov 9, 2017 by Naomi Neiman

Nov 9, 2017 by Naomi Neiman