CjCollects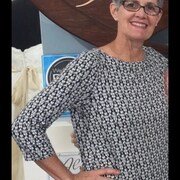 Sorry we don't have anything like that.

Looks great arrived very quickly. Love the versatility of the pattern.
Apr 6, 2018 by lzr89

This pattern was shipped same day, and arrived within a few days. The pattern is in pristine condition - it looks like it is 2 years old, not 50! The label is included, an essential for me. Instructions, also. Even the little postcard to subscribe to Vogue Pattern Magazine was still there. Nostalgia trip! I remember those postcards in every designer pattern. It is obviously factory folded, so I have not unfolded it to count the pattern pieces, and I don't feel I need to. I have sewn enough to know they are there. Everything about this experience is what I would have wished for. Thank you.
Feb 28, 2018 by Emily