CultOfYouth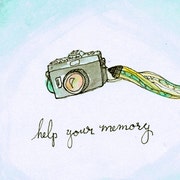 Sorry we don't have anything like that.
Firstly, I want to thank you for ensuring that the camera arrives in good and working condition by wrapping it in bubble wraps and shipping fillings. Secondly, the camera's interior and exterior are in excellent condition. The camera looks brand new. It came with its original box, instruction manual, warranty card and a manufacturer certificate. Thirdly, the mechanics of the camera is working perfectly. I loaded the film that came with the camera (thank you!) and began to take photos. The camera advanced the film without problems. I could not set up the date of the camera because the year does not pass 2013. This made me laugh. For a camera that is nearly 18 years old, it looks like it came right out of the factory. Thank you so much! I highly recommend this seller!
Apr 22, 2018 by Sylvia Yvette Rosa

Camera is in great condition and Ivan was super helpful.
Jan 30, 2018 by Amy Zhou

Jan 9, 2018 by Alberto Camarena