CustomCraftJewelry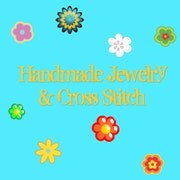 Sorry we don't have anything like that.
About
Welcome to my shop!
I am single, disabled mother of 1 son and have an awesome St. Bernard who is my therapy dog! I have a genetic disease called Ehlers-Danlos Syndrome and a rare disease, Dercums Disease. Even though both diseases are very debilitating, I find crafting as a form of therapy.
I was an RN prior to becoming too sick to work and had to "retire" in 2004. I went through a period where I lost myself but one day decided to put my crafty hands to work! I had always made jewelry and cross stitch projects for my friends and family. I decided to put those skills to use and created my Etsy shop in 2013. My goal was to make some extra money to help pay my bills, pay for prescriptions and co-pays for Dr. visits. I started to realize that my love for my work developed a new feeling inside me and I realized how therapeutic this was for me. Doing all of this has saved my life! Not only do I get to use my creative skills for my customers but it takes my mind off of my aches and pains! This is a total win-win for me!
I can do most things with jewelry! There are many techniques that I can use. Personalized metal stamping, wire work, polymer clay, gemstone settings and various types of beading.
Cross stitching is very important to me as for what I make, you can treasure for a lifetime! I have 100's of patterns that are available for me to use and I just can't list them all. I can do anything from cards to bookmarks to large projects and special holidays. I do list some cross stitch items but if you are looking for something in particular that I don't have listed, please message me and we can collaborate so I can make the perfect item for you! Cross stitching takes a lot of time and patience but the outcome is truly amazing! Projects can be a bit pricey due to the materials I purchase and the time put in to stitch but well worth it when you see the final piece in person! I do offer a layaway option for items over $100.00.
I donate 15% of every purchase I receive to the EDS Foundation. This foundation is very near and dear to my heart as it helps to further advance research.
I appreciate you stopping by and looking at my products. If you are in need of something to be custom made, please send me a message and I will do my best to find what you are looking for!
Shop members
Kristi Martin

Owner, Designer, Creator

I am a single mom to a wonderful son and St. Bernard! I love to make just about anything crafty, but especially jewelry and cross stitching! I am so excited to be turning my hobby into a business. I hope you enjoy everything I have listed!
Shop policies
Last updated on
November 22, 2016
Thank you for taking the time to look in my store. I handcraft jewelry with any medium I have available such as metal stamping, polymer clay and many different types of beads. I also offer cross stitch items that I will hand make just for you. I do offer a layaway program for orders over $100.00. I have so many cross stitch items and beads and I just can't list them all so if you are looking for something in particular, please message and I will find what you are looking for! I will also finish a cross stitch project that you don't have time to complete or if you have a kit and looking for someone to stitch it, just ask me!
Accepted payment methods
Payment
I accept most credit cards and debit cards. I cannot offer PayPal at this time as my account was hacked and the issue has not been resolved, so I have no access to my PayPal account right now. If you have any questions about other payment options such as Square etc, just please leave me a message!
Shipping
I use priority mail with tracking for each order except for international orders and you will be given a customs order. Being disabled, I don't drive and therefore I'm only able to get to the post office 1-2 times each week. Orders are shipped out within 3-5 business days (excluding Saturday) depending on the item purchased. If ordering a cross stitch item, shipping will vary based on how large the project is and how many orders are in front of yours. I will always keep you updated on my progress! Shipping might go over the 10 week shipping period that Etsy has set on large projects. Shipped orders outside the US will depend on the mailing and customs system. If ordering outside the US and would like to add a tracking number to your shipping, please notify me so I can adjust your shipping fees. Not responsible for items lost in the mail or in customs therefore I cannot make a second item for free. If something is lost in the mail, please message me for your tracking or customs number and you will need to contact your own postal service for details on your package. I do not provide money for customs fees/international fees.
Returns and exchanges
I do not refund for items lost in the mail or customs. All of my packages are shipped priority with tracking except for international orders and you will have a customs number. I do not offer refunds on cross stitch orders as I will already have gone shopping for all the materials I need!
For items going overseas, it's a good idea to add a tracking number. I know it can get a bit pricey, but I cannot replace items for free if lost in customs. I suggest paying for additional tracking on cross stitch items.
I take pictures of all of my work before being sent. If the item shows up broken or damaged then I would like a picture showing the item.
If items are not reported and pictures not shown within 7 days of receiving your package, a refund will not be given.
I would sure love to try to take care of a situation before it escalates into a case.
Any other questions or issues, please leave me a message!
Additional policies and FAQs
I will take any custom order when it comes to jewelry and cross stitch projects! Majority of my orders are custom orders. Pictures will be provided if requested to show my previous projects.
Being disabled, I would love to meet your deadline date but I cannot promise that it will get to you in time. I always work my hardest to make sure your item is done within the time frame you need it. I will contact you via Etsy message and email if an item goes over the shipping deadline. If you have a cross stitch item that you just don't have time to finish or even start, just ask me to stitch it for you! Prices will vary depending on stitch count.


This review is so very late! I've had Kristi working on the entire set of (FIVE) these cross stitch beauties for almost a year.. soooooooo much work involved. They have turned out absolutely beautiful. I cannot begin to tell you how thrilled I am. When I take them in to get framed the girls at the framing shop are so excited to see each new one. I ordered frames in advance so they all match and each one she sends me is tucked away to be brought out as a gift until the set is completed. These are for a special person in my life! Thanks so very much, Kristi!
Feb 8, 2018 by

Cheerful Santa is a nice addition to my holiday jewelry.
Feb 5, 2018 by Weesy Mason

Absolutely beautiful and in great shape!
Jan 4, 2018 by Danielle Russo

You are a wonderful seller and I love doing business with you...
Dec 22, 2017 by abby burleyson

Custom order. Very quick with replies, and able to quickly accommodate my order. Turned out nice. Thanks!
Dec 22, 2017 by kabott

Super cute. Light hearted gift for a family member. Shipped in on a uncut rectangular form. Easy to mat and frame yourself.
Dec 16, 2017 by matatora

Nice. Just like the photo.
Dec 3, 2017 by Sue McNulty

They are perfect! Thank you so much for making it right for me. You are wonderful seller and I will keep you on my favorites list. Happy Holidays.
Nov 23, 2017 by abby burleyson

Very nice set and shipped quickly. Great color! Thanks for a great shopping experience.
Oct 10, 2017 by Lisa Miller