DesignRoomBoutiqueCo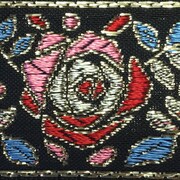 Sorry we don't have anything like that.

Same as older Past Patterns - excellent sizing and fit instructions - a bit hard to read in the old typewriter straight text without sketches on the pattern printout - but so glad to have a pattern print out instead of piecing it on my printer. As usual for this mfr, good instructions and good though not easy sizing. You do need to have advanced skills to do this - there are complex sketches for how to make the trim, etc. I find with all of these types of "drawn from extant" patterns I wish I had a photo of what they are looking at. Great discovery this shop - shipping is a bit high but then these patterns are huge and heavy. I appreciate the fast delivery.
2 days ago by Suzi Sellers

I love this pattern so much I accidentally bought it twice (oops). Well, since I tend to cut them to size instead of redrawing, it will get use. These early Past Patterns are as good as the new ones, but the instructions are typed (typewriter!) onto the pattern sheets, so you have to cut them up. That's OK, but plan time to get organized and study because it is a straight text read. So glad to have paper though in this digital age.
2 days ago by Suzi Sellers

So excited to find EXACTLY what was in my head I wanted to build! I love these old Past Patterns with the big printed skirt pieces as I don't like printing my own and piecing from a pdf. Great store - FAST delivery!
7 days ago by Suzi Sellers

So excited to find these old Past Patterns.. historical dresses only get more valuable right? And so do the old patterns. I like having them printed for me with nice detailed step by step. Great shop with fast delivery.
7 days ago by Suzi Sellers
I like this so much I bought it twice! While the old Past Patterns are big and bulky I love them over having to print from a pdf! This is a rare find and excellent pattern with good instructions. FAST delivery!
7 days ago by Suzi Sellers

May 4, 2018 by Amy G. Angel

Mar 14, 2018 by gina white

Beautiful design, colour and in excellent condition :-)
Feb 17, 2018 by Karen

Packaged with care. Would recommend this seller.
Feb 6, 2018 by Chassy19

Can't wait to start sewing this one! Well packaged.
Feb 6, 2018 by Chassy19