DollyDelicaciesShop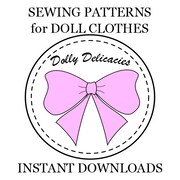 Sorry we don't have anything like that.
About
These dolls are mine.
When I buy a doll: Is this for your little girl?
When people come to my house: Are these your daughter's dolls?

No, these dolls are mine!
I have always loved playing with dolls, and making clothes for them has been my favorite form of play. My mother started me on her sewing machine when I was 5 years old because I wanted to improve the quality of my hand-sewn clothes. I received my own sewing machine at age 11 and there began an exploration of many forms of sewing and other soft crafts and a life-long love of textiles. My resume reflects this with a number of stints in retail fabric stores, some custom sewing, several years of factory piecework sewing, and a degree in Fashion Design for the Fashion Institute of Design and Merchandising (FIDM) in Los Angeles, CA, where I concentrated mostly on the technical aspects of patternmaking.

Despite wistful dreaming that I would one day "really get into" making doll clothes again, I got distracted. But now that I am home with my daughter I'm able to concentrate on creating clear, doable sewing patterns, and unique, high-quality clothing and accessories for some of your favorite dolls. Hurray for Etsy for providing me with a place to show them!

The current trends in the online doll community in which adults not only collect boxed dolls but also collect dolls to play with, to dress, to customize, and to use as inspiration for incredible photographs and other artistic forms thrill and inspire me. I love creating for doll-owners of all ages, learning about new dolls on the market (and adding them to my ever-growing wishlist), and drooling over all your pictures.
Shop members

Shop policies
Last updated on
April 12, 2016
Thank you for visiting Dolly Delicacies. I'm happy to be offering digital sewing patterns, in PDF format, for your doll clothes. These are available for instant download so you'll be able to get right to work creating something beautiful for your doll. For ready-made clothing, please visit my other shop at
https://www.etsy.com/shop/DollyDelicaciesShop2
Accepted payment methods
Payment
I accept credit cards and gift cards directly through Etsy, and all forms of PayPal.

Payment is expected at the time of purchase. If payment is not completed within 3 days of purchase, your order will be canceled.
Shipping
I am only offering digital items from this shop. These will be available for instant download via the email you will receive from Etsy once you've completed your payment.

There are no additional charges for delivery.
Returns and exchanges
Mistakes happen, but please know that refunds and exchanges create clerical work that takes time and energy away from the creative process and bringing you more patterns for your dolls. PLEASE read the information provided for making decisions about what size pattern to buy. When you contact me about returns, please provide as much information as possible in your initial message. Thanks in advance.
Additional policies and FAQs
‡♥‡ IMPORTANT information about purchasing digital patterns ‡♥‡
As part of your digital pattern purchase, you will need to download a FREE and up-to-date copy of the DOLLY DELICACIES SEWING GUIDE at
http://DollyDelicacies.com/sewing-guide
This collection of how-to articles I wrote elaborates on the instructions for my doll patterns. Writing this guide allows me to provide photos and plenty of explanation on basic sewing techniques, along with more photos, for new doll dressmakers. At the same time, it allows me to simplify instructions in the individual patterns for the more experienced. It also means less redundancy and smaller files sizes, which are things good for everyone!
PLEASE remember to get your free copy of the guide before you begin sewing.
‡♥‡What other dolls will this fit?‡♥‡
So many dolls, so little time. I can't possibly list every doll that an item of clothing might fit. Even if a dress for my Lati Yellow does happen to fit on my Blythe doll, does it look good? Maybe one style looks good as a top, but another doesn't work. There are so many variables when it comes to clothing and fit.
Therefore, I tailor all my clothing and patterns to one specific doll. You'll find information about the model in each listing. If you know that two dolls can usually share clothes, you're probably safe buying that item of clothing or buying one pattern to sew for both.
Below is a list of the dolls I'm currently working with (a list which I hope to grow, so please keep checking!). I try to tag each listing with the appropriate abbreviation.
AGD- 18" American Girl
BLY- 11" Neo Blythe by Takara
DAG- 15 1/2" Disney Animators' Collection Princess Toddler
DMF- 14 1/2" Disney "My First" Princess Toddler by Jakks Pacific
DPM- 18" Disney Princess and Me by Jakks Pacific sold at Toys R Us
DTP- 13 1/2" Disney Toddler Princess by Jakks Pacific, including the new "My First" princess dolls with "reflection eyes" sold in late 2014 onward
LYR- 6" Lati Yellow Renewal by Latidoll
MHG- 10 1/2" Monster High Girl (average, mid-size girl, not older or younger sister)
MLA- 18" My Life As, Play Wonder, Favorite Friends, etc, by Madame Alexander
If you're shopping in one of my shops for a specific dolls, type the abbreviation into the search bar and select "in this shop" to bring up all the listings for that particular doll.
No promises, but if there's something in particular you would like to see, I welcome your suggestions. I'll file your message for later and try to let you know when I have something that might interest you.
Clothing shop:
https://www.etsy.com/shop/DollyDelicaciesShop2
Website:
http://DollyDelicacies.com
Facebook:
http://facebook.com/DollyDelicacies
Flickr:
http://www.flickr.com/photos/susan402/
Susan402 Designs photo pool on Flickr:
http://www.flickr.com/groups/susan402designs/
Average item review
(856)

Easy to follow! My grandma and I had fun sewing this together.
Jun 3, 2018 by Anna Lim

Great pattern and easy to follow instructions :)
May 28, 2018 by Elly Milazzo

Definitely amust have pattern for your Yellow Lati or Pukifee bjd. Well written and easy to follow. Thx!
May 21, 2018 by Tracy

Looking forward to sewing for my dolls.
May 16, 2018 by boowink

Easy download. Patterns look easy enough for beginners, but dresses don't look so basic.
May 16, 2018 by boowink

Great pattern easy to do love
May 10, 2018 by natbears

Apr 17, 2018 by lindakoldenhof

I look forward to making!! Thank you!!
Mar 24, 2018 by Laurie Rebman

Super easy pattern. I've made 10 dresses so far with plans for many more.
Mar 13, 2018 by Kristi Thompson

Received promptly. Love this pattern.
Mar 10, 2018 by rmclegend