DoraKCrafts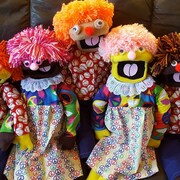 Sorry we don't have anything like that.

Put this on the day I got it. Had several people comment on how good it looked.
Mar 16, 2018 by Bo

Looks really good. Shipped quickly.
Mar 16, 2018 by Bo

Jan 28, 2018 by Kimi Broccone

Nice weight but not real happy with the quality.
Dec 23, 2017 by Michelle Castro

This purse was very well made. Shipped on time, and the person I got it for loved it.
Dec 5, 2017 by Joshua Clements

Nov 10, 2017 by Jessica M

It's the cutest little thing I've ever bought off Etsy. I've been searching everywhere for the past decade for something just like it, as I had a similar one as a kid and it was my favourite keepsake. Amazing quality, great shop, and handcrafted !!
Oct 6, 2017 by karinabby

TOTAL RIP-OFF!! DO NOT GET THIS
Sep 8, 2017 by lizobrien8357

Aug 23, 2017 by Andrea Salas

Nice well made intricate detail
Jul 17, 2017 by Calista Jewelry Studio