DreamFactoryKR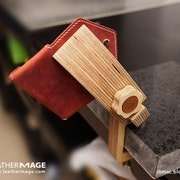 Amazing clamp, well designed and handy too! Seller was friendly and answered my questions no problem. Would recommend.
6 days ago by Alex Chan




It's foldable and portable; the craftsmanship is beautiful. The best stitching pony I have ever had, which I should have from the day starting leathering. Very smart design. Thanks!
Jun 3, 2018 by earthnest


It is so beautifully made, the wood is smooth to the touch and it's so professional! I love how sturdy it is, as well as being able to be clamped to a variety of thickness! The size (I got a Medium) is perfect for travel, and it can even be placed inside my handbag! I can't wait to make beautiful leathergoods with this special pony. Thank you so much :)
May 29, 2018 by Vorlotwen


Awesome work ! Friendly contact all in all perfect 😊 There was trouble with the custom office but the problem was solved very quickly ! Thank you !! Will order again :)
May 24, 2018 by Sophie Wanka