EmptyNestJewelrySD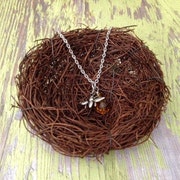 Sorry we don't have anything like that.
About
Finding a way to fill my empty nest
I raised 2 amazing sons and now have 2 beautiful (inside and out) daughters-in-law and 3 wonderful grandchildren. I got divorced when my boys were young and raised them as a single mother. They were involved in 4 seasons of sports and I loved every minute of it! As they left the nest, I struggled with finding my purpose. Shortly after, my second grandchild died. Nothing can compare with how difficult that has been. I wanted to make a "mommy necklace" for my daughter-in-law for Christmas. When people saw it they told me I should sell them. So I started my business in January 2015 and joined Etsy in February. I also work a full-time job and love spending time with my granddaughters. I don't have as many items listed as I would like but I just keep plugging along! Thanks for your interest! God bless!
Shop members

Thanks I loved it !!
Apr 14, 2018 by Andrea Worley
Gorgeous! Great quality & my little one went nuts for the necklace! :)
Jan 12, 2018 by Jessica Wolter

The custom jewelry she made was perfect! She listened to my request and I couldn't be happier!
Nov 7, 2017 by erae23

Beautiful necklace! My daughter loves is to much and is so excited to wear it for our upcoming trip to Disney!
Oct 19, 2017 by Chelsea Federspiel

Very cute and came very fast!
Jun 16, 2017 by Alie Bird

So cute, loved it and great shop to work with!
Feb 15, 2017 by Rebecca Raynor

Very fast shipping! Thank you!!!!
Jul 15, 2016 by Jennifer Silva
Absolutely stunningly beautiful!!!!!!!! My grand daughter looooooves it sooooo much. The shipping was lighting fast!!! Thank you!
Jul 13, 2016 by porlex

Jun 18, 2016 by Vernita Wilburn

Necklace arrived promptly! Beautiful colors and expert construction makes this purchase a gem!
Jan 22, 2016 by Jane King