FindingsVictoria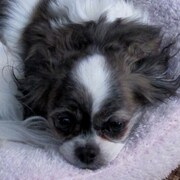 Sorry we don't have anything like that.
About
Oil Painter Becomes Beader
I discovered in my early forties that I had artistic talent. For a number of years I expressed myself thru oil painting (landscapes and florals). I was fairly successful at it but the demands of business and other matters of life began to crowd out the time I could spend at painting. Thus painting became relegated to the "something I used to do" category.
About 6 years ago (2006) I began to get the urges again to be creative. I discussed it with my wife and she said I should probably take up oil painting once more. I gave it a lot of thought but when I realized what I would be up against, I decided against it. It would have taken at least a year of hard work to get back to the skill level I was at when I stopped painting. Also, I would have to buy all new equipment. The brushes I was using when I was painting were very expensive (some costing a hundred dollars or more for a even the small ones). But to be totally honest about it, although I loved painting, I hated cleaning up after a painting session.
I thought about stained glass but decided against that because of all the expensive equipment that would be required. Another drawback was that the market for stained glass is not all that great. Research also revealed that in many cases the stained glass artist might be lucky if he or she was able to get back the cost of their materials when selling their work.

Anyway, one day, while my wife and I were shopping, we happened to be at a craft store. My wife said, "Why don't you try beading?"
"What!!?", I replied." I'm a guy!! I don't do beading"
You know what, tho? While we were at the store, I bought a beading kit. I took it home and did the project and 'Lo and Behold' I was hooked.

I have practiced the craft of jewelry making ever since, becoming involved in more sophisticated forms of the art as I learn more. In the ensuing years I have developed a love of and a desire to create things Victorian. I love the beauty and elegance of Victorian.
Victorian Steam Punk is fascinating to me.

My shop, 'Findings Victoria', was started as a concept. Finding the materials to work with to create Victorian style jewelry could be challenging. The problem was, most of the time, I couldn't buy just what I needed for a specific project. . What to do?? "Viola!" Buy what I needed and open another shop to sell the surplus. Thus 'Findings Victoria' was born. Needless to say, Findings Victoria, has become much more than just a place to buy surplus Victorian findings. As of this writing, we stock over 600 items and are constantly on the lookout for more items we can add.
I am very proud of my pretty little shop and enjoy browsing there myself. I love what I do and I love the thousand or more wonderful customers who have and continue to support my efforts.

Thank You All!!!!!
Ron
Shop members
Daisy

Owner

Daisy is the public face of Findings Victoria. She's a Shih-tzu, Papillion, Maltese mix. She is 10 years old. She's just as sweet as she looks! She has completely stolen our hearts!!!
Shop policies
Last updated on
January 22, 2017
We adhere to Etsy's site wide policies.
Our philosophy. We deeply appreciate your business! Your interests come first!!
Accepted payment methods
Payment
SHIPPING CHARGES:
Please note that when many items are ordered at one time shipping costs can add up fast (especially for International shipping) and often can exceed the amount necessary to pay the costs of making the shipment.
Please be confident that it is not our policy to profit from high shipping charges and so we watch this closely. We review the shipping charges for every order we receive and when the shipping charges are excessive, we issue a refund for shipping charge overages. Refunds are made at the time the order is processed for shipping

Occasionally two or more separate orders might be open at the same time. If we catch this in time or are notified by the customer of this situation, where possible we combine all open orders for shipping and refund any savings made by combining orders to the customer.

There might be occasions (particularly with International shipments), where the amount collected for shipping does not cover our actual costs. In these cases we absorb these costs and do not request further payment.

Sales tax (6.25%) will be added for shipping addresses within Illinois, USA. Tax will be applied to merchandise only (shipping cost is excluded from tax).
Shipping
We make every effort to ship next business day. If there are unexpected delays we will contact you.
We ship USPS First Class Air Mail (domestic and international).

SHIP TO ADDRESS:
When you place an order, unless we are instructed differently, we will ship to the address associated with your ETSY account.
Very Important!!!! Be sure the address you have listed with Etsy is up to date and correct!!! We cannot be held responsible for lost shipments if we don't have your correct address.

-------- TRACKING DOMESTIC SHIPMENTS ---------------------------

All domestic shipments sent by US mail have tracking.
You will be provided tracking information after your shipping label has been processed.
Please use the tracking number provided to track your shipment. Your package should be delivered in 3 - 7 days (usually 3-5 days) but in some cases it takes longer. If you haven't received your package after 10 days and tracking reports that it has been stuck at one location for several days then contact us.

If tracking says that your package has been delivered and you still don't have it, please don't contact us as your first option. We will not refund or replace any shipments that are marked as delivered by the Post Office until you do the following. Most situations of this type are resolved with one of the following options.

1. Check with all family members - someone in the family may know about the package
2. Check that the package was not delivered by mistake to the wrong house (next door or to the same house number but a street away).
3.Check your Etsy profile. Is the address listed correct?
We do not type in the name and address on the shipping label. This is done automatically using the information provided by you.
4. Ask your mailman about the package.
5. Check with the Post Office branch that services your zip code.

We would do these things for you if we could but our reach does not extend that far. Only you can take these steps. If none of the options suggested work, then contact us.

-------- INTERNATIONAL SHIPMENTS ---------

TRACKING AND DELIVERY:
Please do not inquire about your shipment until at least 30 days have passed from the day you were first notified that your package was being shipped. We have no control over what happens to a package after it has been handed off from the United States Post Office to the Post Office of the destination country. Packages can be delayed for a number of reasons but usually the delay is caused by customs. Please do not ask for tracking information. We have no way of tracking international shipments.

CUSTOMS FEES:
It is the responsibility of the purchaser to pay any Customs fees or tariff assessments.
Returns and exchanges
Merchandise can be returned for any reason within 30 days of receipt of order.
At our discretion we will either replace the merchandise or issue a refund.

NOTE! Total or pro-rated shipping costs will be refunded only where the merchandise is defective, damaged, or not as described.
Any exceptions will be handled on a per case basis.

Do not return any merchandise without prior approval. In cases where defect or damage is involved, depending on the value of the merchandise, we will trust the good judgement of the buyer as to the nature and seriousness of the defect and rather than go to the expense of returning defective merchandise, we will ask you to just discard it.

There is no return allowed on items that have been altered or damaged by the customer (exceptions will be handled on a per case basis).
There is no return on items we have altered to meet customer requests if samples have been provided prior to the sale.

If an item(s) is missing from your shipment we will (at our discretion), either send a replacement (if we still have it) or issue a refund for the cost of the merchandise plus a pro-rated share of the shipping costs. In most cases where International shipping is involved, we will choose to issue a refund.
Additional policies and FAQs
Miscellaneous:

NICKLE and LEAD FREE
If you can't find information regarding nickle, lead or other heavy metals for a particular product, it is because we don't know.
We do not state that any product we list is free of nickle, lead or other heavy metals unless we have information from the supplier that this is the case.
This information may be given to us directly from a supplier as a result of inquiry or may be a part of the suppliers advertisement or description of the product. Because we do not maintain a metallurgical laboratory to verify any assertions made by suppliers we make no guarantee as to truthfulness of any statements given to us by suppliers regarding this matter. We are only passing on the information that we have.

LEAD SAFE:
Occasionally you may come across a listing that uses the term 'Lead Safe'.
Generally this means that the product may contain trace amounts of lead
but the amount of lead is considered 'Lead Safe' and meets or exceed current state, federal and/or international laws regarding lead content in adult jewelry.

ZINC ALLOY:
Many of our products are Zinc Alloy castings. Generally, Zinc Alloy is an alloy mixture made up of Zinc, Aluminum and Copper (all in varying amounts). Heavy metals such as Lead, Nickle, Cadmium are not usually found in Zinc Alloy but there is no guarantee that they are not present in small amounts.
We do not state that an item we list is free of heavy metals unless we have this assurance from the supplier. But as stated earlier because we are not able to validate statements made by our suppliers, we do not guarantee or take responsibility for the truthfulness of statements made by suppliers regarding heavy metals in their products. We are only passing on information that we have.

RESERVED LISTINGS (special orders):
We will be very happy to prepare a RESERVED listing for you but please be considerate and don't request a RESERVED listings unless you are serious about completing the purchase. It is time consuming to prepare a RESERVED listing and it ties up inventory.

PRODUCT QUALITY:
Please don't ask us to go thru our inventory and select the best for you!! As a policy we won't do this. This wouldn't be fair to the rest of our customers. We are very quality conscious and strive to be sure that all our customers receive the best of what we have to offer.


CAMEOS CABOCHONS SETTINGS - Size Variations:
. Cameos/Cabochons - Both Cameos and Cabochons may very slightly from the nominally declared sizes. This problem is not unique to Findings Victoria. It affects anyone engaged in the buying and selling of these products. Our policy regarding this problem is this - We check all new product for size before we make the initial listing of the product. If a product deviates from the stated size enough that we feel it may pose a problem, we state at or near the top of the description page the actual size of the product. Usually being slightly oversize or undersize does not pose any problem but we do this to give the buyer a 'heads up' before he or she invests in the product. After the initial listing, we may make spot checks from time to time as replacement inventory arrives but don't do this as a general rule (sizes may vary a little from lot to lot but not enough to publish new size information). As stated before, being slightly over or undersize does not usually pose a problem. There are ways to deal with either situation. If a Cameo or Cab is slightly undersize, just be sure it is centered both along the width and height of the glue pad when glueing it. Don't disturb until the glue has set. If a Cameo or Cab is a little too big, it is perfectly OK to let it float above the glue pad if it won't seat perfectly into the bezel (most people will never notice it - only you will know for sure). In some cases filing may be necessary. If your Cameo or Cab is plastic, this is very easy to do. In most case a fingernail file or emory board will work just fine. We recommend tho', if you are going to be doing a lot of this sort of thing, you should purchase a metal cutting file at the hardware store (6" - Flat - Two sided - Medium or Fine cut will fit the bill perfectly). If you're really into jewelry making, you should have one of these anyway. When filing, it is best to file an angle (chamfer) on the edge rather than filing the sides square. Don't file anymore than necessary to get a good seat. The Cameo or Cab doesn't need to make physical contact with the glue pad to get a secure glued mount. Our advice tho', would be, don't file except as a last resort.
NOTE! Re-sizing oversize glass cabs is can be challenging. You will need a Dremel grinder with a diamond wheel or a diamond hand file and some practice to do it without damaging the stone (one slip with the grinder or file can cause serious damage).
Average item review
(18,941)

gorgeous classic look style! nice for wear all the times.
2 days ago by JeeUn Chong

I still love it and will plan to order more later. This is my favorite color is most classic look good and make more lady!
2 days ago by JeeUn Chong
Love the look like white lace bands and will order more for later.
2 days ago by JeeUn Chong

Dependable seller. Always ships quickly, is professional and helpful. These are by far my favorite pieces yet! Way cool.
2 days ago by Laurie Vespa McCormack

Beautiful addition to my jewelry pieces. Very dramatic and different! Shipped quickly and well-packaged.
2 days ago by Laurie Vespa McCormack

Shipped quickly and exactly what I needed to finish off my pendants.
2 days ago by Laurie Vespa McCormack

These are fantastic. Thank you!
2 days ago by Laurie Vespa McCormack

Excellent. I love these. Packed well and shipped quickly. Thank you.
2 days ago by Laurie Vespa McCormack

Beautiful ! Buy with confidence from this excellent Etsy seller ! He will never disappoint you ! Excellent service !
3 days ago by Lucille Burch

Gorgeous ! I love the colors ! Always a pleasure to buy from this seller. Prompt shipping, excellent service ! Thank you, Ron.
3 days ago by Lucille Burch