FinnsheepnFiber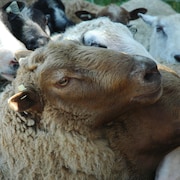 Sorry we don't have anything like that.

Gorgeous locks, really beautiful. Excellent communication from seller and lightning fast delivery. Highly recommend!
Mar 20, 2018 by Morgen S. Daily

Beautiful color and super easy to spin. Love it and hubby is anxiously awaiting the final results!
Feb 4, 2018 by Myst Herzog

The timing couldn't have been better. Beautiful top. Thanks for making it available on ETSY.
Jan 30, 2018 by Stanley L. Kondy

Love those grays. Thanks for getting it to me so fast. Nice hand, too.
Jan 30, 2018 by Stanley L. Kondy

What incredibly soft and luscious wool this is! There is no animal smell in it at all, so clean, spins like a dream. Fast shipping. Wonderful friendly seller, lovely wool and a super experience buying from this shop! You will not regret buying this wool from Teresa! Thank you Teresa! :)
Apr 17, 2017 by loommusicanddancingt

What incredibly soft and luscious wool this is! There is no animal smell in it at all, so clean spins like a dream. Fast shipping. Wonderful friendly seller, lovely wool and a super experience buying from this shop! You will not regret buying this wool from Teresa! Thank you Teresa! :)
Apr 17, 2017 by loommusicanddancingt

Beautiful fiber -super soft, lovely color and a joy to spin
May 27, 2016 by professorchildermass

May 22, 2016 by Kat and Claire

May 22, 2016 by Kat and Claire

May 22, 2016 by Kat and Claire