GalacticGypsyArt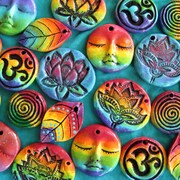 About
Living the Dream
Hello my name is Jennifer A.K.A. - Galactic Gypsy. I have crafted my whole life, but have been selling my creations only in the last 15 years. I have a background in education and counseling psychology. I also do spiritual and quantum healing counseling as well as create unique pieces of sacred and spiritual art. Most of my creations can be worn and used as talismans, but there are some other magical items in my shop for your spiritual self-journey and healing. I am living the dream in Prescott, AZ with my art studio located in my backyard among the shimmering granite and mystical pine trees.

I have been doing lampwork (beads and vessels) for over a decade, polymer clay for the last 7 to 8 years, and have started working with ceramics in the last year. I take great care in creating each peace of art with love, kindness, and spiritual and sacred creativity.

I am always looking to create new things and hope to make many more ceramic items in the near future as well as some batik silk paintings. I wish you each well on your journey and hope that you are able to create in your own unique ways as you live your amazing life.
Shop members
Jennifer Price

Owner, Designer

Hello. I am a spiritual artist who also lives a metaphysical lifestyle. My art studio is in my own backyard in beautiful Prescott, AZ where I hand make all my creations with much love and care.
Shop policies
Last updated on
January 7, 2016
Shipping
Shipping to United States Only

Absolutely amazing. I LOVE this rainbow starseed magical being. You can really feel the protection and love whether wearing her or just having her on your meditation altar:)
Jul 30, 2018 by jodimaas

Kira Iri is such a beautiful and welcome presence in my life 💚💙💚. Jennifer is so talented in creating her beautiful features that I immediately recognized on a soul level as soon as I saw her 💖 we are going to have some amazing adventures together ☺️💕 I don't even want to call this a purchase this was an energy exchange, and I'm very happy with it 💝
Jun 21, 2018 by babigyrl5

I love this item! So beautifully crafted and sacred. Arrived in just two days. I will definitely shop here again!!
May 5, 2018 by Stephanie

Lovely detailed guide how to create with clay . Thank you 😊
Sep 7, 2017 by Ofira Levi

I'm very happy with my transaction. I had a question before buying & the seller was quick to get back to me. She even sent it priority mail so I received it quickly. The medallion is beautiful, I love the colors. There was an extra something in the package, an angel/fairy, which is beautiful too. I was disappointed by the thickness of the medallion. There weren't any pictures showing that. Even though I won't wear it due to that, I enjoy looking at it. I would definitely purchase from the seller again.
Feb 8, 2017 by vaj4misc

My purchase was a beautiful Mother Mary pendant. I absolutely love it. It is so unique and really brings a beautiful healing vibration. I received it right on time and the owner was very thoughtful and responsive when I emailed. I will definitely be purchasing more jewelry from this shop.
Feb 1, 2017 by lisaespinosa7

Very detailed description on how to make a polymer clay goddess. Can't wait to give it a go!
Jul 21, 2016 by melp49

This is a beautiful piece of artwork and it looks so wonderful in person. The seller was very nice and kept in touch about my purchase. Fast shipping and delivery :) Thank you so much!
Jul 8, 2016 by Abbey Stephens

Very clear instructions on the Goddess pendants tutorial. Quick delivery, great seller A+ , will recomended this seller and will buy from it again.Thank you.. ????
Jun 18, 2016 by Sky SnowyOwl

Absolutely a beautiful piece of artistry.
Mar 5, 2016 by Heather Johnson