GrannysVintageQuilts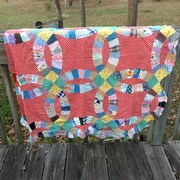 Sorry we don't have anything like that.

Jan 6, 2018 by Laura Catron

Book is in perfect condition and shipping was fast!
Sep 20, 2017 by kswalker1969

Excellent purchase of a quilt block! The block arrived in great condition and is exactly what I have been looking to find!
Aug 11, 2017 by Cheri Howell

Excellent customer service, and fast shipping!
Jan 22, 2017 by StashRR

Jan 12, 2017 by dianelhess

Wonderful! Thank you so much!
Dec 14, 2016 by lizziejane

Awesome! Thank you so much!
Nov 22, 2016 by Jennifer Walker

Fast shipping! Item exactly as described. Took the time to answer my questions prior to purchase. Even sent a personal hand written thank you. Marked this as a favorite shop!
Nov 17, 2016 by Shuga CJ Rogers

So beautiful & in great shape!
Nov 2, 2016 by dandrews