HandPrintWorkshop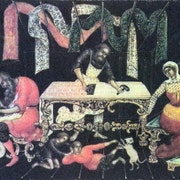 Sorry we don't have anything like that.
About
In my manufactory I decorate fabrics using woodblocks and indigo dye. I use linen, cotton and linen and cotton blend, all of which have different densities – thin fabric, gauze and closely woven fabric.
This block printing technique is a traditional way of decorating fabrics, the golden age of which was in the 17th century in Russia and existed right until the twenties of the 20th century.
My manufactory brought this technique back to life, applying ancient dying methods all way through - from cutting out the wooden printing block – to applying special an ancient dying compound, all of which is done by hand.
I dye my fabrics in vats using ancient recepies, which differ from most new chemical agents used in other countries. I do not use dithionite or aggressive alkalines. My method gently dyes the cloth without damaging it in any way.
The vast majority of patterns has been revived in accordance with motifs of ancients fabrics. I try to recreate ornaments of various periods, which we find in different sources such as cave painting, archeological excavations, ancient architecture, wood carving and folk painting.

I thoroughly study materials, collaborate with museums and archives, private collections and materials gathered by expeditions. Inspired by ancient drawings, my manufactory also creates modern ornaments using ancient techniques.

The price of my products depends on the motifs of the drawings, the hardness of the cloth and the degree of difficulty with different woodblocks. As a rough guideline a linear meter of indigo woodblock-printed cloth with 70 cm in width costs from 1500 to 2500 roubles. For special designs the price is negotiated individually. The price does not change for bulk orders. It should also be noted that the pieces can be dyed to a maximum of 3 meters in length. Therefore, every such piece can differ in shade and intensity of the color.





Thank you for beautiful items!
Jul 10, 2018 by Alla Larkin

Very good quality items! Shipped in time and received pretty quickly !
Jul 10, 2018 by Alla Larkin

Very happy with my purchase ! Highly recommend !
Jul 10, 2018 by Alla Larkin

Excellent items! Perfect for one of my new project !
Jul 10, 2018 by Alla Larkin

Thank you for the outstanding quality and fast shipping
Jul 7, 2018 by Larry Vienneau Jr.

There are no white lines on the stamp. I'm using them for decoration too and it does not look so good.
Jun 13, 2018 by sufo3