HillbilliesLoot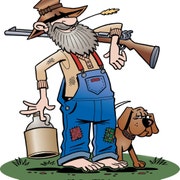 Sorry we don't have anything like that.
Shop policies
Last updated on
November 27, 2017
Thanks for shopping with us. We hope that you will allow us to serve you !

FYI: Starting March 01, 2016 until November 01, 2016, from ALL sales made of ANY of our products in ALL of our stores, we will donate 10% of the items sale price to our local 'Shop With A Cop Program'. We will post the amount as well as a picture of the donation event in November.

We have seen this program at work with our local law enforcement and feel that we can help make some child's Christmas a whole lot better. TBE/CDW.

----------------------------------------------------------------

Business Hours:
Our Etsy store is open for business 24/7 and as outlined below:

We operate Monday – Friday, 9am – 6pm, EST only. These are our 'Business Days and Hours'. We do NOT operate during weekends, all federal holiday's, vacation days.

Questions About Our Items & Products:
Please feel free to write and ask us any questions that you may have in regards to our items and products 24/7. Someone usually will respond to your question within an hour. Questions in regards to shipping and how to's are ignored as the people that answer questions do not have access to that information.

--------------------------------------------------------------

Rules & Policies – Buyers, please read before you click the buy it now button as once you do, you will agree to adhere to and observe 'OUR' posted terms of sale both within our listings and this store. We are a fair and friendly company to do business with, but we do have rules and reasons for those rules and will ONLY work within them. We strive to be fair and protect both us and the buyer. Fraud and unfair business will NOT be tolerated by anyone, PERIOD !

These policies apply to and are in force for all of our stores, Real and On-line.
CountryLeadWorks2013, CountryLeadWorks, CountryBulletWorks and Dandridge Handmade all governed by The Backwoodz Executives.

As matters arise, we reserve the right to change and or amend ANY of our policies and rules at anytime, for any reason, without any notice, Period.

Art.1: ALL orders, agreements, issues, matters and or complaints are required to be in English text 'Writing'. Anything NOT in this writing does not exist, is not known and will not be honored or accepted. This applies to all buyers, sellers, Etsy, Paypal and all persons involved.

Art.2: We reserve the right, to cancel and refund any order, to any person, for any reason, at anytime without any explanation to anyone, Period. Also, we reserve the right to amend, correct or change any listing text or price, at any time, that has been deemed by us as a 'Type' error, as compared with any other listing of the same type item, without any notice.

Art.3: The excuse 'I didn't see that or read that' will NOT be accepted as a valid excuse pertaining to ANY of our listings, items or policies as they are posted here and made public for the buyers viewing.

Hold Harmless and Matter of Law:
The buyer is 'solely' responsible to understand, observe and obey, all of the local, state and federal laws and restrictions of their location or the location they choose to have our items or products shipped, in 'any' regards to the items or products that we sell. The buyer agrees to 'Hold Harmless' The Backwoodz Executives, this store, any other companies it owns, it's agents and or its employees (if any), for 'any' legal issues that may arise from the purchase of our items or products. The buyer further waives all right to any and all 'Due Process' or matter of law outside the Jurisdiction of the County of Jefferson, State of Tennessee.

Policy Approved By:
The Backwoodz Executives
Jan. 01, 2016 - CDW
Accepted payment methods
Payment
Accepted Payment Options:
We accept the following payments only: Credit Cards (via the site or swipe only, no direct key in permitted), Paypal (unless item restricted by their TOS), Mail in Money Orders (United States Postal Service MO Only). No Checks of No Kind. All orders will not be processed or shipped until good payment is made in full.

Payments for ALL items is expected to be completed within 3 days of order placement. An unpaid notice will be filed on ALL unpaid orders.

ALL orders are handed and processed via our Central Accounting Office.

Minimum order processing (not shipment) time:
1-3 Business Days, unless the order is a 'Made to Order Item', or is otherwise stated in the listing. Shipment is anytime after processing, weather permitting during winter months. We do not deliver to shipping agents in snow or ice. This type of weather will delay shipments until the next shipping day.

Policy Approved By:
The Backwoodz Executives
Jan. 01, 2016 - CDW
Shipping
Shipping Days:
January-September: Tues. and Sat. only. (unless by special arrangement).
October-December: Mon., Wed. & Fri. only. (unless by special arrangement).

Scheduled To Ship By Dates:
The scheduled to ship by dates as listed by Etsy are viewed only as a approximate shipping date and is not considered as the actual ship by date.

Local Pickup Option:
Local pickups are allowed only with a pre-paid appointment. The buyer must make arrangements with the office and present a pre-paid invoice to make pickup, no paid invoice, no pickup. Pickups can be made during our posted business hours only.

Firearms Notice: Although we strongly support the 2nd amendment, any type of concealed or permitted firearms carry is 'NOT' allowed on your person or vehicle, on OUR property, by anyone, what so ever. This rule is in place due in fact the type of business we are conducting and with this rule, this makes our firearms the only legal ones on our property. Sorry if this offends or upsets anyone.

Immediate Shipping:
There is No Such Thing, our accounting office must process online orders from 5 different venues. All orders must be processed as outlined.

Tracking Information:
This information is provided to the buyer via Etsy or Paypal. Please refer to your accounts or email for this information as we don't provide it.

International Buyer:
You must contact us first before placing any order or if you have interest in our products. Some of our products are restricted can't be shipped outside the United States. Furthermore, we will only ship to countries or locations that will allow on-line tracking information.

Art.7: Shipping & Insurance:
We ship orders a number of ways, mostly the USPS. We charge a flat rate for shipping as we do incur cost involved, even with Priority Mail. Charges and insurance are as follows:
1) If the item is listed as 'Free Shipping', then we will pay to ship the order to the customer free of charge, the cheapest method. Insurance is NOT included by us. If the customer wants insurance, they must contact us to arrange and pay for coverage insurance.
2) If the shipping charge is $ 3.50, but less than $ 6.50, the order will be shipped as 1st Class Mail and does not include insurance. If the customer wants insurance, they must contact us to arrange and pay for coverage insurance.
3) If the shipping charge is $ 6.50, $ 12.50 or $ 16.50, the order will be shipped Priority Mail and will also include $ 50.00 USPS insurance. If this is not enough insurance and the customer wants or needs more coverage, they must contact us to arrange and pay for additional coverage insurance.
4) All other shipments not stated above will not include insurance and If the customer wants insurance, they must contact us to arrange and pay for coverage insurance.
5) Credit Cards, Paypal and any other payment processing methods are NOT insurance and will NOT be treated as such.
6) Orders are shipped only to the address of the registered customer as provided by selling venue or the customer's payment method. If the customer wishes to have the order shipped to another person or address, the customer must provide a written message or email clearly stating the name and address the order is to be shipped to.
7) ALL orders that total $ 250.00 or more will be required to have a signature for delivery, at our cost, NO EXCEPTIONS.
8) Expedited Shipping is available for all shipments upon request. The only shipping that we do not handle is Over Night and Next Day Air.
9) Once a order or package is delivered to the shipping agent, we at that moment are no longer responsible for it as it is in the hands of a 3rd party.

Art.8: Missing Orders, Packages & Insurance Claims:
We will handle missing orders, packages and insurance claims in the following manner:
1) Missing Packages 1: If your order has not been delivered within 45 days from the item shipped date and does not show as delivered on the online tracking source, we may replace and reship that order FREE of charge provided that there have been no claims or complaints filed with anyone.
2) Missing Packages 2: If your order has not been delivered and the online tracking source shows delivered, our hands are tied and there is nothing we can do. The customer must then take issue with the shipping agent.
3) Insurance Issues: No Insurance, No claim, end of story. If the order was insured, then the customer must take issue with the shipping agent, not the seller. We will help the buyer anyway we can to help with a filed claim.
4) Once again, Credit Cards, Paypal and any other payment processing methods are NOT insurance and will NOT be treated as such.

Art.9: Our Order Proving System:
Effective January 01, 2016, all orders placed with us via ANY of our online sales venues, will be double checked and photographed by our shipping dept. These photos will show the items ordered along with the buyer's last name and location. These photos will be deemed as the orders contents and condition and will be used to counter any claims against us what so ever. If the buyer receives an order, and provides pictures showing anything different from our photos on record, then the customer has issue with the shipping agent, not us. Workmanship defects, count shortage or gross item description must also appear in our photos as well as the pictures provided by the buyer.


Policy Approved By:
The Backwoodz Executives
Jan. 01, 2016 - CDW
Returns and exchanges
I gladly accept returns and exchanges
Contact me within:
14 days of delivery
Ship items back within:
30 days of delivery
I don't accept cancellations
But please contact me if you have any problems with your order.
The following items can't be returned or exchanged
Because of the nature of these items, unless they arrive damaged or defective, I can't accept returns for:
Custom or personalized orders
Perishable products (like food or flowers)
Digital downloads
Intimate items (for health/hygiene reasons)
Items on sale
Questions about your order?
Please if you have any problems with your order.
Art.4: This shall serve as notice to all payment processors that we accept:
'All Sales, on All items are FINAL', Once placed, Orders will not be cancelled prior to processing and only our central office will 'consider' such request, unless otherwise stated in the listing.

Art.5: ALL used, second hand or auction sale items listed are sold in good faith and 'as is', 'ALL Sales on ALL items are FINAL' unless stated otherwise in the items listing or we agree to work direct with the customer. If you use Etsy and or Paypal to get around this rule, we may turn the unpaid, agreed order over to a collections agency to enforce our policy and the buyers valid agreement. ALL sales and orders can be cancelled only by us, the seller, not anyone else.

Art.6: Returns (if approved by us):
ALL Hand Made or Hand Forged items may be returned for a refund only if there is a workmanship DEFECT, (determined by us only), the maker, or there is a 'GROSS mistake in the items description (I changed my mind or I bought the wrong item is NOT a valid excuse), and as outlined below:
1) The buyer must not have filed or will file any complaint or case in the matter with Etsy or Paypal during the return process.
2) The buyer must make contact with US via email within 7 days after the items delivery as per online tracking information.
3) The buyer must explain clearly the issue and provide clear photographs when requested. The buyer must work with us without delay or issue and fulfill any and all request made by us, the seller.
4) If 'we' determine that there is a workmanship defect or a gross mistake in the description, we will correct the issue by offering the customer the option of a exact item replacement or a refund via the method used for payment as stated below, provided no other claims or complaints exist:
5) Exact Item Replacement: The buyer pays the return shipping, once we receive the item, we will process it as a new order and will replace the item and pay the shipping back to the customer.
6) Refunds: The buyer pays the return shipping, once we receive the item, we will then process a refund to the customer the sale price of the item, less a 20% restocking fee. Shipping charges are not refundable.
7) Restocking Fees: A restocking fees is charged for ANY refund issued by us for returns and order cancellations. That fee is 20% of the items sale price (not shipping price). The restocking fee is charged regardless if the order was pulled or not and is used to cover any fees and charges that we incur on the transaction if any.

Policy Approved By:
The Backwoodz Executives
Jan. 01, 2016 - CDW
Additional policies and FAQs
Wholesale and Consignment options of our products:
Price cuts, pricing deals, wholesale pricing are available, however, we handle this on a per order basis and is by dollars spent, not items ordered. We will do our best to work out a good price. Consignment sales of our items is possible, please contact us via email with what you have in mind.

Offered Discounts: Customers from time to time ask us for a quantity discount price, and we do offer such discounts. Once we have discussed the matter and come to an agreement, and we have created and posted for a customer a 'Reserved Listing', the following rules apply as these listings cost us money:

1) Reserved Listings are good for ONLY 72 hours after it was posted and will expire. This is because price changes may occur or the on hand item quantity could be effected by another order. The listing will have the date and time it will expire posted in the listing. The customer may still complete the offer as long as it is posted even though it has expired as the office normally removes listings the next morning.

2) Once a Reserved Listing is posted for a customer, and the customer fails to complete the transaction as agreed and the listing has expired and been removed, the customer will NOT be given or granted another discount price or listing for ANY ITEMS, PERIOD !

We do not work very well with those that can't do as agreed. If you must shop around, we ask that you do so BEFORE you have us post a Reserved Listing for you.

Art.10: Photographs: ALL photos that are used in our stores, are taken by us and therefore are the sole property of Country Bullet Works / Country Lead Works / Dandridge Handmade and may NOT be copied or used by anyone without our expressed written permission. Also, all photos show the exact item for sale, however, changes in lighting and other factors may make the photo appear with slight color changes, with that said, the item description is what we will base ANY complaints on and that such photos shall be deemed as examples only. Customer agrees that they are buying according to the item description and not the item photo. IE: The picture shows it to be pink and that is what I ordered, pink, but the listing says orange, Orange is it. Buyers mistake !

Entrepreneur by proxy: This is what we call someone that is trying to start a business to sell items that actually belong to or involve someone else. A person that is wanting to start a business without gambling or investing their capital and whom is depending upon someone else's material on a per sale basis.

Although we support anyone trying to make a business go, to do so without a capital investment in on-hand stock is so wrong and dishonest. To start any business is a gamble, and to attempt to use someone else's material without paying for it is nothing more than a lie.

If you would like to use any of our material as a part of your business, please contact us as we will work with you in getting the material you need to make your business grow, but yes, you will need to spend some up front cash. We will NOT grant any permissions, nor will we work with anyone that wishes to use us by proxy and not invest in their business and our material. CDW-3/15

All of the above rules and policies are current, active and in force as of January 01, 2016 and approved by The Backwoodz Executives. CDW.

Super cute and just like the picture. My boyfriend loved it
Mar 19, 2018 by Alyssa Bazan



Sep 30, 2017 by Abigail Beasley

It's like Christmas for your taste buds!!!!! Super fast shipping
Jul 13, 2017 by leroymccoy337

Beautifully crafted. Study and well built. Seller was prompt and patient with my questions.
May 5, 2017 by Michael Brown

This was fresh and delicious. Shipped on time and arrived unharmed, packaged great . Thank you ☺
May 5, 2017 by Rebecca Ayscue

ok so these are not hazelnuts at all, they are hickory nuts, and they were picked at the wrong time, there is no useable nut and also the ad says they are hulled but these are still in shell... completely misrepresented!
Apr 24, 2017 by CoyoteRainbow

I drink tea everyday. I'm not a baker by any means. But a scoop of this will go in my hot cereal and tea.
Mar 7, 2017 by dyp1970

Not quite sure how I will use this. But I love the smell. These are the types of scents I prefer over fake fragrances. Maybe it will make a great addition to tea. I'll try that.
Mar 7, 2017 by dyp1970