HolylandJewelryShop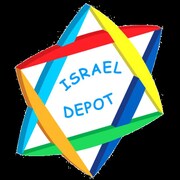 Sorry we don't have anything like that.

Shipped on time. I have worn them everyday since I received them. Does that tell you how much I like and enjoy them.
Jul 3, 2018 by geishagal18

Jun 22, 2018 by Wendy dalaya

Jun 5, 2018 by Brenda Fegley

Parfait!!!je recommande vraiment!
May 31, 2018 by Cecile Felbacq

Bracciale ancora non consegnato a Malerba bruno strada riccone 7c viterbo italia.qualora non arrivasse entro il mese prego rimborsare quanto pagato.grazie
May 10, 2018 by brunomalerba47
May 2, 2018 by Cayla Burgess

Si todo llegó bien. Gracias Dios y a los hijos de Israel, por tan lindo anillo.
Mar 20, 2018 by Duvan Daniel Canga Mancilla

The earrings were beautiful and the sellers were very helpful.
Jan 17, 2018 by Kristin Amundson

They took awhile to get here but I love them!! Going to be ordering more for family and friends!!!😄😄😄 hopefully they will be here in time for Christmas and Hanukkah 😊😊😊😊
Oct 11, 2017 by Toyah B