HolylandJewelryShop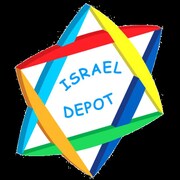 Sorry we don't have anything like that.

Si todo llegó bien. Gracias Dios y a los hijos de Israel, por tan lindo anillo.
Mar 20, 2018 by Duvan Daniel Canga Mancilla

The earrings were beautiful and the sellers were very helpful.
Jan 17, 2018 by Kristin Amundson

They took awhile to get here but I love them!! Going to be ordering more for family and friends!!!😄😄😄 hopefully they will be here in time for Christmas and Hanukkah 😊😊😊😊
Oct 11, 2017 by Toyah B

It's exactly as described. It's a really beautiful piece of jewellery.
Aug 8, 2017 by Martina McGrath

I love this blessed red string and the prayer and information that come with it. It does run the color which is very pleased. Also it dries so quick whenever I shower or water touches it. Perfect!
Jul 9, 2017 by Darlene Martin

May 27, 2017 by jenny cisneros

May 21, 2017 by Bronwyn Haider

Precious, trully fascinated. Thankful Juana
May 20, 2017 by juanaurora