JenJenandGMaShop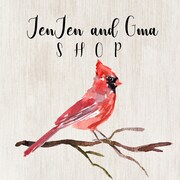 Sorry we don't have anything like that.
About
Mother and Daughter Creativity Is Shared In the Love
Mother and Daughter, Helen and Jennifer, both have a love of being creative and craftsy. As far back as Jennifer can remember, her mother has always made beautiful items. Handsewn items, cross-stitch items that adorned the house walls, as well as crochet blankets for Jennifer's baby dolls and Barbies were well loved.

As Jennifer grew so did her own creativity. While she has a passion for writing, she also enjoys creating items by hand. It started as a hobby in her early years to make gifts for family and friends, from the heart. Traditionalist by nature, Jennifer loves to create something from nothing, and share that love with others.

Helen, which is now a Grandmother (GMa she is lovingly referred to), enjoys making items for newborn babies, infants and toddlers. Her love of children reaches far beyond that of her own family. With that love, she enjoys making receiving blankets, reversible stroller blankets, and quite lovely patchwork quality blankets like that of quilts. GMa Helen loves to make gifts for new mothers and those welcoming new additions to their families.

Both Helen and Jennifer suffered unexpected job losses in 2014. With that, came the strong desire to creative beautiful items and share with others. This led to the creation of their little Etsy shop, JenJen & GMa Shop. Creativity flows strongly through both women and has brought them on their journey to sell their items to others, while enjoying every item and project they work on.

Should you have any questions about our little spot in the Etsy world, or our products, please do not hesitate to contact us.

Thank you for taking the time to visit us.

Kind Regards,
Jennifer and Helen
Shop members
Jennifer Goclik

Owner, Curator Designer Product Fulfillment

By day, I save the advertising world as a Senior Account Exec. I have been in the biz for 20 years. And in my down time I love to craft and write. I love to create and make pretty things. Facebook/.jenjenandgmashop.com

Best. Purchase. Ever! Aside from being absolutely adorable it will also be practical for chilly winter days! As a lady I have not been able to make my own beard to keep me warm so this will do! Cute packaging too!
Nov 22, 2017 by Danielle L

Very cute and fast delivery. Thank you.
Nov 12, 2017 by Linda Rozich


My boyfriend absolutely loved his custom made blanket! The quality is fantastic and the shop owner was great to work with!
Nov 9, 2017 by Kayla Ann

I love my burgundy cowel neck scarf! It's absolutely beautiful, it's nice and thick and the quality is exceptional. So beautiful!! Shipping was super fast as well. I will definitely be ordering from this etsy store again.
Nov 7, 2017 by Erin Hessling

Oct 30, 2017 by blahblahbriana1

So thrilled with blanket and hat set! Great communication, quick shipping and the packaging was too cute. My new favorite seller! Highly recommend!
Aug 18, 2017 by Pam Lowery Robbins

Aug 1, 2017 by carespring

Such a cute blanket! And the little hat is perfect. Well-made and shipping was fast. My sister-in-law will love this!
Aug 1, 2017 by Alis Volat Propriis

Nico loves his new Paw Patrol burp cloth and Pacifier clip. Nicely made, arrived on time . He is really using it as a security type blankie
Jul 24, 2017 by mek1290