LAREDOFRAMEFACTORY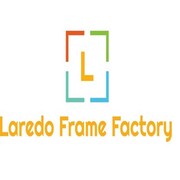 Sorry we don't have anything like that.
About
We are manufacturers of hand made wood picture frames.
We have been making wood picture frames for more than 30 years. Our factory is located in Nuevo Laredo, Mexico. It is the border town to Laredo, Texas which is where I live. I have to commute almost everyday to Mexico just to go to my shop.

My father started the company about 35 years ago. He has always used the same high quality craftsmanship through out the years. We are mostly known for our metal leaf application. Our factory is recognized as one of the top wood picture frame factories in Mexico. Our skilled craftsmen have been with us for years and are a great part of why our business has been successful. All of the material we use has always been bought in the US. We are very particular about the materials that we use and have been using the same since the beginning. All of our products are properly imported through customs and shipped from Laredo, Texas.

Our shop has always imported picture frames to customers here in the US. For the past year we have been trying to expand more and have had very good results. Our customers range from photo studios, frame shops, and general decor stores.

If you need 1 frame or 1000 frames, we can definitely help you out.


Best Regards,


Tino Canales
Shop members
tino Canales

Owner, Designer

Second custom frame I've purchased and like the first, amazing quality and craftsmanship! The measurements were spot on and it fit my painting perfectly. Very well packaged for shipping and arrived in perfect condition. You can't go wrong with one of their custom frames! A bargain at the price for the quality! Thanks.
2 days ago by Rob Schlechtweg

A really nice frame; of vastly superior quality to other online frame shops for less price. Really a great shop.
6 days ago by ron wieder

Mar 1, 2018 by Gioconda St. George

Feb 26, 2018 by Alexander Camarena

Feb 26, 2018 by Alexander Camarena

Our custom frame looks perfect! I will definitely be buying from the shop again!
Feb 25, 2018 by Alexandra Schiavone

I love these frames. So well made and pefectly painted. Best frames I've ever purchased!
Feb 24, 2018 by Laura Gaulke

We ordered this for a painting that we've had and needed to frame. It was perfect! It is hung and looks great! The quality is very good. We couldn't be more pleased!
Feb 19, 2018 by courageglass

Amazing work. Highly recommend !!
Feb 2, 2018 by charlesdavidwaddell

Gorgeous workmanship. Just as it looks in the pics.
Jan 29, 2018 by Russ