Latelierbellelurette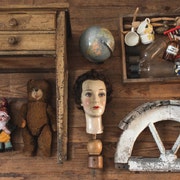 Sorry we don't have anything like that.
About
Atelier Belle Lurette, mobilier vintage et déco bohème
L'atelier Belle Lurette, c'est une jeune maman trentenaire, et de jolies rencontres qui lui ont donné envie de prendre un virage à 180°.
Passionnée par la chine et les trouvailles de derrière les fagots, un brin nostalgique des formes et matières d'il n'y a pas si longtemps, et soucieuse du recyclage et de l'impact de la consommation sur l'environnement, j'ai eu envie de proposer une nouvelle manière de concevoir sa déco et son intérieur. Envie de faire quelque chose de mes 10 doigts et de partager ma passion, l'Atelier Belle Lurette voit le jour début 2013, après plusieurs mois de travail en coulisses.
Sur un petit nuage depuis l'arrivée de ma petite fille en 2012, je n'ai pas envie d'en redescendre ; je vous invite à m'y rejoindre. Les choses se sont faites sur un coup de tête et grâce aux encouragements des proches et amis. Mais, maintenant que j'y repense, tout me semble si naturel : des heures passées dans un atelier artisanal durant mon enfance, une maman ultra manuelle, un compagnon bricoleur, l'amour des meubles anciens plein de charme et d'histoire… Des meubles pour des amis, pour mon appartement d'étudiante, pour une installation à deux.. Et un jour, une chambre à imaginer pour l'arrivée de mon enfant… Une commode, une bibliothèque faite de vieux tiroirs, un chevet '50… L'aventure est lancée…
Il y a finalement Belle Lurette que tout ça est en moi!
Production partners
Marina Krüger

Soultz-Haut-Rhin, Grand Est

Marina Krüger est une artiste plasticienne qui travaille notamment le verre sous toutes ses formes...

Nicolas Deconinck

Paris, Île-de-France

Artiste peintre, écrivain, poète et comédien, Nicolas Deconinck a exposé plusieurs oeuvres à Paris, peintures, installations, techniques mixtes...
Belle Etoile

Colmar, Grand Est

Je fabrique les tentes

Yvette

Bretagne, Bourgogne-Franche-Comté

Yvette est une grand-mère de 96ans, ancienne couturière, elle passe ses journées à crocheter des doudous, un grand sourire aux lèvres!
Shop policies
Last updated on
March 20, 2014
Bienvenue sur la boutique Etsy de l'Atelier Belle Lurette!

Du design, du vintage, et de jolies couleurs…

L'atelier Belle Lurette propose du mobilier et de la décoration vintage, des années 30 à 80. Chaque produit est chiné et sélectionné pour son design, sa qualité et sa fonctionnalité. Il est proposé dans son état brut ou rénové, mais toujours chargé d'histoire. Nous sommes particulièrement attentifs au soin, à l'originalité et à la qualité des rénovations… parce qu'un meuble recyclé, peut également être chic et tendance…

Une déco écolo : parce que chaque geste compte…

L'atelier Belle Lurette est particulièrement sensible à l'impact de la consommation sur l'environnement. Les produits que nous avons sélectionnés pour les rénovations sont des produits haut de gamme et éco-responsables. Les peintures (pigments naturels) sont toutes à base d'eau et leur taux d'émission de COV est extrêmement faible.

Charte qualité

Chaque meuble est sélectionné avec minutie. Il est lavé et, au besoin, discrètement réparé. Une poignée est manquante? Plutôt que de dénaturer le produit avec un accessoire neuf, nous partons à la recherche de celui d'origine. La mise en couleur d'un meuble est réfléchie selon son design et sa personnalité afin de faire pétiller votre intérieur. Une sous-couche d'impression et deux couches de finition couleur sont appliquées avec le plus grand soin. Un séchage long assure un rendu impeccable et une tenue à toute épreuve.
Accepted payment methods
Shipping
Le mobilier vintage est rarement démontable. Aussi, assurez-vous avant de commander que le meuble peut passer par vos portes et cages d'escalier pour éviter tout désagrément.
Afin d'optimiser les coûts de livraison et de limiter les risques de détérioration du produit, différentes solutions d'expédition sont possibles en fonction du meuble et de sa destination. Notre calculateur de livraison vous proposera l'expédition la plus appropriée en fonction de ces critères. Quel que soit le mode de livraison, nous vérifions chaque produit avant expédition et assurons un emballage soigné. Nous vous recommandons de vérifier le produit dès sa réception et avant signature du bordereau de réception.
Livraison par nos soins : départements 67 et 68 uniquement
Livraison colissimo : pour les produits de taille réduite (entre 2 et 5jours).
Livraison par transporteur : pour les meubles volumineux (entre 2 et 3 semaines). La livraison se fait au pied de votre immeuble/maison, la manutention à l'intérieur de votre domicile n'est pas prévue dans la prestation de livraison.
Livraison sur devis : pour les meubles très volumineux ou à destination de l'étranger.
Vous pouvez, sur rendez-vous, venir à l'Atelier récupérer votre meuble. Nous nous ferons un plaisir de vous accueillir dans nos coulisses.

Quel que soit le mode de livraison chois par le client, celui-ci doit vérifier l'état du produit dès sa réception, en présence du transporteur. Aucun remboursement ne sera effectué par le vendeur en cas de perte ou de vol. Le vendeur effectuera une réclamation auprès des services de la Poste ou auprès du transporteur mais ne pourra en aucun cas être tenu responsable, le transport se faisant sous la responsabilité de l'acheteur.

Great old industrial stool!
Mar 13, 2018 by joetanyadogs

Mar 9, 2018 by Aloisia Wickett

Super miroir original, qui est arrivé rapidement et qui était très bien emballé :) La communication était facile et arrangeante Merci !
Mar 7, 2018 by Alice

Jan 22, 2018 by lucie gallard

Very pleased with this item. Great condition and well worth the purchase from across the English channel!
Jan 15, 2018 by onya88

Wonderful vintage item. Great condition and well worth the purchase from across the English channel!
Jan 15, 2018 by onya88

Gorgeous and very pleased with it. Great condition and well worth the purchase from across the English channel!
Jan 15, 2018 by onya88

This item is beautiful, it really is. Great condition and well worth the purchase from across the English channel!
Jan 15, 2018 by onya88

Jan 11, 2018 by vladislavs

This is a beautiful vase! The seller packed it carefully and sent it promptly and safely. Great transaction.
Jan 6, 2018 by