LeatherWeight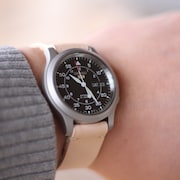 About
Striving For Perfection
All leather goods posted in this shop are handmade in Atlanta, Georgia USA. Each leather product is made to establish its own wear pattern and patina that will look only better with age and wear. Because each product is made with natrual leather, it may contain scars, grains and marks. Some may think that these are imperfection while true leather enthusiasts believe that these are what brings characteristics out of each product.
Shop members
Colin Noh

Owner

Engineer by day, leathersmith by night/weekend - while I have many identities, I strive for perfection in all I do/make.
Average item review
(165)

May 14, 2018 by Ruben Hernandez

Beautiful leather and exactly the color pictured. The shipment also included a nylon strap as a bonus gift which I thought was generous. I asked for a slip thru style band and the artist gave me an unasked for partial refund because it took less time. This is an honest shop artist! I highly recommend this store.
May 12, 2018 by julie pasteur

Perfect as always!! Some of the best quality leather I've ever seen. Custom band was spot on with needed dimensions. Thank you!
May 11, 2018 by Seth Wilcock

This custom made leather NATO strap is beautiful. I asked to have it made with square hardware instead of the round. It came out great. The quality of the leather is super. and the craftsmanship really shows. I'm excited to see the patina that develops on this natural veg tanned leather.
May 1, 2018 by mehrubes623

Had a great experience with LeatherWeight and Mr. Noh. I ordered the burgundy horween strap but received the brown horween strap. Mr Noh immediately contacted me, appologized and offered to make me a new strap in the color i wanted and also asked if I would like him to personally customize it for a perfect fit. His communication, high detail to craftsmanship and excellent leather choices have exceeded my expectations and has now quickly become my favorite band. Can't say enough good things about my experience with LeatherWeight!
Apr 23, 2018 by how robinson

Amazing as usual! This is the best and top shop for custom leather bands. I highly recommend LeatherWeight for any custom band needed.
Apr 15, 2018 by Seth Wilcock

I really like this strap. The pull up is just right and it weathers beautifully. I had a very good experience dealing with Mr. Noh. My first strap was a little short. I have large wrists and even though it clearly states that longer lengths are available on request, I ordered the standard strap. When I found it to be too short, he graciously offered for me to send it back for an exchange. He emailed several times to confirm the new correct size and sent it back quickly. I simply could not ask for more. He acted exactly like I wish all Etsy dealers would.
Mar 9, 2018 by William Ballard


The hardware and stitching are good. I wish the leather itself was bit higher quality though.
Mar 5, 2018 by Luciano Chavez

This strap looks much better in person! The quality of the leather is excellent. it is beautiful and rugged at the same time - the leather is soft on the surface to the touch, and has this beautiful hue to it, and yet, the construction is firm, so the watch wears very secure. The width was exactly how I had requested, and the thickness of the strap is perfect in a way that it would not make me worry that it will stretch too much, or break. The seller was very responsive to all my questions and concerns, and it shipped much quicker than I had expected. I would absolutely buy this again.
Feb 28, 2018 by Becky Seo