MissAmeliaMakes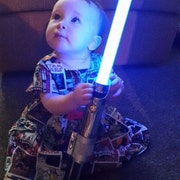 Sorry we don't have anything like that.
About
Homemade with love <3
Hey All,

I am a new Mummy living in a village in Hertfordshire. I have always had a love for all things vintage and owned my sewing machine Betty to make myself dresses etc from vintage patterns and fabric I have had great fun collecting.

When I became pregnant last year with my little girl, I had huge amounts of fun making her fun retro inspired clothes and accessories, after having huge compliments and being egged on I decided to make a few pieces for other Mamas and Babies to enjoy! So here I am!

It's all new and I really am enjoying every minute and have so many ideas, unfortunately not the time to match lol! When ever Daphne Moon takes a nap, good ol Betty is out and sewing up a storm! I hope you enjoy my shop and if you have any questions please just pop a message over to me, I'd love to hear from you.

Miss Amelia xoxo

So well made! Extremely cute and fits perfectly.Selller shipped quickly and even though it came from the U.K. I received it in only five days. Great communication from seller too.
Mar 29, 2017 by cmsilver

Envoi rapide! vendeuse très agréable
Nov 7, 2016 by braimbault

Envoi rapide. Vendeuse très agréable!
Nov 7, 2016 by braimbault

Thank you very much!!! Beautiful purse in super condition! It's a honor to possess a Harrods Purse!:-) Great Price!! I'm happy:-))))
Aug 27, 2016 by irenemuehlebach


Apr 5, 2016 by Vladanka Thol Grozaj

Absolutely love this, it's well made and unbelievably stunning! Lovely soft and light fabric, perfect for the summer with strong stitching. Seller was wonderful and everything about the service was heartfelt. Highly recommended and will be buying from again.
Mar 16, 2016 by Lisa-Marie Ward

Feb 3, 2016 by Nina Khmielnitzky

Feb 3, 2016 by Nina Khmielnitzky

A beautiful pattern - especially the jumper which I can't wait to start knitting. The purchase was easy, the delivery was almost instant, and the pattern complete. I'll definitely be buying more patterns from MissAmeliaMakes in the future. Thank you very much, Anna
Dec 22, 2015 by Anna Neve