OzarkMountainRustic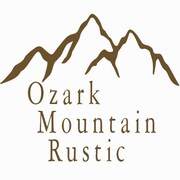 About
Our Story
Welcome to my Etsy store. Let me tell you a little about us...

Ozark Mountain Rustic began as an idea I had as I was decorating the old farmhouse I've been restoring with Gary and Tim.

For years, I could picture this place in my head; a house in the mountains with a wrap-around porch, board-and-batten wood siding, old screen doors with squeaky hinges, wood floors, and an old wood stove. And of course, there had to be a barn.

I don't even want to think about how many hours, miles and gasoline it took to find it.... but we did!

We looked around for a few minutes, peeked in all the windows... old pine wood floors, and one huge room downstairs with wood support beams. There was even a wrap-around porch AND a barn.

To put it mildly, the former owners had done some pretty strange things to the house; industrial; metal siding, mismatched wallpaper on every wall, plastic exterior siding for the inside ceilings (!!!)…

As you can probably tell, the place was a complete mess.

Our kids thought we had completely lost our minds. But we saw it's potential to become our dream home!

And so the "re-model" began...

Living in a construction site for almost a year has been challenging, but it's been worth every minute of it. Even the kids are seeing "my vision" and actually starting to like it.

Throughout the process, we've done a lot of experimenting; had some successes, some not-so-successes, and some happy little accidents that turned out way better than expected along the way.

Friends and family have watched the progress, and have kept telling me, "Cheryl, you should do this for a living".

This may not be "a living", but it is certainly something I'm good at, and absolutely LOVE doing. I hope you enjoy looking thru my store. And I would love to hear from you.

Perfect!!
Nov 29, 2017 by kimbo1228

Beautifully made. Good delivery time. Excellent communication.
Jan 31, 2017 by 1petranumber1

Dec 21, 2016 by Lysncam0514

Quick service and item just as described.
Nov 6, 2016 by vikki13635

Seller shipped item to me ASAP. Very helpful and responsive. Great product.
Sep 22, 2016 by olybear2

♥️♥️♥️♥️♥️♥️ Love the new sit on rug frame!!!
Sep 10, 2016 by Darlene carrico

This stand is extremely well made and designed. I have been using it so much I hardly have any time to be online now! Thank you so much for your product and prompt friendly service!!
Aug 17, 2016 by Septemberbird

Jul 31, 2016 by Stacee Watson

Got my egg apron today & have already put it to good use!! Only have Silkies laying now & 2 of their sweet little eggs will fit in each pocket!! Full size pullets laying in the Fall!! I LOVE IT!!!Thanks!!
Jul 5, 2016 by diane broaddrick