PlansDesign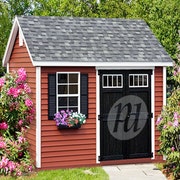 Jul 16, 2018 by Michael Brasil


It was not as detailed but is good overall.
May 4, 2018 by Cameron Franklin

Just what I needed for a farm look chicken coop
Apr 25, 2018 by Carol Akins

Really nice. Can't wait to make it!
Apr 14, 2018 by woolerym701

Mar 22, 2018 by Coleena Burt

Shipped on time and easy to understand. Very good
Mar 20, 2018 by John Stiles

I haven't built this coop yet but the design came in a timely manner and it looks detailed and complete.
Nov 7, 2017 by Robin Wiggs

Plans are great & easy to use
Oct 10, 2017 by Debra Siemen

Aug 30, 2017 by Stacee Watson