ProjectEpicFail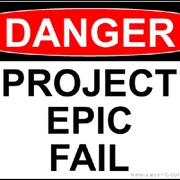 About
What youll find
Just me running the place here, selling the results of my different hobbies. I tend to focus mostly on knives, however dont be surprised if you see the occasional candy dish, watch stand, picture frame or other miscellaneous knick-knacks.

About the knives:

I tend to focus on smaller, fixed blade knives. Mostly hunter/general utility style knives in the 8 inch length range. That said, i ont stick completely to one specific category. I occasional branch out into making kitchen knives as well as woodworking tools, and i always enjoy taking commissions for custom work, so if theres something you want built you cant seem to find, im your guy!

Cheers!
Shop members
Chris Fail

Owner

Hello all, my names Chris. Im an amature bladesmith/furniture maker/carpenter and knick-knack producer. Ive been woodworking for a couple years now, and i just recently got into bladesmithing
Shop policies
Last updated on
January 2, 2016
Returns and exchanges
No refunds offered on custom items, all other items will be decided case by case

Mar 16, 2018 by Chris Stephens

Jan 24, 2018 by Chris Stephens

Oct 30, 2017 by Chris Stephens

Oct 10, 2017 by Chris Stephens

Very nice fit and finish!! Great balance! Very happy!!
Jul 10, 2017 by Michael Scott

Fast shipping and a great quality marking knife! I purchased this item as a gift for my husband who's a carpenter and he loves it. I highly recommend this custom marking knife.
Feb 9, 2017 by seaangel29

This is a decent knife. I am giving it 3 stars because the retaining snap on the sheath popped off the first time I unsnapped it to look at the knife. Now I need to either fix this sheath or get a new one made, which is more money out of my pocket.
Feb 6, 2017 by orangekawi

The knife took a great edge, which it retained even after battoning dried hard wood.
Jan 19, 2017 by Andrew Selking

He has outstanding service! Working with him to get the right knife, and his willingness to fix a mistake I made while ordering was so easy and flawless. Very quick responses to questions! Packaging was great and the best part, the knife was beautiful and my husband loved it!! I wish I needed more of what he makes because it was such a pleasure working with him!!! Thank you so much!!!
Jan 4, 2017 by Tessa Nelson

The knife was not made to my specifications, and I would not use this maker again.
Jan 3, 2017 by straenes