RavenSkullCreations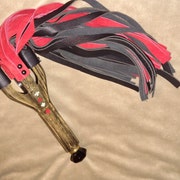 Sorry we don't have anything like that.

Awesome craftsmanship. Im very pleased with the weight and they fall beautifully!
Jun 15, 2017 by mnutter1023

I love my new finger floggers! Tried them out, they flow beautifully and have a wonderful sound on impact!
Sep 15, 2016 by devilhorse830

Most AMAZING, helpful and responsive seller. I will definitely be ordering from him again. He has earned a loyal client for life. Beautifully and thoughtfully crafted. Incredible texture, weight and feel when thrown❣
Aug 4, 2016 by Melissa Neel

Absolutely gorgeous product, great service. I cannot get enough of the sound of these floggers flying through the air. They are fantastically balanced, swing beautifully, and feel wonderful. Highly recommend.
Sep 20, 2015 by Veronica Darling

These floggers were not only beautiful but they have great sound on impact, and leave a lasting impression on your partner. The response and willingness to help by Raven Skull creations was on point and I look forward to doing business with him again in the future.
Aug 4, 2015 by jacobebert1

Absolutely beautiful. Great weight to them.
Jun 30, 2015 by Lady Aiesha

Another fantastic quality toy, with a delicious sting and an evil snap upon contact... Thanx once again Zeus, it's always a pleasure.
Jun 2, 2015 by jeffgort

So pretty! I have not had anyone to use them yet on me however I am wearing for these as therapy floggers and I am excited when I get them used on me!
May 6, 2015 by Caitlin Boeing

Oh they're stunning!! The cut/custom flare of the purple falls!! Bigger than I thought too!! But lightweight/easy for me to manipulate!! The smell of the leather is absolutely enticing. I can even use them for my poi dancing if I want to!! I can't wait to break them in on some poor (or lucky, hee hee) little subs tushy ;) THANK YOU THANK YOU THANK YOU SIR ZEUS, for your top notch work and faster than a bat outta hell shipping!! Certainly a cut above the rest <3
Apr 22, 2015 by nicole Simon

Received our beautiful power house of a flogger today and had much fun with it this evening, this thing is beasty! its a solid hard hitter, the proverbial knock your ass forward type of flogger with a medium sting.the braided falls provide a very nice feel. A wrecking ball of shear pleasure for the high impact enthusiast who also likes a little sting A gorgeous piece,(very well made) im jealous that I purchased as a gift, but am glad that I was the first recipient of its fury... but its ok I ordered myself an even heavier one
Apr 13, 2015 by jeffgort