RedHenDIY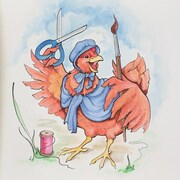 Sorry we don't have anything like that.
About
I am happy to teach creative people how to make amazing costumes with easy to find items.
Red Hen DIY sprang out of my experiences teaching others how to make sets, props and costumes for various "low-budget" productions (schools, churches, etc.) With almost 30 years of working in the commercial arts, I have always concentrated on the quality reproducibility of my artwork. It makes me so happy to show others how to create things that they did not think they could, and see the the excitement in their eyes as their creation "comes to life" in their hands. The patterns I create are born from a need for quality props and costumes that do not "break" the budget. If you have a "can do" attitude, these patterns provide the "how to" for you to create beautiful, quality costumes and props. Thank you for looking!
Shop members
JL Cook

Owner, Designer, Maker

Hello! I have been an artist my entire life: crayons, mud, clay, paint, foam, stone...if it can be used for art, I will use it! I've worked as a commercial sculptor for 30 years in the toy and prototype industries.

The pattern is wonderful! Used these to make donkeys for a Carnival of the Animals ballet. Made the ears longer than pattern and it works great. I did put the ears on wrong, it was my first time making, but "donkey" still looks great.
Mar 25, 2018 by Dana

Instructions are detailed and superb! I am having difficulty finding some of the materials but very excited about creating my Nutcracker Mouse.
Feb 4, 2018 by leahludwig7

This pattern was easy to follow and I also received an additional help in making this into our Mouse King. Highly recommend!
Dec 18, 2017 by trickysticks1

This horse mask is absolutely stunning! Made to perfection! Excellent communication and fast shipping. Highly recommend on Etsy with 100 gold stars!!!
Nov 29, 2017 by gail yeager

The pattern was easy to follow. I had a problem w ear placement, but otherwise turned out great! My daughter received a ton of compliments. She wore a baseball hat under it and the elastic band kept the mask in place, allowing her to run. I did substitute items I didn't have. I did not use foam or the mane. Instead I used heavy duty cardstock lined w felt (glued). The ears are stiff felt, the eyes are Dollar Store xmas ornament balls painted w nail polish, fabric elastic band was pierced thru the side of the mask to hold it in place, and used a braided hair extension glued to the top of the crown for the mane. My daughter loved it!!
Nov 1, 2017 by natalia74

Jul 11, 2017 by Jesus Herrera-Hanson

The pattern was easy to follow except for one step. Contacted pattern designer and she returned call within 10min. She walked me through it until I got it. The result is fantastical. It is a pleasure to wear. Nice snug fit without being awkward or heavy. It is better than anything I could have imagined. Looks just like it's picture.
Jun 8, 2017 by elsed1020