SewtiqueBoutiqueShop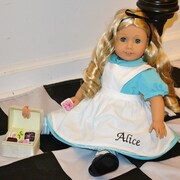 About
I am a stay at home mom who LOVES to put smiles on children's faces by creating amazing items for super fun play with their American Girl dolls!
I am a stay-at-home mom who enjoys creating fun and playful items for children to enjoy with their American Girl dolls. I too have daughters who love American Girl and love to help create items (both clothing and bedding) to complement different dolls. I started by creating things for them and then got many requests from other parents to create items for their children as well. That has started me on this journey. I love to do custom orders or special orders for customers who have something super special in mind. I can work with you to make things that will fit your design or your daughter's imagination. The items listed in my shop are only a few of the many many many items I have created and I can create just about anything that you can think of. I love to work with a customer that has a vision in mind but not sure how to make it happen. I also love the customer who has an idea in mind and gives me some details as far as color and size and gives me free run on imagination to create that perfect set. My daughters help me in some of my creations by giving me the ideas of what children their age would like. I also like to work on more trendy fashions and fabrics but can also do historically accurate items as well.
Shop members
Ashley

Design Helper-imagination Mover

A very creative young lady who ♡ AG and has a SUPERB imagination! She helps me in creating new and fun projects. Sometimes when a project is missing that something that brings it from ordinary to extraordinary, thats where she makes the difference.

Haley

Designer & Helper Extrordinar

Superb young lady who has grown up collecting AG dolls. She has many achievements in art and is extremely creative. Her input helps create amazing items. Disney and other movies/themes are her specialty
Shop policies
Last updated on
May 30, 2016
More information
Last updated on
May 30, 2016
Frequently asked questions
Care instructions
All items are made from quality fabrics and are pretreated to ensure no color transfer.
Sizing details
Most items are made to fit 18" dolls such as American Girl and Our Generation, however I can make them to fit other sized dolls as well. Just send me a message for more details.
Gift wrapping and packaging
All items are wrapped in tissue and packaged carefully into a tyvek polymailer. Gift wrapping is available upon request and would include the item(s) folded nicely and tied w tulle or ribbon, carefully wrapped in tissue and packaged into a polymailer. I can also include a handwritten card with a personalized message from you to the recipient.
Are items made in a smoke free environment?
All of my work is done in a smoke free environment. You never have ro worry about receiving something from us that smells of cigarette smoke.
Are your items made in a pet free environment?
I custom make each item from start to finish in my sewing room. We do not have inside pets, so no need to worry about pet hair or allergies as everything is made in a pet free environment.
Do you use scented detergents or dryer sheets when pre-treating your fabrics?
All fabrics we use are quality fabrics purchased from reputable fabric suppliers. Fabrics which are pre-treated are done so in ALL CLEAR or DREFT unscented detergents and no scented dryer sheets. I know there are many children who are sensitive to these things and since our items are used by children, we take the care in keeping them as sfae as possible to those sensitivities.

This is such a lovely dress! Fits Miss Kanani perfectly! Lots of detail and vibrant colors! Thank you!
Mar 26, 2017 by Livvia H

Nice change of clothes for a boy doll
Mar 6, 2017 by Carol

Oh My Gosh...these are THE CUTEST PJ'S!! perfect for our new Logan! we love them...made so well and adorable design! Thank you so much!!
Mar 2, 2017 by Wishes

We loved this!! So adorable :)
Feb 19, 2017 by Kristi Burruss

Adorable outfit and we'll made!
Feb 18, 2017 by Denise Frey

Just the cutest!!! My doll is adorable with this well-made outfit!
Feb 5, 2017 by September Welborn Yancone

Very cute, and the recipient got a kick out of having her two favourite things together (American Girl and Minecraft).
Jan 8, 2017 by nicolesykes

My niece is obsessed with Elvis so I cannot wait until she sees this! It's amazing!
Dec 9, 2016 by Mamadragonfly

Beautiful custom made dress. It's absolutely stunning and so well made . Thank you 😀
Nov 2, 2016 by shanond

I absolutely love this tunic! I will definitely be checking back to get more stuff from this shop!!
Nov 1, 2016 by Beth Honey