SkirtedFleeceMill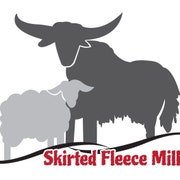 Sorry we don't have anything like that.
About
About Skirted Fleece Mill
We are a small, family-run mill dedicated to providing quality processing services to farmers and artisans as well as creating our own unique yarns and products to delight fiber artists. To meet our animals and learn more about the fiber mill, please see www.skirtedfleecemill.com

5 star products and shop!!!! I love the wool and can't wait to felt with it!
Feb 13, 2018 by gina rice

Love this wool and this shop! Quick delivery and great wool! I am planning to make a great cat cave for my kitty.
Feb 13, 2018 by gina rice

Jun 8, 2017 by Cindy Weldon

The item was well packaged and sent out on time. It is soft and smooth, and it spins well. Beautiful color.
May 29, 2017 by Fred S Hickok

I love this fiber. The colors are vibrant. It is wonderfully soft and smooth to spin. She sent it out quickly. I will definitely be ordering more.
Apr 1, 2017 by Michele Hickok

Gorgeous yarn. Nice spin and body. Love it!
Mar 8, 2017 by suzana65

Absolutely love working with the Super Sock 'Em yarns. It works up beautifully and the colors are gorgeous! I've ordered them twice! Super fast shipping! Excellent seller!
Jul 5, 2016 by BA B.

This is so lovely and squishy, and the subtle coloring is just right. It arrived super quickly too! Thank you...I can't wait to knit with it!
Jun 22, 2016 by Anni Bryner

This is now my "go-to" wool for starting my needle felted cats. I'm a return customer. Color me satisfied!
May 27, 2016 by Helen Rogers

I am in love with this fiber; it is pristine and needle felts beautifully. I'll be back for more. This is a shop to watch!
May 6, 2016 by Helen Rogers