SmallMachines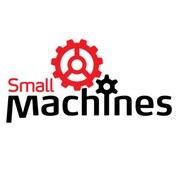 Sorry we don't have anything like that.
About
Armed with a laser cutter I have set out to re-imagine wooden toys for a new millennia.
In September 2014 I took the plunge, booked a table at a weekend market for Makers and turned up with the very first version of my hydraulic toys. I hung the label of a 'Maker' metaphorically around my neck and asked total strangers to exchange their money for my toys......and I sold out!
It was exhilarating, so rewarding and addictive too. I went back to work on the following Monday morning with an entire shift in my focus.

That single weekend started me down a path that has lead me to owning my own studio space with my own laser cutter and the beginnings of a range of toys. I have always enjoyed construction kits, mechanics and the connection you get with wooden products and I have always been fascinated with the opportunities that technology offers us as a means to explore and create.

It was probably a very natural outcome that 3 years later I have arrived right here as a designer and maker of contemporary laser cut wooden toys and gifts........I hope you like what you find and thank you for stopping to take a look.
Giles.

Amazing product. These provided hours of fun for my son and his best mate. Additionally- customer service is wonderful 😍
Dec 28, 2017 by katehoskins3

Nov 26, 2017 by cynthiatham1

I bought this as a gift for my brother & he loves it :) Thanks so much :D
Oct 28, 2017 by Kate